Published: August 13, 2021
Mobile phone vendors are increasingly deciding not to provide chargers with new cell phones, causing a rising demand for chargers with fast-charge capability as well as additional functionality. The Renesas power adaptor with power delivery (PD) and wireless charging is a multi-function system that supports a PD output of up to 65W, BC1.2 fast charging, Qi 15W wireless charging, and two 5V 2.1A USB-A ports for a total of 100W of output power. This full-function device is capable of charging most mobile products seen in today's market.
The USB Type-C output port supports the programmable power supply (PPS) protocol, is USB PD 3.0 compliant, and has a maximum output power of 65W with 20V at 3.25A, thanks to the RAA489800 bidirectional buck-boost regulator and R9A02G011 PD controller. Additionally, it supports the BC1.2 dedicated charging port (DCP) specification, which along the PD output, allows the board to charge almost all notebooks and mobile phones with a Type-C charging interface.
The wireless charging unit, powered by Renesas' P9243-GB wireless power transmitter IC, supports up to 15W transmission in compliance with the WPC-1.2.4 specification and is compatible with all popular wireless charging protocols including the WPC baseline power profile (BPP), extended power profile (EPP), up to 7.5W wireless charging for iPhones, Samsung Fast Charge, and all other Android phones with a wireless charging function enabled. The remaining two 5V, 2.1A USB-A ports on the adaptor can charge additional products even while the wireless charging or PD is already in use.
This 100W power solution is driven on the input by the R2A20133DSP power factor controller (PFC) with critical conduction mode, which detects zero current using the GND current and integrates open loop detection, overvoltage, and overcurrent protection features to provide high reliability with few external parts. In addition, the iW9802 quasi resonant (QR) flyback controller with its patented adaptive Zero Voltage Switching (ZVS) technology enables ultra-small, light-weight, and easily portable AC power supplies (see Figure 1).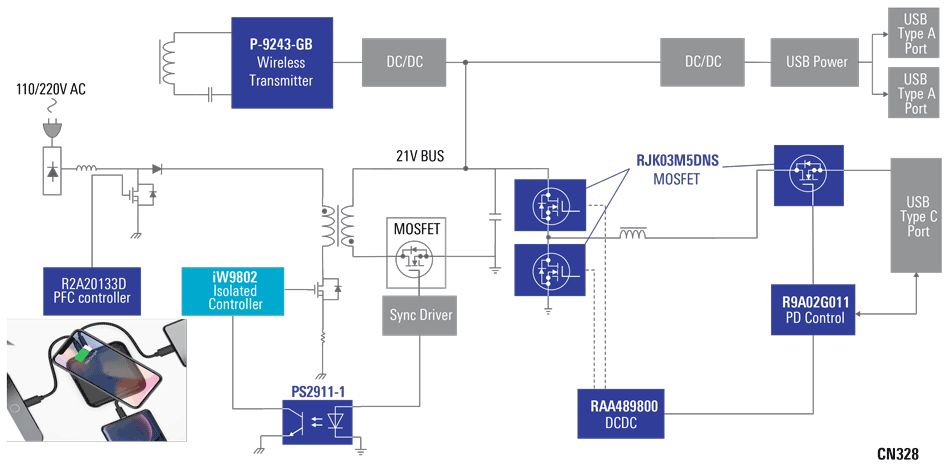 Thanks to the previously mentioned ICs and additional components such as MOSFETs and photocouplers, Renesas provides a competitive, total IC solution for the 100W power adaptor enabling our customers to win more easily in this fast-growing market. With this full-function charger, users can carry fewer chargers when traveling or at home, making their life easier!