COVID-19 has been affecting all industries around the globe, forcing many companies to redefine their business strategies and value propositions. On March 3, Renesas held an Analyst Day to explain the future business direction of Renesas to external stakeholders in light of the pandemic. This blog explains the changing market environment surrounding Renesas and how Renesas will create customer value and enhance its competitive advantage in the future.
Business Environment Surrounding Renesas
Recent mega-trends in the automotive industry have been defined by the acronym "CASE".
CASE (Connected, Automated, Shared & Services, Electrified)
With the spread of a new lifestyle called social-distancing, the "Shared & Services" trend has been losing steam. Consumers are shifting towards a trend in personalized mobility service, which evolves the mega-trends from "CASE" into "PACE".
PACE (Personalized, Automated, Connected, Electrified)
Even in the COVID-19 pandemic, de-carbonization remains an urgent objective for many nations. Consumer needs for a safer and more comfortable driving experience continues unabated. These trends are leading toward a strong market for electric vehicles and automated driving. Renesas' focus is squarely on "PACE" megatrends to maintain growth despite COVID-19.
These megatrends affect the demand for automotive semiconductors. Looking at the demand by application, we expect a particularly high compound annual growth rate (CAGR) in the electric vehicle and automated driving applications. Power, analog and SoCs within these applications will enjoy this high growth rate.
Image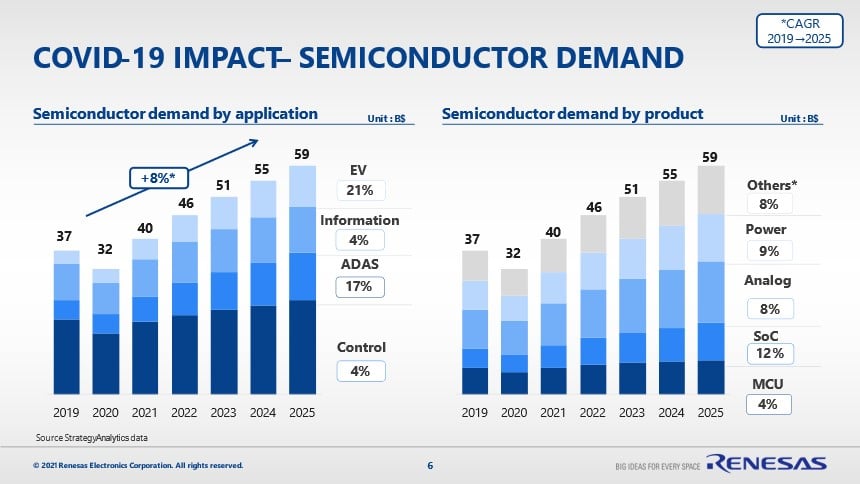 From Automotive Strategy (Renesas.com) material, March 2021
Our Business Model
Over the past 10 to 20 years, the PC and smartphone industries have seen the spread of a "horizontal specification", in which many manufacturers use a standardized platform. This type of business model has been spreading to the automotive industry in recent years. While existing OEMs have established ecosystems with Tier-1s and Tier-2s to build a "vertically integrated" business model, players specializing in artificial intelligence, graphics processing, cloud/big data, etc. have entered the automotive field from other industries. These newcomers are attempting to standardize their own platforms and disrupt the established automotive ecosystem.
In the midst of these changes, Renesas will leverage its dominant market share in MCU and its broad product portfolio, ranging from processors to analog and power devices, to enable customers to innovate and expand their market value.
Image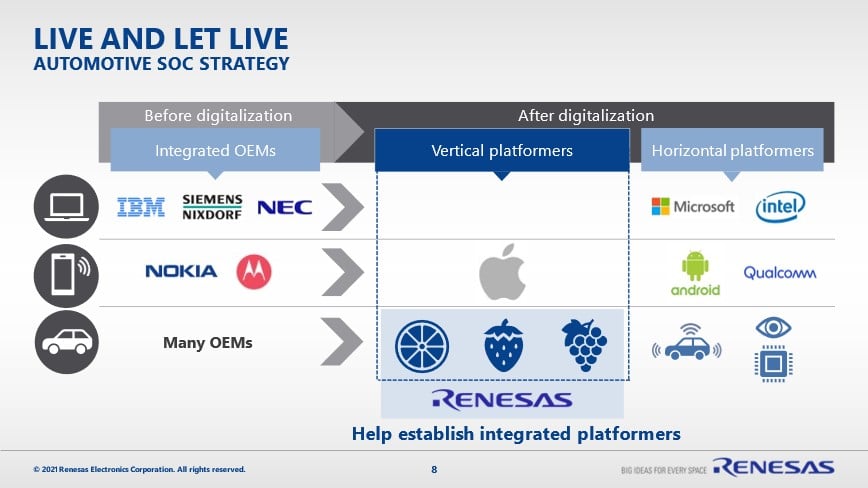 Business Strategy for Digital Products
Amid the "PACE" trend, the functions required for automotive applications have become highly complex and the cost of developing software has only accelerated with this complexity. This growing complexity has proven very challenging for customers to develop software smoothly due to limitations in verifying acceptable performance on the target hardware. Furthermore, the requirements of functional safety and reliability make the alignment of software and hardware worlds a big challenge.
To solve these issues, Renesas provides a software development environment that allows its customers to develop software and run it virtually on actual hardware. This virtual development process allows customers to reduce their investment in hardware verification resources, enabling them to roll out products to market faster. Customers are then able to concentrate on developing software applications that differentiate their solutions in the market without worrying about hardware issues.
Business Strategy for Analog and Power Products
Renesas is focusing on providing chipset solutions - what we call "Winning Combinations" – combinations of digital products, the former core of our business, with analog and power products gained by the more recent acquisitions of IDT and Intersil. By using these system-level optimized combinations, customers can reduce their time to market through proven product compatibility. These solutions provide added value to overcoming challenging issues in the automotive field such as functional safety assessment and verified power efficiency. Last year we released 21 winning combinations. Due to their ease of use and reduced development time, Winning Combinations are well-accepted by emerging and rapidly growing markets like China and India.
The electric vehicle market is a focus application for Renesas. Our product portfolio has been significantly expanded with assets such as Inductive Position Sensor, Sensor Signal Conditioner and Battery management IC. These products are a perfect complement to its existing MCU, IGBT and MOSFET assets.
In the past, our business was mainly focused on digital products for major customers, of which each customer would examine and verify each product and build systems by themselves. But with the expansion of Winning Combinations, customers in emerging countries can now easily implement similar solutions to these major customers. Winning Combinations also streamline the ability for Renesas to offer digital solutions to former IDT and Intersil customers, expanding sales that were strictly analog devices for specific applications in specific products.
Winning Combinations allow us to offer a wider range of products and solutions to a wider range of customers. These solutions are becoming a very unique core of our competitive advantage in the automotive semiconductor market. This advantage is being enabled by our broad portfolio of digital, analog and power products.
Image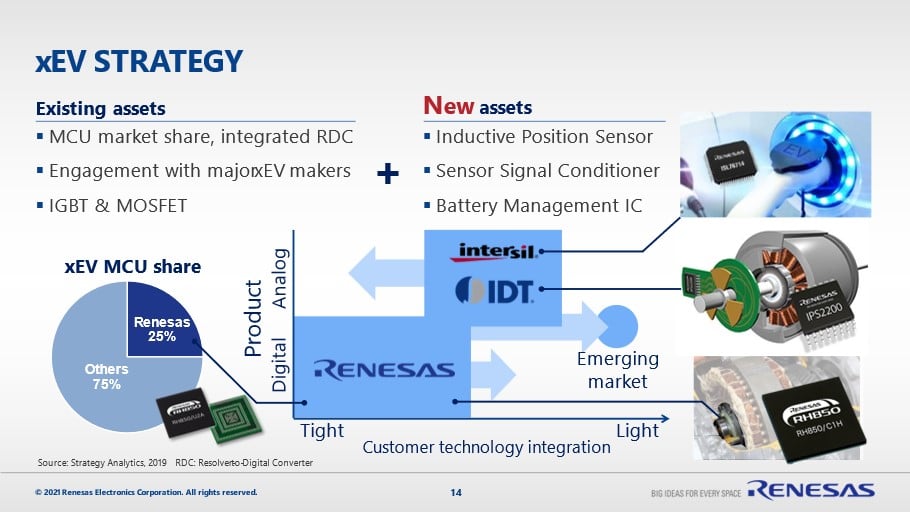 Through this broad product portfolio, Renesas can offer extensive value to customers in the fields of electric vehicles and automated driving, strong growth markets despite the COVID-19 pandemic.
For more information on our business strategy, please refer to the March 3, 2021 Analyst Day materials and presentation videos. For Renesas Electronics' solutions and winning combinations, please visit the Automotive Applications and Solutions page on our website.