The VC4 is based on a complete Renesas chipset. The centerpiece is the R-Car S4 with 8x Cortex®A55 cores, 1x Cortex® R52 core 2x RH850 G4MH delivering up to 27K DMIPS application performance plus >5.3K DMIPS lock step real-time performance. It incorporates an 8MB SRAM to execute code on the RH850 G4MH cores with low latency.  A rich selection of automotive interfaces including a 3-port Ethernet Switch, 16x CAN FD, 8x LIN, 4x SENT, 1x FlexRay, 4x PCIe V4.0 allow a wide range of connectivity inside the vehicle.
Together with the powerful Renesas PMIC components RAA271041 and RAA271005 which provide advanced power control to support extremely low power operation for always-on, cyclic-run, and suspend-to-RAM modes. The RAA271041 device's supports the buck stage when the battery voltage drops during cranking transients as low as 2.5V. The RAA271005 has an integrated 12-bit SAR ADC monitors external signals. Finally, high precision timing devices RC21012 and 5P35023 will provide perfect clocking to all devices.
It is the ideal platform to evaluate new E/E Architectures using the R-Car S4 in Gateway,  Car Server or Zone Control applications.
Features
Gateway solution based on R-Car S4 SoCs
Automotive qualified components (timing IC and PMIC)
Robust Metal housing
Wide temperature range -40°C to 85°C
Input voltage range 2.5V to 40V
Wake-up support
Real Time clock on board
Interface (10BASE-T1S, 100BASE-T1, 1000BASE-T1, 1000BASE-RH, 2.5GBASE-T1, CAN/CAN FD, FlexRay, LIN, SENT, PCIe, Analog Input)
Applications
Pre-Silicon Software development
Rapid Prototyping for new E/E Architecture
Test and Validation
Image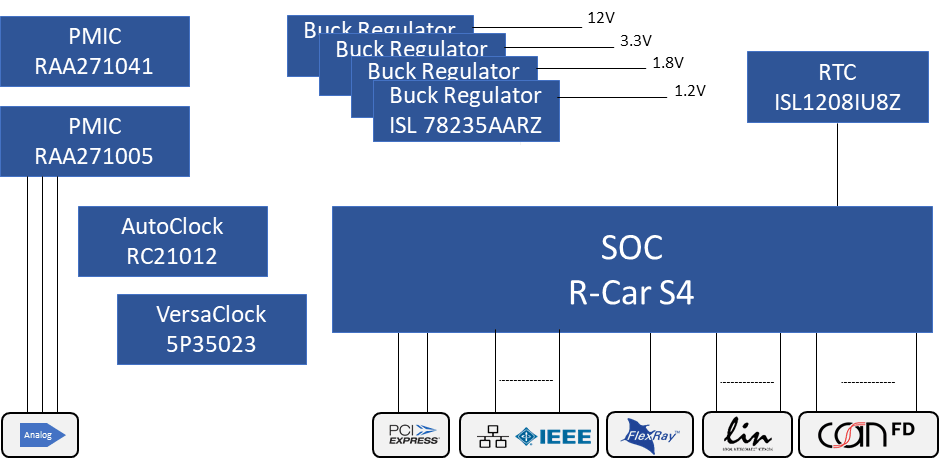 For RC21012, please contact a sales representative if you need more information.