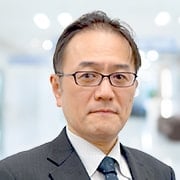 Senior Vice President, Co-General Manager of High Performance Computing, Analog and Power Solutions Group
Mr. Kataoka serves as the Senior Vice President and the Co-General Manager of the High Performance Computing, Analog and Power Solutions Group at Renesas Electronics Corporation since January 2023.
He began his career in Hitachi, joining the Semiconductor Business Unit in 1993. After the joint venture of Hitachi and Mitsubishi Electric was established, he began his career as an engineer, focusing on the Automotive field, before moving on to becoming the Section Manager of the MCUs Business Unit and Senior Engineer of the Mobile Multimedia SoC Business Division of the SoC Business Unit at Renesas Technology Corporation.
After serving as the Director of the Mobile SoC Design Department at Renesas' subsidiary, Renesas Mobile Corporation, he was appointed roles at Renesas Electronics Corporation which leveraged the expertise cultivated in SoCs and MCUs, such as Vice President of the Strategy and Business Planning Unit, and the Head of Development/Control Unit, overseeing MCUs, SoCs, software and core technology including functional safety, security and networking.
In addition to his M.S. in Electrical Engineering from Stanford University, Mr. Kataoka also holds a B.Eng and M.Eng in Applied Physics from the University of Tokyo.