Industrial automation devices nowadays are required to handle more data than ever before, whereas legacy implementations just focus on data that is required for the actual processing tasks. Today's devices process auxiliary information for configuration, diagnostic, alarm reporting, parameterization, and more. Modern communication systems are needed to handle such different levels of information needs.
 
In industrial environments, lossless data communication is a key requirement, as real-time processes are controlled with such data. In contrast, office/standard internet communication does not have such strict requirements. If data is lost, it just gets resend. Resending is not an option in industrial applications, as time is not sufficient.
A modern and scalable communication system meeting all of today's needs is the Actuator-Sensor-Interface version 5 (ASi-5).  It supports real-time information processing while meeting the reliability of a legacy system and increasing cycle time performance. As ASi-5 is a real bus system, it offers tremendous flexibility in the cabling installation which leads to overall low system cost. The ASI4U-V5 silicon solution released by Renesas offers an all-in-one system solution for ASi-5 ensuring the easiest integration option to enable ASi-5 in all modes defined by the ASi-5 specification.
ASi-5 is a real bus system, meaning that up to 96 devices can exist on the same cable.
Image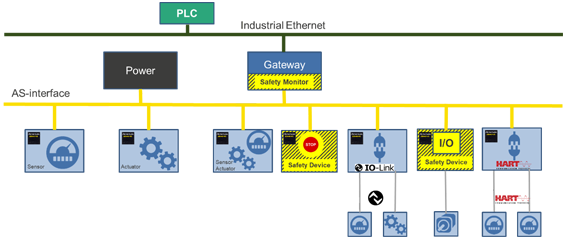 Figure 1. ASi System
The transmission technology uses Quaternary Phase-Shift Keying (QPSK) as a modulation scheme with Orthogonal Frequency-Division Multiplexing (OFDM) for multi-carrier modulation (up to 154 carriers). Each of these carriers holds a channel transporting 20 bits in one 1.2ms cycle. 
Image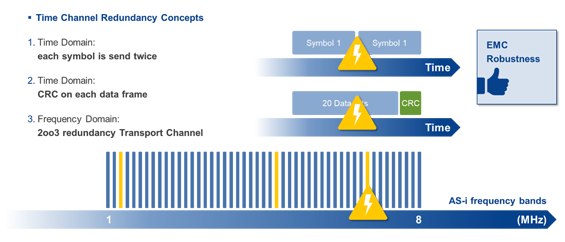 Figure 2. Unmatched EMC Robustness
Three mechanisms are in place to secure reliable communication:
Every 20 bits are secured by a cyclic redundancy check (CRC) so that errors can be effectively identified. 
Each process data transmission takes place on three channels simultaneously. The receiver must receive the same data on at least two channels to recognize the process data as valid (2oo3 protection). 
An additional safeguard is that each symbol is transmitted twice in succession, which additionally protects against short-term electromagnetic interference. Three different methods are therefore used to protect data transmission against external interference. All in all, this leads to stable data transmission, even under unfavorable transmission conditions. 
Utilizing these mechanisms ensures that all data reaches its destination without errors and in harsh industrial environments. 
ASi-5 supports Industry 4.0 applications with an extensive feature set. With the ASI4U-V5, Renesas provides a solution that reduces the integration effort of an ASi-5 interface to the minimum.
For more information, please visit www.renesas.com/asi4u-v5