Evolution of the vehicle E/E Architecture
The automotive industry is in the midst of a major transformation. Just a few years ago, it was thought that electric vehicles (xEVs), connected cars and self-driving cars would take a long time to become widespread. "CASE: Connected, Autonomous, Shared & Service, Electric" has long been advocated as a trend for this transformation. However, due to the impact of COVID-19, the S (Sharing & Service) of CASE has lost momentum and the demand for personal mobility services has increased, then the trend is changing to "PACE", with the "P" in "Personal Mobility Service" replacing the "S" in "CASE".
Image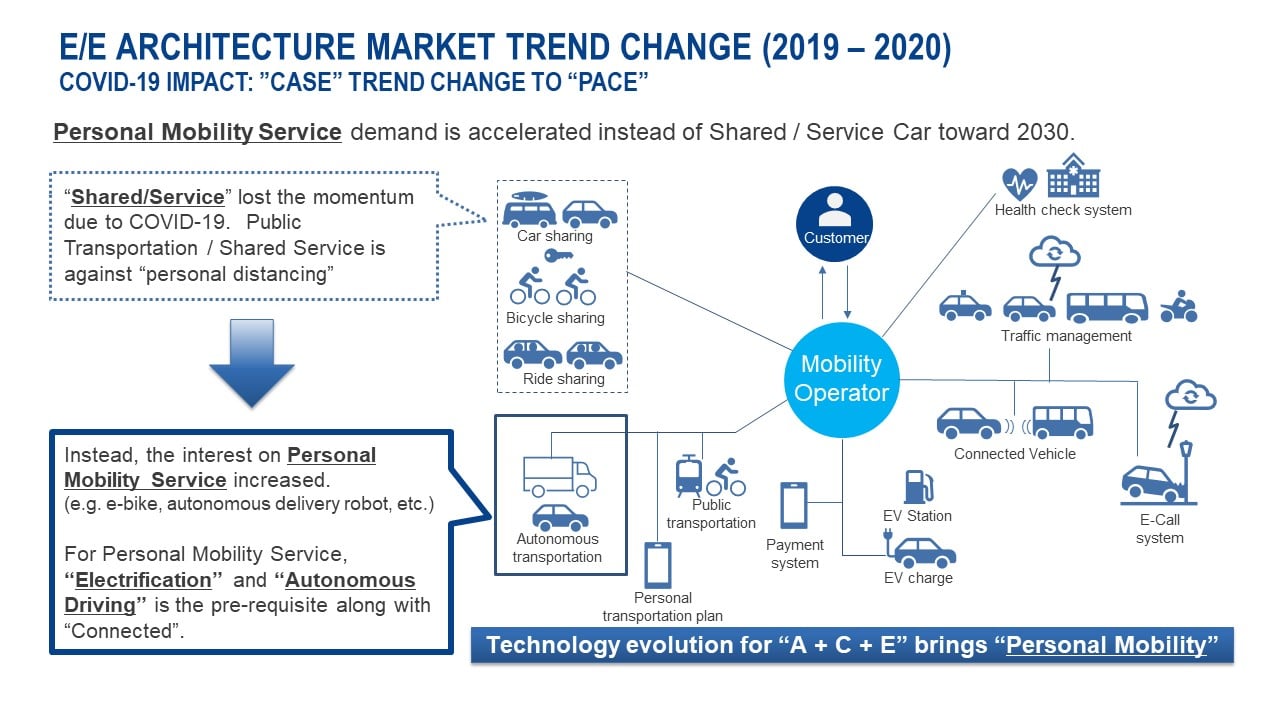 The "CASE" or "PACE" trend is driven by a shift in the values that end users expect from their cars. Eco-friendliness, safety and security are now the criteria for what end users consider to be a good car, with higher levels of comfort and convenience required than ever before.
In order to meet these trends and needs changing, the vehicle electronic and electrical architecture (E/E architecture) is undergoing a transformation. The current mainstream E/E architecture is a "distributed architecture", in which a large number of ECUs are distributed throughout the vehicle according to their use. However, in the future, it is expected to evolve into a "centralised architecture", in which the control of the entire vehicle is centralised in one place, and then into a "zone architecture", in which the vehicle is divided into several zones and controlled in a coordinated manner.
Image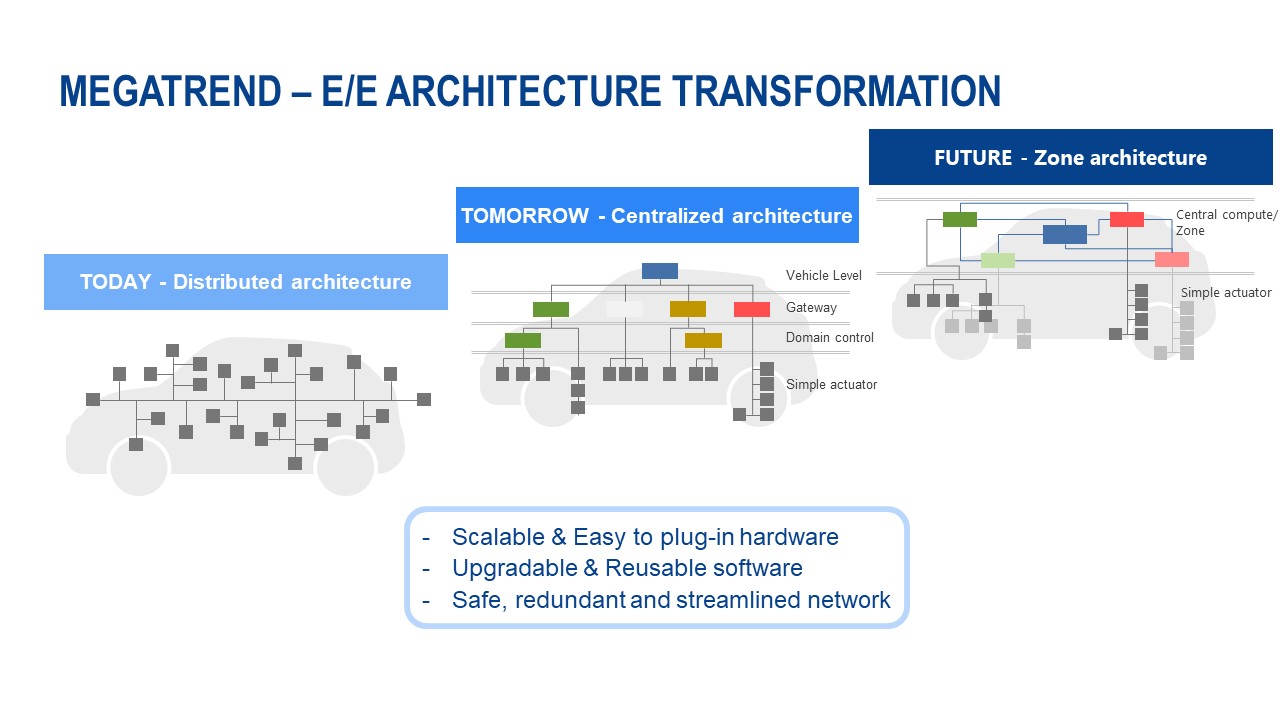 The importance of in-vehicle software
Software is the key to developing vehicles to meet these trends and for the new E/E architecture. The AI that underpins automated driving technology, the motor and battery control of xEVs, and connected services to the cloud would not be possible without software. As if to prove this point, the size of the software installed in vehicles continues to grow. According to some estimates, the number of lines of software in a Level 5 self-driving car could exceed one billion. The ability to develop such a large amount of software quickly and with high quality, and to bring it to market on a time-to-market basis, is becoming a prerequisite to compete in the automotive market.

Platform approach
In order to respond to these changes in the market, car manufacturers are working to create platforms for their in-vehicle software. For example, Toyota's Arene and Volkswagen's vw.os are typical examples of this movement. There are a number of reasons why car manufacturers are aiming to build their own platforms; one is to increase productivity by unifying and standardising the development environment between different car models, or even between different ECUs within a single car. The other is to provide a standard API and development environment as a platform for a variety of applications for the vehicles, so that new applications and services can be introduced in time.
In response to such platforms emerging by car manufacturers, Renesas is also enhancing our software platform for R-Car & RH850 devices. The aim is to increase the productivity of customers, with a particular focus on two key areas.
All-in-one Package:In the past, we offered our customers software components ("points" approach), but now we support their development by more comprehensive set of solutions ("aspects" approach), including development environments, AI algorithm design support tools and sample applications.
Image
Cross-platform:There is a wide range of ECUs in the vehicle, but they often use different devices and operating systems for different applications. This means that, for example, the software for object recognition used in surround view and the one for automated driving uses different operating systems (e.g. Linux vs. QNX) and devices (e.g. R-Car for cockpit use and R-Car for vision/ADAS use are not completely identical) for each ECU. In order to remove such variant developments and maximize software reusability, we have worked to introduce abstraction layers that absorb the differences between HW, OS and middleware. These are the essential building blocks to create a common platform (cross-platform) which is independent from middleware, OS and device variants.
Image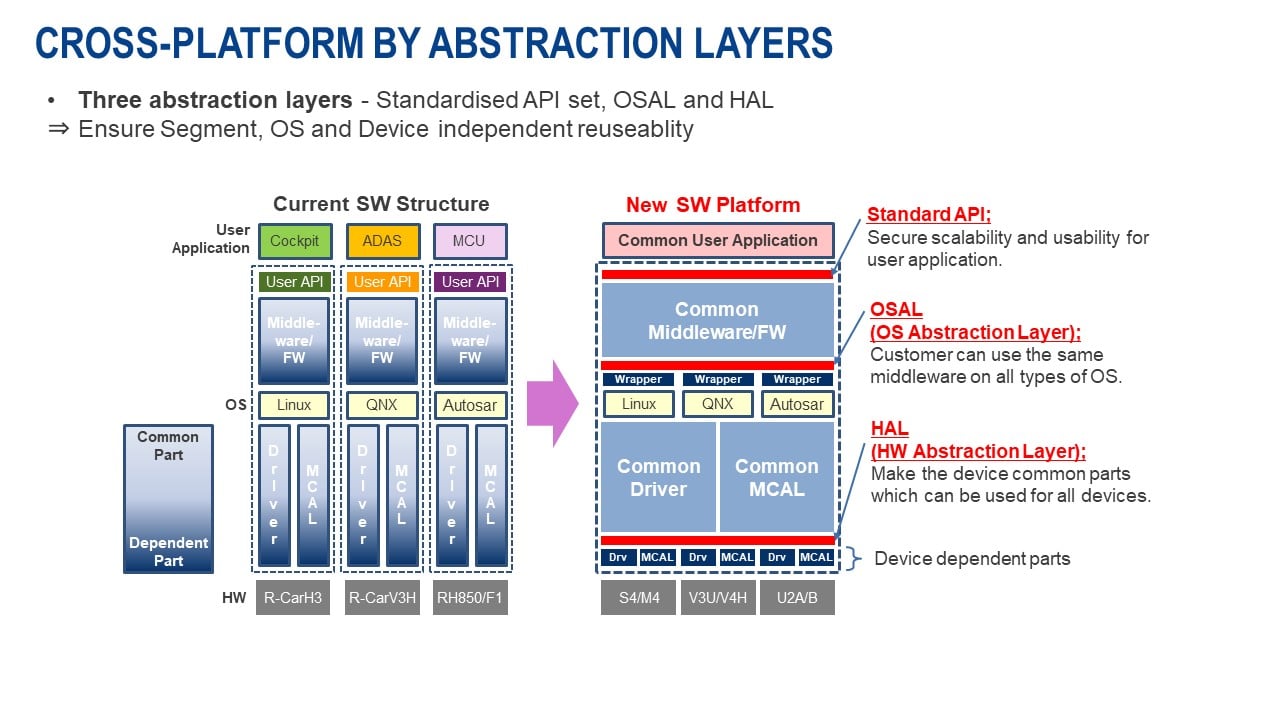 The combination of this software platform and Renesas Automotive MUC and SoC products (R-Car and RH850 series) will significantly improve software reusability and increase customer productivity, and contribute to time-to-market product releases.
Image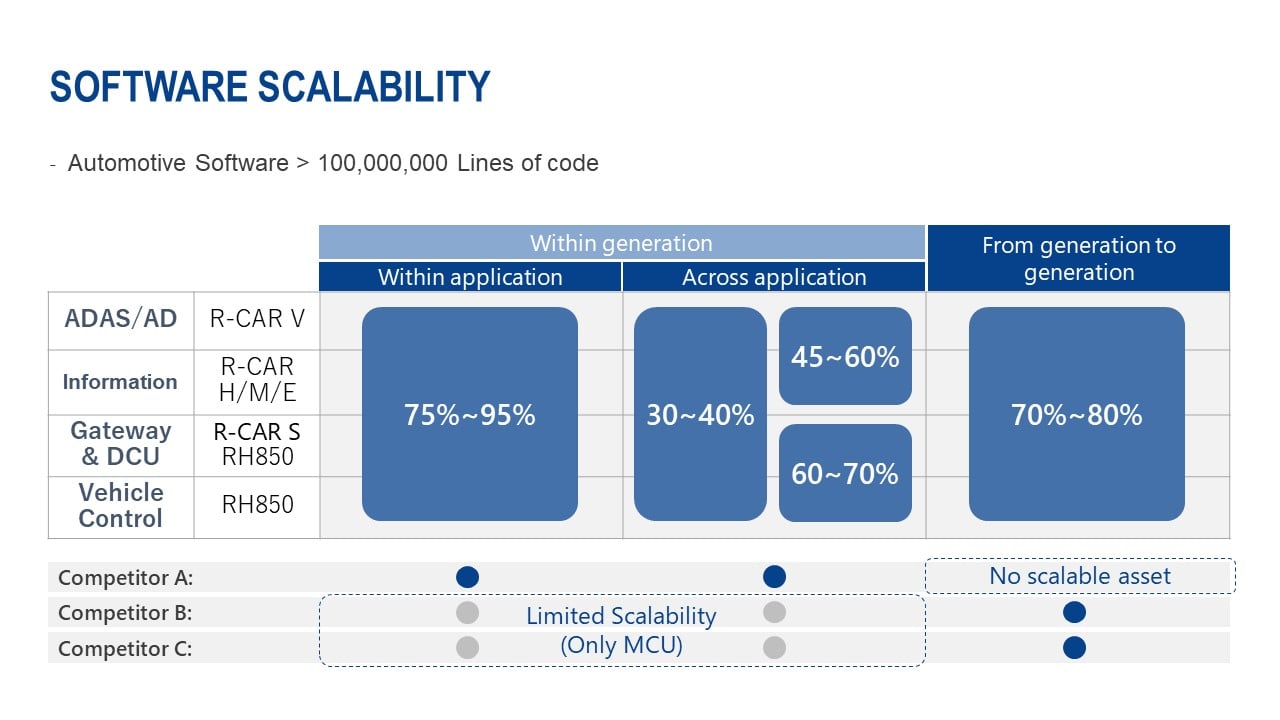 This software platform is currently under development. It will be rolled out with our latest devices in due course.