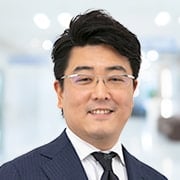 Senior Vice President and CFO
Mr. Shinkai is the Senior Vice President and CFO at Renesas Electronics Corporation.
Prior to this role, he served as the Vice President of the Corporate Strategy & Finance Division of the Corporate Planning Unit. Throughout his career at Renesas, which began in November 2013, he has held a number of corporate planning leadership roles at Renesas Electronics, mainly in the Legal Division as the Vice President and General Counsel. He has also served as the Executive Manager of the Legal & Compliance Division and the Corporate Planning Division.
Mr. Shinkai started his career at Anderson Mori & Tomotsune in 2007. He has also worked in the Innovation Network Corporation of Japan from 2009, as an Associate and also the Vice President in their Investment Business Group.
He holds a Bachelor of Laws degree from the University of Tokyo.