The Renesas Wi-Fi Cloud Connectivity kit for the RX111 (YWIRELESS-RX111) provides a useful platform for developing IoT applications on the RX111 32-bit microcontroller. The purpose of the board is to enable the user to easily evaluate the capabilities of the device and its peripherals by providing a simple platform to get an IoT demo up and running quickly. By leveraging the GT202 Wi-Fi Module using Qualcomm's QCA4002 dual-band 802.11a/b/g/n capabilities, the RX111 Wi-Fi Cloud Connectivity kit is ideal for node and sensor-based IoT solutions requiring Wi-Fi, with a pre-programmed Smart Garage Door IoT demo and easy set-up and configuration with Micrium's Spectrum's pre-integrated portfolio of embedded software and protocol stacks designed to facilitate development of IoT applications, µC/Probe graphics visualization tool and Medium One's Cloud with Data Intelligence.
Features
What's in the Kit:
RX111 32-bit MCU board with 4 PMOD connectors and JTAG for debug
Longsys GT202 PMOD Wi-Fi module using Qualcomm QCA4002 low energy Wi-Fi single-band 802.11a/b/g/n SoC
USB Cable
Quick Start Guide
Pre-programmed with Micriµm's Spectrum RTOS kernel and components, and the company's "Smart Home end-to-end IoT demo"
Pre-configured for Medium One's IoT Cloud with Data Intelligence platform
Applications
Smart Garage Door IoT Demo
The Smart Garage Door IoT demo is a pre-configured platform designed to show developers how to quickly and easily integrate their embedded devices with cloud-based enterprise solutions allowing them to benefit from the power of the cloud while meeting real-time needs.
The Smart Garage Door IoT demo emulates the ability of a user to remotely monitor and control the state of a garage door. The demo also simulates an auto-close feature where if no activity is detected after two minutes with the door open, a Medium One workflow will command the garage door to close. Finally, a service event is simulated in the garage door causing Medium One to email a diagnostic message to a predefined user.
Image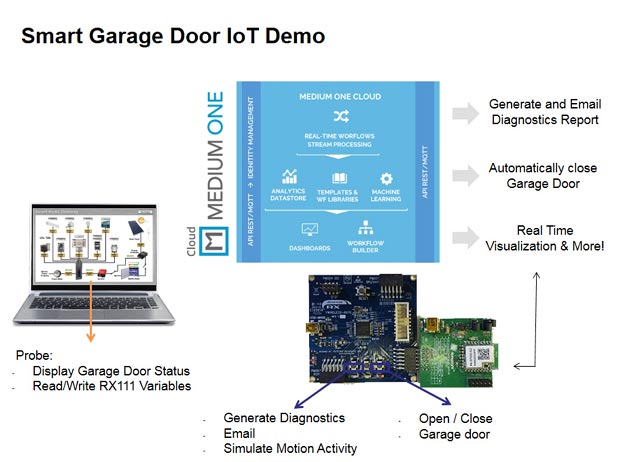 Image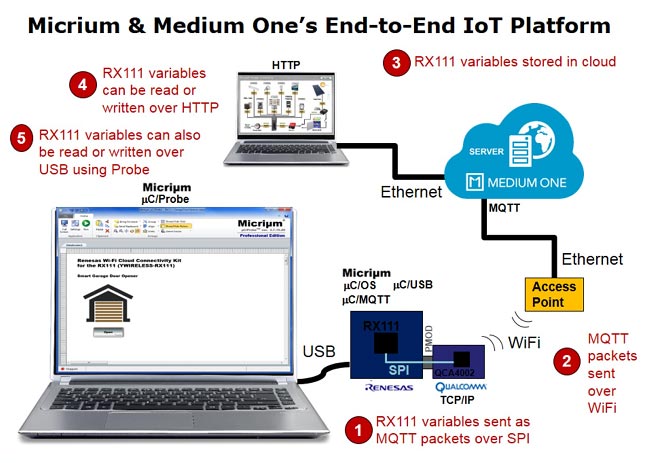 Micriµm µC Probe
Image
Micrium's µC/Probe graphically visualizes the internals of any embedded system effortlessly, with just a few mouse clicks.
Micrium's µC/Probe is a Windows application that allows you to read and write the memory of any embedded target processor during run-time, and map those values to a set of virtual controls and indicators placed on a graphical dashboard. Absolutely no programming is required—simply drag and drop the graphic components into place, and watch them go. You can also use μC/Probe to extend the capabilities of your debugging software by running both at the same time. μC/Probe allows you to have instant control over your global variables in a real-time and non-intrusive way.
Image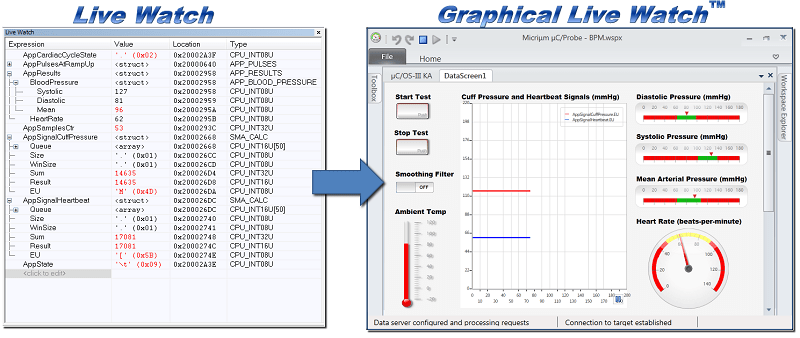 Medium One's IOT Cloud with Data Intelligence
Medium One's Data Intelligence Platform allows developers to rapidly build IOT applications using our IOT cloud services and real-time workflows. We provide all the functions needed for development from connecting to the cloud and processing any device data, to IOT centric libraries with machine learning and analytics functions for predicting trends and detecting anomalies. We aggregate all your event data from any source, whether its sensors, mobile apps or your existing cloud and perform real-time processing to extract intelligence or implement automation. All data is handled in a secure environment with robust multi-layered security features.
Medium One uniquely provides:
Enterprise-grade cloud
Real-time event visualization
Real-time data processing
Machine learning
Pre-built templates for workflows
Ultra-fast time to market for applications
Automated onboarding for development kits
No infrastructure to manage
SaaS business model with free tier
With Medium One, developers can focus on their application logic while we quickly extract intelligent insights to power their applications.
Beyond the Kit: Partnering with FDI for a Successful Renesas Wi-Fi Cloud Connectivity Project
Future Designs, Inc. (FDI) specializes in transforming customer concepts and requirements into tangible products. FDI's long-standing partnership with Renesas and expertise in Renesas products are the perfect foundation for quick and cost-effective configuration of a Wi-Fi cloud-connected device for any application.
In its 26-year history, FDI has helped customers build 100's of designs using a variety of kits including:
SH7216 RDK
RX62N RDK
RX63N RDK
RL78G13 RDK
RL78G14 RDK
RL78F14 RDK
USB 3.0 Reference Design
RX111 Wireless Kit
Both off-the-shelf and custom solutions are available. Get started on your RX111 Wi-Fi project here: http://www.teamfdi.com/rx111/
Image