Development Environment for Renesas M32R Family MCUs
A wide variety of development tools, software and platforms are available for the M32R 32-bit reduced instruction set computer (RISC) microcontrollers (MCUs).
The entire development process from prototype examination to final production is covered.
The Renesas IDE High-Performance Embedded Workshop seamlessly integrates development tools such as a compiler and an emulator. It improves the efficiency of the Coding-Build-Debug* cycle.
The SDI emulators designed for fast M32R MCUs support JTAG on-chip debugging.
*For the M32R Family, the High-Performance Embedded Workshop supports debugging using a simulator. The emulator system is available as an external tool.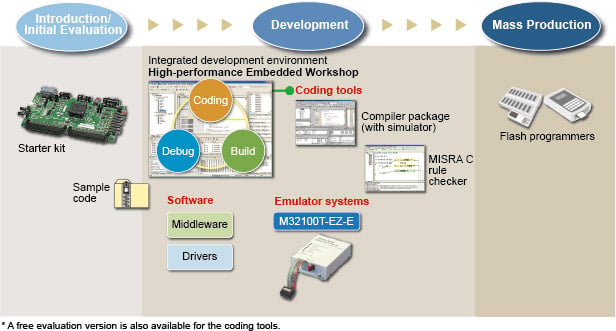 Find by Tool Category
Various tools and software products are supplied by Renesas to support MCUs. For information on supported MCU types, see the page for each tool listed.