Designed for Intelligent and Automated Driving Vehicles
The R-Car platform addresses a wide range of automotive applications such as Automated Driving or ADAS, connected gateway, in-vehicle infotainment, cockpit, and dashboard. It is designed for the next generation of automotive computing for the age of autonomous vehicles. Cars have come to be called "drivable computers." Countless LAN-connected MCUs acquire data from actuators and sensors, and perform optimal processing to create earth-friendly cars. Automated driving, advanced navigation systems, and infotainment systems not only make driving more pleasant; they also provide safety with danger avoidance systems using video recognition based on cutting-edge embedded Artificial Intelligence technologies and support the ISO 26262 safety standard up to ASIL D.
The scalable R-Car hardware platform and flexible software platform cover the full product range, from the premium class to the entry-level. Plug-ins are available for multiple open-source software tools.
R-Car for Every Segment
Image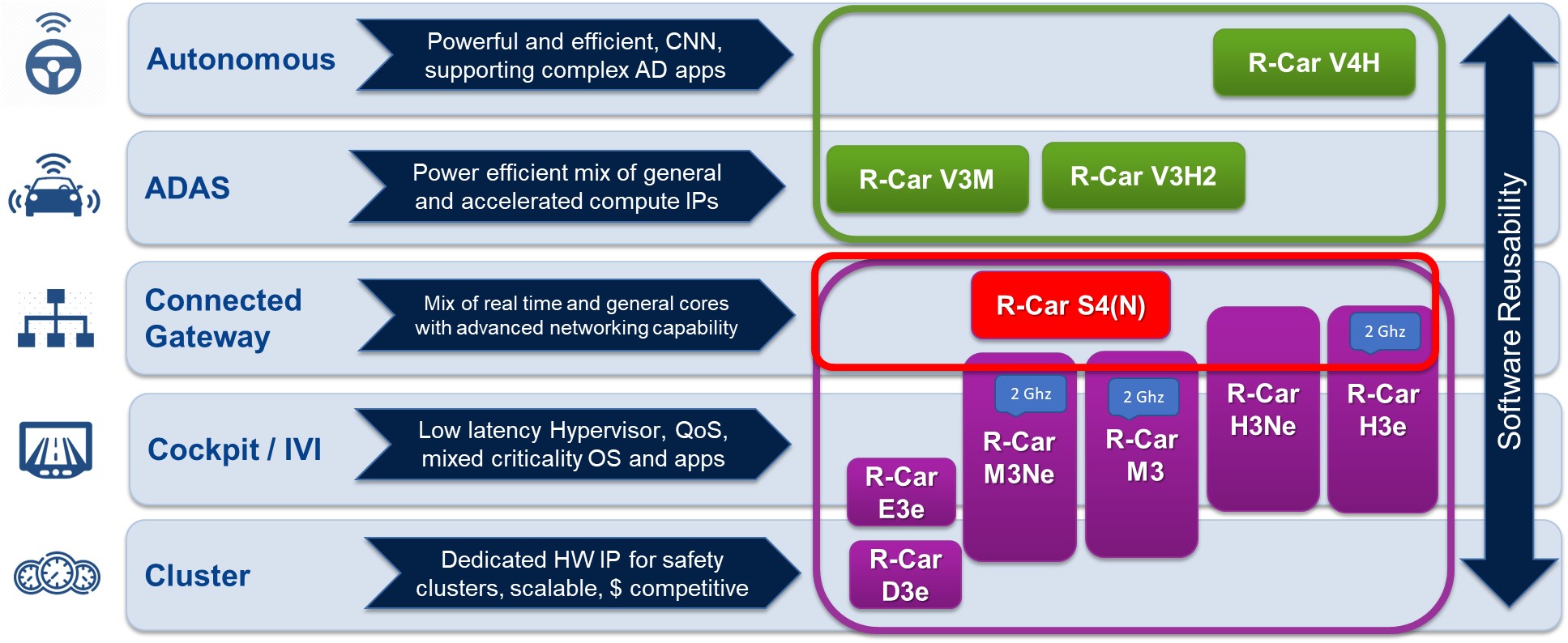 The R-Car Consortium brings together system integrators, middleware/application developers, and operating system and tools vendors who are developing solutions for the car information system (CIS) market.
Renesas, along with our partners, offer a large variety of software and development tools to support the large-scale and complex software development needs demanded by the automotive market today.
Product Lineup
 
 
R-Car S4
R-Car S4 enables the launching of Car Server/CoGW with high-performance, high-speed networking, high-security, and high-functional safety levels that are required as E/E architectures evolve into domains and zones.
R-Car H3e
The R-Car H3e is an automotive SOC for high-end computing, able to process large volumes of information from vehicle sensors accurately in real-time. Its applications are broad, including for example in-vehicle infotainment systems or integrated cockpit.
A 2GHz version (H3e-2G) is also available, providing increased CPU power.
R-Car H3Ne
The R-Car H3Ne is a scaled-down version of H3e, with similar positioning. It has more narrow data throughput and some peripherals optimized out. Its applications are broad, including for example In-Vehicle Infotainment systems or integrated cockpit.
R-Car M3e
The R-Car M3e can be used in a wide range of automotive applications requiring medium-class computing, including for example in-vehicle infotainment, low-end integrated cockpit, connected gateway, and central server.
A 2GHz version (M3e-2G) is also available, providing increased CPU power.
R-Car M3Ne
The R-Car M3Ne optimizes out the functions and performance of the R-Car M3e. It can be used in a wide range of automotive applications requiring medium-class computing, including for example entry in-vehicle infotainment systems, digital clusters and connected gateway.
A 2GHz version (M3Ne-2G) is also available, providing increased CPU power.
R-Car E3e
The R-Car E3e SOC is suitable for entry-level applications with powerful graphics and multimedia support. It can realize for example digital instrument clusters, display audio systems, driver monitoring systems, or LED matrix lighting.
R-Car D3e
The R-Car D3e SOC has been developed for full graphics cluster systems. It performs high graphics rendering and realizes low-end system solutions.
R-Car V3M
The R-Car V3M is an SoC that is primarily aimed at front camera applications but also surround view systems or even lidars, and that enables NCAP (New Car Assessment Program) features. It offers a highly-efficient image recognition engine, supports functional safety, and a high level of integration for reduced cost.
R-Car V3H
The R-Car V3H delivers best-in-class TOPS/Watt for cutting-edge computer vision, supports the latest NCAP 2020 requirements, including driver monitoring systems, and provides a migration path toward NCAP 2025.
R-Car V3U
The R-Car V3U SoC, based on the R-Car Gen 4 architecture, is the latest member of the open and innovative Renesas autonomy platform for ADAS and AD. The platform offers scalability from entry-level NCAP applications up to highly automated driving systems with the R-Car V3U providing up to 96k DMIPS and 60TOPS.
R-Car V4H
R-Car V4H system-on-chip (SoC) for central processing in advanced driver-assistance (ADAS) and automated driving (AD) solutions. The R-Car V4H achieves deep learning performance of up to 34 TOPS (Tera Operations Per Second), enabling high-speed image recognition and processing of surrounding objects by automotive cameras, radar, and lidar.
Note: Many documents show R-Car Gen3; they equally apply to Gen3e. In case of difference, a description of the differences is available.