Published: November 18, 2021
Industrial automation device manufacturers are looking for solutions that will be robust and easy to implement in their designs. In other words, they are looking for support of the digitalization of factory automation and towards the realization of a smart, connected factory as opposed to traditional systems continuing to operate as discrete autonomous solutions.
IO-Link is a fieldbus-independent interface that ensures seamless communication down to the "last meter" at the field level. With IO-Link, sensors and actuators can be connected to the control system level via a cost-efficient, point-to-point connection on a standard, unshielded three-conductor cable. Being an open interface, IO-Link can be integrated into all common fieldbus and automation systems. The international IO-Link standard (IEC 61131-9) enables central fault diagnosis and localization down to the actuator/sensor level. There are many reasons to use IO-Link, in almost any place that a digital or analog sensor is used, an IO-Link sensor can provide users with significantly more information, configurability, control, even maintenance of an automated system.
Renesas' IO-Link Slave Sensor Solution winning combination showcases two examples of a resistor bridge type sensor with two different slave PHY that can be used depending on users' system requirements (see Figure 1). The end goal is to allow designers to implement this solution to enable compact designs for small spaces.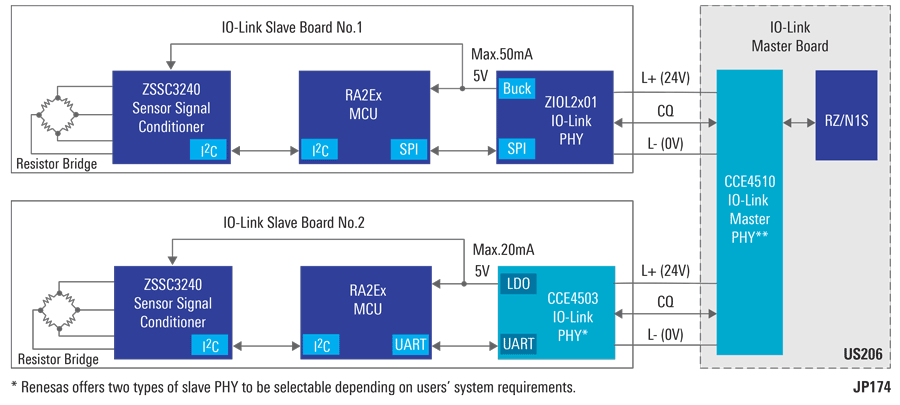 The two types of IO-Link PHY ICs that we propose here are the ZIO2x01 and the CCE4503. The ZIO2x01 are dual-channel high voltage line drivers with integrated DC/DC converter, that come in 4mm x 4mm QFN packages. While the CCE4503 are lower power and come in a 3mm x 3mm DFN package for even more space-constrained applications. Depending on the user's requirements both are easy to use and impalement devices.
The ZSSC3240 is a sensor signal conditioning IC (SSC) for highly accurate amplification, digitization and sensor-specific correction of resistive sensor signals. It is suitable for bridge and half-bridge sensors, as well as external voltage-source element and single-element sensors (e.g., Pt100 and external temper­ature sensor diodes) powered by an on-chip current source.
While the RA2E1 is a 48-MHz Arm® Cortex®-M23 core with up to 128KB code flash and 16KB SRAM memory entry-level microcontroller, making it perfect for simple control systems. It is also designed around low power process technology making it the industry's most energy-efficient, ultra-low power MCU. It also has a wide selection of package options including LQFP, QFN, LGA, BGA, and WLCSP, so designers have many options for compact designs.
While the CCE4510 is a highly integrated IO-Link Master PHY IC providing two IO-Link compliant channels with 1A peak driving current. The built-in IO-Link hardware frame handler significantly improves application performance by automating most of the lower layer communication tasks. It provides the perfect solution for 2/4/8/16 port IO-Link master applications connecting IO-Link compliant industrial sensors and actuators.
For more information about this solution, visit the IO-Link Slave Sensor Solution winning combination page. Or go to www.renesas.com/win to see many more solutions available to you.