Published: December 7, 2019
The healthcare landscape is changing, as more and more people are living longer lives. However, this also results in a need for more medical support for older patients, which increases the demand in hospitals, and sometimes even overloads their facility capacity. This also causes a rise in healthcare costs.
Because of these challenges, there is a movement towards home medication adherence rather than clinical adherence. Insulin infusion for home medication adherence has been around for some time now, but some intravenous infusions have also now been moved to nursery homes or patients' homes.
The way insulin adherence was done in the past (i.e., by measuring the blood with stripes and mechanically injecting insulin via pens), is not very reliable in some cases. For example, patients may forget to take it or do the measurements the wrong way. To ensure correct dosing, it is better to measure the amount of insulin rather than estimate it. A more modern approach is the use of insulin pumps, combined with wireless connectivity and automated insulin measurement, to ensure the correct amount of insulin is being administered. In the future, these may also be combined with e-AI approaches to foresee what the patient might do next (e.g., having breakfast, playing sports, etc.) to adjust the insulin dose accordingly.
Intravenous infusion drug provision is done by a syringe, or by volumetric infusion pumps from a larger reservoir. However, when it is injected, the needle may be displaced or pushed through the vein, resulting in an unintended subcutaneous infusion into the tissue rather than into the vein. To ensure correct dosing, it is better to measure the exact amount of drug flow per minute. The infusion pump itself typically may be driven by a small 3-phase BLDC motor. Since power loss may occur during this process, there is a need for an uninterrupted power supply via a rechargeable battery. It often needs to be connected to the cloud to be supervised by more experienced medical personnel who can manage dosing.
Both infusion pumps and insulin pumps have some common requirements:
A predefined amount of medication must be reliably administered at an exact amount
Equipment needs a reliable 3-phase BLDC motor control
Equipment must be fail-safe and secure, i.e., not easily hacked
A rechargeable battery is usually needed to be mobile with fail-safe operation
Connectivity to the cloud (e.g., Wi-Fi or LTE) or to a local, powerful mobile GUI (e.g., Bluetooth® via smartphone) is often required
Renesas can provide the technology to design these drug delivery applications. The block diagram below proposes a combination of such components :
Measurement of real drug delivery

Using factory-calibrated flow sensor or custom sensors

Exact control of dosing with 3-phase BLDC motor control and drivers
Two separate MCUs for enhanced safety and security by decoupling the application and communication:
Uninterrupted power supply using a Li-ion cell battery charger and DC/DC regulators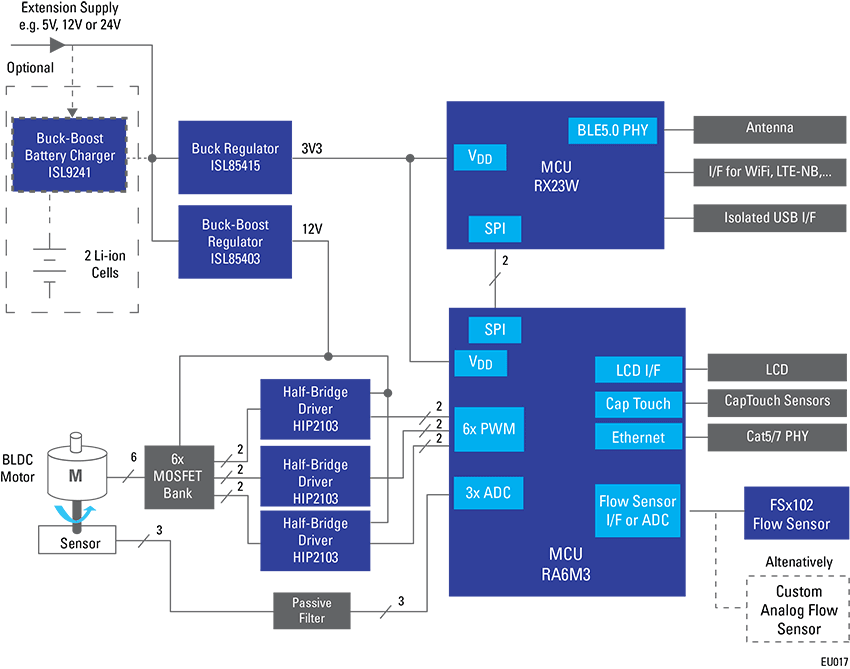 Electronic Drug Delivery System Reference Design
Visit the winning combinations page to learn more about this Electronic Drug Delivery System reference design.
*Renesas does not have any plans to provide medical products to the market; our customers are the experts in developing and providing these medical devices. Hence, this is just a proposal for a potential realization.