Published: July 22, 2023
The automotive industry is undergoing a remarkable transformation, with software-defined vehicles (SDVs) and new electronic/electrical (E/E) architectures taking center stage. In this era of automotive innovation, we just released the brand new Renesas R-Car S4 Starter Kit (SK), a cost-effective and easy-to-use evaluation board. This comprehensive SK combines the power of the Renesas R-Car S4 system-on-chip (SoC) with a rich number of automotive I/O, Gigabit Ethernet, routing accelerator performance, integrated hardware security module (HSM), and functional safety (FuSa) level up to ASIL-D. The R-Car S4 chipset solution helps to reduce the BOM cost for customers and allows an optimized performance-to-power-consumption ratio. In addition to the R-Car S4 SoC, the SK includes tailored analog ICs like the power management IC (PMIC) or the timing IC. In this article, we explore the key features and benefits of this evaluation board starter kit that drives the development of communication gateway and car server applications.
Features
Connectivity solution for car server applications
Embedded Gigabit Ethernet TSN switch
High-speed communications, CAN/Ethernet conversion with hardware acceleration functions
8MB RT-SRAM with 28MB RT-VRAM extended mode allows low memory access latency
Embedded RH850/U2A MCU feature set including advanced power management
Freedom from interference (FFI) support with Region ID and SPID access protection
Embedded hardware security module (HSM)
Safety level support up to ASIL-D
Benefits
SK contains a Renesas chipset solution including analog ICs (RAA271005 PMIC + RC21012 timing IC)
Software development kit (SDK) available free of charge
Build of Material (BoM) reduction due to higher integration level
High grade of software re-use from RH850/U2A and R-Car Gen3 saves development time/cost
High computation performance low power consumption
Empowering Software-Defined Vehicles (SDVs)
The Renesas R-Car S4 SoC low-cost evaluation board starter kit serves as a catalyst for the realization of SDVs. The typical use cases of the communication gateway/car server electronic computation unit (ECU) are displayed below:
Image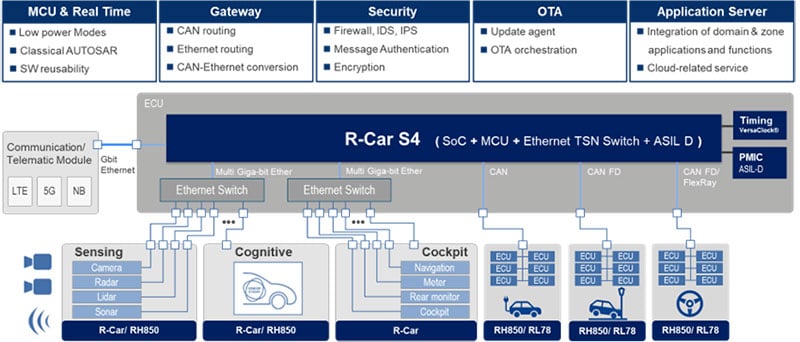 For this purpose, Renesas supports the free-of-charge R-Car S4 Whitebox software development kit together with the starter kit. Equipped with the powerful Renesas R-Car S4 SoC, which integrates a high-performance application CPU set and real-time CPU set, this evaluation board starter kit provides the processing power and freedom from interference (FFI) required for developing intelligent software applications in the automotive domain. By enabling the software-defined nature of vehicles, developers can seamlessly integrate advanced over-the-air software update functionalities for the Domain/Zone ECUs and for the ADAS, infotainment systems, creating a new era of connected and intelligent vehicles.
Driving the New Electronic/Electrical (E/E) Architecture
The evaluation board starter kit plays a pivotal role in driving the adoption of new E/E architectures. Traditional automotive architectures are rapidly evolving to meet the demands of connectivity and software-driven systems. The Renesas R-Car S4 SoC low-cost evaluation board starter kit offers a rich number of automotive I/O, allowing developers to integrate and connect various automotive systems, sensors, and controllers. The R-Car S4 SoC integrates the real-time capability and features taken from the RH850/U2A microcontroller – this approach offers a unique migration path from the discrete Domain/Zone ECU dedicated 32-bit MCU to the higher integrated S4. This flexibility facilitates the creation of innovative E/E architectures because of the software reuse and because of the BOM reduction. It optimizes the car's onboard communication, reduces wiring complexity, and enhances overall system performance.
High-Speed Connectivity with Gigabit Ethernet
Connectivity is paramount in modern vehicles, and the evaluation board starter kit excels in this area with its Gigabit Ethernet capability and the monolithic integrated 3-port 2.5Gbs Ethernet switch on the R-Car S4. The starter kit features multiple Gigabit Ethernet ports and hardware accelerated routing, enabling high-speed and reliable communication between in-vehicle systems. This facilitates the seamless integration of components such as cameras, LiDAR sensors, and ECUs, enabling advanced ADAS functionalities and real-time data processing. The support for Gigabit Ethernet ensures the in-vehicle network can handle the increasing data requirements of next-generation vehicles, paving the way for more advanced applications and services over the entire car life cycle.
Optimized Performance with Routing Accelerators
The Renesas R-Car S4 SoC low-cost evaluation board starter kit leverages routing accelerators, enhancing the performance of routing functions within the system. These accelerators streamline the data flow between different modules and subsystems via Ethernet/CAN routing and conversion, ensuring efficient processing and reduced latency. With the routing accelerator performance, developers can reduce the CPU load and can harness the full potential of the R-Car S4 SoC, enabling faster and more responsive automotive applications.
Enhanced Security with Hardware Security Module (HSM)
Security is a paramount concern in automotive applications and the evaluation board starter kit with the R-Car S4 integrated hardware security module (HSM). It provides robust security measures from R-Car Gen3 and from the RH850/U2x device series, including secure boot, encryption, and authentication, safeguarding critical systems and data from unauthorized access and cyber threats. By incorporating intrusion detection/protection service (IDS/IPS) reference software, the starter kit enables developers to build secure and trusted automotive solutions, ensuring the safety and privacy of vehicle occupants. This is a key element to support car makers' new business models to run cloud-based software services.
Conclusion
The Renesas R-Car S4 SK empowers developers with a comprehensive and cost-effective solution for driving automotive innovations. It is easy to use and the Whitebox SDK supports a quick development start of proof of concepts (POC) for software-defined vehicles and advanced E/E architectures and helps our customers to achieve a shorter time-to-market.