Renesas' In-Cabin Air Quality Sensor Solution offers the highest quality of comfort with intelligent algorithms to monitor the quality of air (pollutants, humidity and temperature).
Shorten development time and reduce development costs with this reference design and software for smart and energy-efficient automotive HVAC*1 systems using air quality sensors.
System Benefits:
Improves passenger comfort and health by detecting a wide range of organic pollutants (VOCs*2), oxidizing pollutants (Ozone), humidity, and temperature.
Renesas' MEMS-based sensor solution provides measurements with stable characteristics and high accuracy using neural network-trained firmware (AI).
Easy integration and reduced R&D effort with user-friendly GUI and firmware support.
*1 HVAC (Heating, Ventilation and Air Conditioning)
*2 VOCs (Volatile Organic Compounds)
Image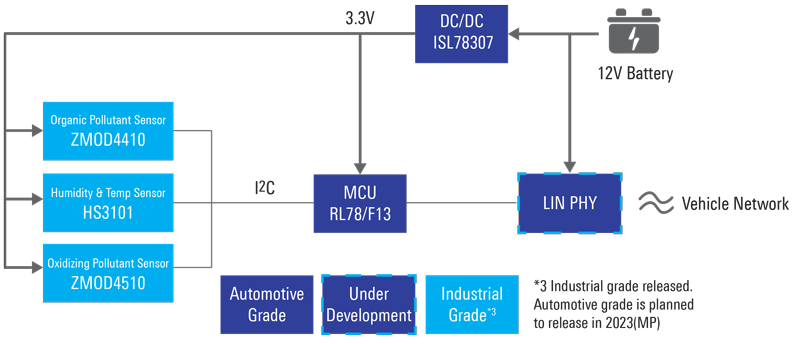 Related Products
Product
Description
Featured Document
Ordering
 
 
 
 
Microcontroller
 
 
 
RL78/F13
16-bit MCU with Ultra-Low Power and Built-in CAN/LIN (20 - 80 pins, 13 - 68 GPIOs)
User's Manual
Buy/Sample
 
 
 
 
Gas Sensor
 
 
 
ZMOD4410
(Industrial Grade)
Air Quality Sensor Designed for Detecting Total Volatile Organic Compounds (TVOC)
*Automotive grade is under development.
Datasheet
Buy/Sample
ZMOD4510
(Industrial Grade)
Air Quality Sensor Designed for Detecting Oxidizing Pollutants
*Automotive grade is under development.
Datasheet
Buy/Sample
 
 
 
 
Humidity Sensor
 
 
 
HS3101
(Industrial Grade)
Relative Humidity and Temperature Sensor with Membrane
*Automotive grade is under development.
Datasheet
Buy/Sample
 
 
 
 
Linear Regulator
 
 
 
ISL78307
40V, Low Quiescent Current, 50mA Linear Regulator for Automotive Applications
Datasheet
Buy/Sample
 
 
 
 
LIN PHY
 
 
 
LIN PHY
(Under Development)
LIN Physical Driver Interface (LIN Transceiver)
Contact Sales
Contact Sales