For chassis systems, the volume of information from sensors is increasing due to the need to coordinate with advanced driver assistance systems (ADAS). Thus, high-speed communication functions as well as high information processing capabilities are needed.
Renesas automotive chassis and safety solutions provide automotive manufacturers with many benefits including MCUs capable of supporting dedicated motor control timer units, high-performance CPU core with lock step, high-precision analog-to-digital (A/D) converters, interfaces for communicating with other control units, and variable safety mechanisms for supporting ASIL-D*.
*ASIL: Automotive Safety Integrity Level. ASIL-D is the highest Automotive Safety Integrity Level.
Chassis and Safety Roadmap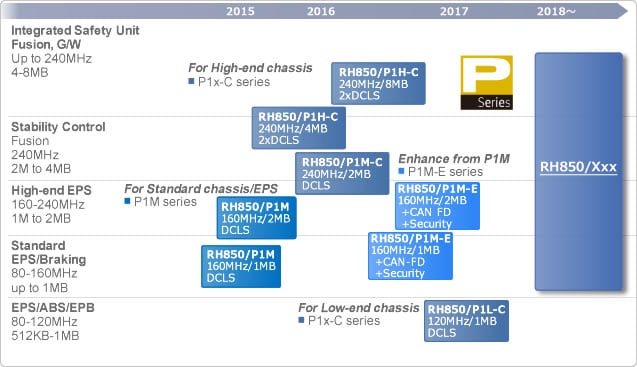 Featured Products
Instrument Cluster Roadmap