Renesas provides IP products of H8, H8S and H8SX which are used by many customers for years.
IP has no concept of discontinuation. Together with customers' software and hardware intellectual property, IP products can be used continuously in the future in the most suitable devices, such as FPGA or ASIC.
H8, H8S, H8SX family CPUs (except H8/500 CPU) have compatibility on an object level.
8-bit (H8/300), 16-bit (H8S), 32-bit (H8SX) IPs are lined up as IP products.
Please select H8S IP in place of H8/H8S 16-bit microcontroller products including H8/300H.
Please select H8/300 IP in place of H8 8-bit microcontroller products. If emulators (E10A-USB) are to be used, please select H8S IP.
About IPs, see here.
H8/H8S/H8SX Compatibility
Image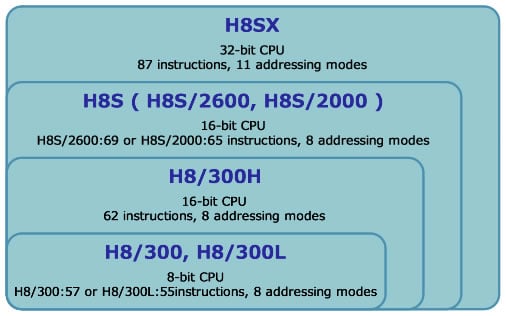 CPU
Bit Size
General
Registers
Control Registers
Basic
Instructions
Addressing
Modes
Minimum States
Of Instruction
H8SX
32-bit
16-bit×16
PC, CCR, EXR, VBR, SBR, MAC
87
11
1
H8S
H8S/2600
16-bit
PC, CCR, EXR, MAC
69
8
H8S/2000
PC, CCR, EXR
65
H8
H8/300H
PC, CCR
62
2
H8/300
8-bit
8-bit×16
57
H8/300L
55