For gas meters, when it becomes necessary to shut off the gas supply in the event of a disaster or a long absence, there is a requirement for a gas meter that can handle the shutoff of the gas supply without human intervention by the system itself. LoRaWAN®, a wireless communication Low Power Wide Area (LPWA) networking protocol for IoT, can achieve low power consumption and small-scale data transmission for long distances. Usually, LoRaWAN uses the Class A standard; however, the LoRaWAN Class B standard which is low power consumption and low latency can be remotely controlled and is ideal for gas meters. The LoRaWAN network can also address additional IoT solutions that may solve regional issues and revitalization.​
System Benefits​:
The RL78 microcontroller (MCU) has the industry's lowest power consumption when powering a gas meter with a battery. In addition, the RL78 MCU can use LoRa® software that controls LoRa-based ICs while maintaining the ability to achieve low power consumption.​
The F2912 is a high reliability, low insertion loss 50Ω single pole double throw (SPDT) absorptive RF switch designed for a multitude of wireless and other RF applications.​
The ZSSC3240 sensor signal conditioner (SSC) IC is designed for high-resolution sensor module applications and can perform offset, span, and first and second order temperature compensation of the measured signal (pressure sensor).
The FS1027-DG gas flow sensor module measures the flow rate using the thermo-transfer (calorimetric) principle. The sensor uses thermopile sensing, which provides an excellent signal-to-noise ratio. Gas flow can measure from 0 to 200 liters/min. (MCUs), so if the system hits an unwanted system state, control is maintained, and it can safely cut power to the motor.
Image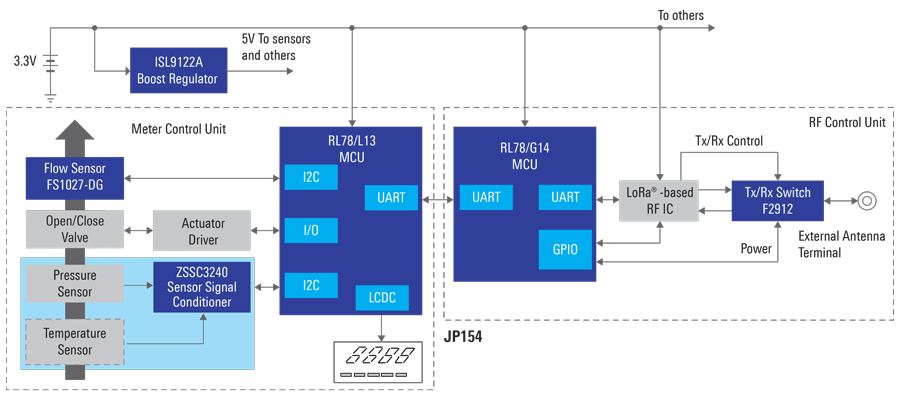 Related Products