Published: March 28, 2019
With all the hype around foldable smartphones and 5G at Mobile World Congress earlier this month, you may have missed a significant new trend in wireless charging – WattShare™ technology is the latest wireless charging innovation pioneered by Renesas. This innovative concept enables your smartphone to wirelessly charge a friend's smartphone or charge your wireless accessories, such as your true wireless (TWS) earbuds, smartwatch, car key-fob, or even an e-cigarette holder. Effectively, WattShare transforms your smartphone into a smart portable power ecosystem.
Present users of wireless charging are familiar with conventional, magnetic induction Qi charging where the smartphone is placed on the Qi wireless charging pad (Figure 1) and the user enjoys the convenience of wirelessly charging their smartphone without having to plug and unplug cables. The smartphone receives power from the charging pad, typically around 5-10 Watts with some manufacturers offering faster charging up to 20W depending on conditions.
Wireless power receiver ICs with WattShare technology allow one to change the direction of power flow – flexibly transforming the smartphone device from a power receiver to a transmitter of power. When another smartphone or smart wireless power accessory device is placed on the back of the smartphone, said the device will start to charge wirelessly (Figure 2). This amazing new technology has been developed and optimized over several years by Renesas Labs and has been adopted in several new premium smartphones with many more expected to follow.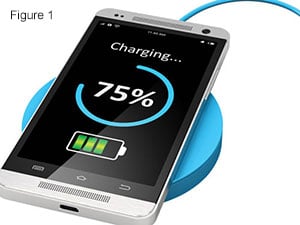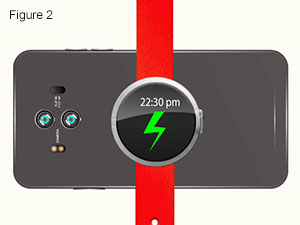 The technology uses a single IC to receive and transmit power with an optimized single antenna design for the best user experience. The available power level in transmit mode is up to 7W – more than sufficient to charge even the most power-hungry accessories.
As mentioned, WattShare enables phone-to-phone charging – allowing the smartphone user to provide up to 7W of charge to friends and family or perhaps a random act of kindness to a stranger in a plane, train or restaurant… true connectivity. The technology is likely to result in some interesting social situations as the smartphone has increasingly become a very personal and intimate device. We seldom feel comfortable when it is more than an arms-length away.
WattShare requires a level of connectivity that could break down social and personal barriers: 'do you love someone enough to give them your last 15% of charge?' More social comments to follow – I look forward to the viral videos on this topic.
With the pervasive nature of smartphones, it is likely that we will see a new world of WattShare-based applications. Consider hotel room keys…
You arrive at the airport late at night. The hotel that you booked earlier in the day sends the 'room-key' to your smartphone. On arrival at the hotel, there is no need to check-in – just go directly to the room number on your smartphone. As you arrive at the hotel room, hold the smartphone to the e-lock. Power transfers from the smartphone to the lock along with the necessary encrypted data – and voila! Open sesame. The important point is that the hotel door lock does not require a battery. Remember, just enough power transfers instantly from the smartphone to the receiver inside the lock to provide enough energy to drive the mechanical assembly to open or close the bolt. Removal of the battery significantly reduces replacement maintenance and customer inconvenience.
The convenience of WattShare and the environmental impact of battery elimination will combine to accelerate technology adoption in other locking applications including: suitcases and luggage, safes and security applications, bicycles and electric scooters.
As the technology becomes a standard wireless charging feature in smartphones, the number of applications will continue to expand, but one question will always remain – "Do you love me enough to give me your last Watt?"
To get more details on WattShare technology and Renesas' complete portfolio of wireless power receiver and transmitter solutions visit renesas.com/wirelesspower.