Published: July 1, 2020
Hello everyone. My name is Ishida from Renesas Electronics. I have been involved in power device products and providing technical support for our customers for nearly 10 years now. I know it's sudden, but do you know Renesas power devices? In addition to microcomputers, analog products and power management ICs (PMICs), Renesas also offers power discrete products which can be operated at high voltages and high currents such as MOSFETs, IGBTs, triacs, and thyristors. Each of our power discrete products has excellent performance and features. However, it seems that many customers did not know that Renesas also had power devices, even though there are many products that have attractive features, it is a waste!
So, I will introduce the lineup and features of power discrete products several times through this blog. This time, I will introduce the IGBTs products that I am in charge of.
By the way, Renesas IGBTs are for automotive and industrial applications. We have a lineup of products mainly for EV inverters for automotive applications and energy management equipment for industrial applications that require high efficiency. I am going to introduce our IGBTs for industrial applications in this post.
For product information on our IGBTs, visit our Power IGBTs for Inverters page.
A power device plays a role in power conversion. Among the power devices, especially IGBTs play an important role in high-power applications. Its performance is directly linked to energy saving, which is a major issue in our society. Renesas has expanded its IGBTs lineup with the addition of the 8th Generation (G8H), which has evolved further from the 7th Generation (G7H) which is our current main product. In the G8H series, the latest technologies of "thin wafer" and "miniaturization" improved the trade-off between conduction loss and switching loss, realizing an unprecedented ultra-low loss. Without being satisfied, we are also developing a new process, G9H, which enables further loss reduction.
Image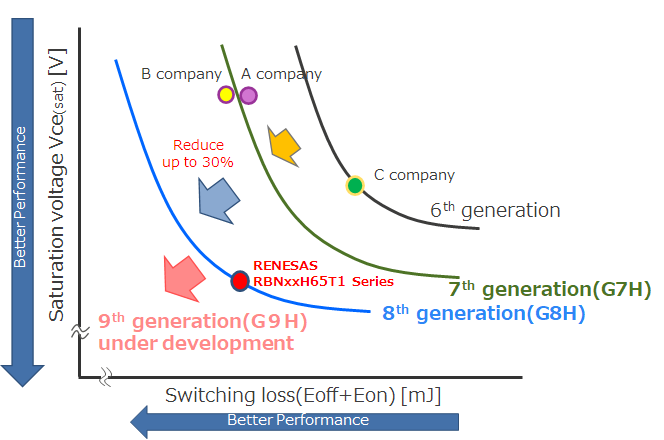 To learn more about G8H IGBTs, visit our Ultra-Low Loss 8th Generation IGBTs page.
Here are the applications Renesas is particularly focusing on.
Image

We aim to contribute to the energy management field, such as renewable energy (wind power generation and solar power generation), power grid, power storage, and charging equipment (UPS and EV chargers) that are expected to generate significant demand in the future in order to realize an ecological society.
The product lineup is here.
Image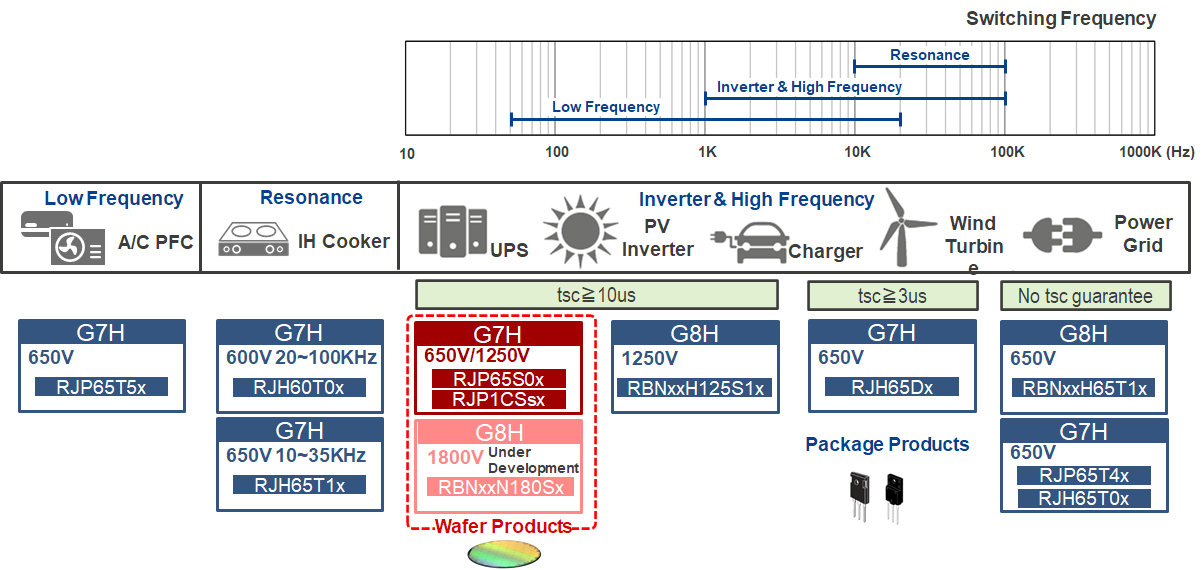 There are two types of product forms, wafer and package. For the blocking voltage, there are lineups starting from 600V to 1250V. In addition, we are also developing 1800V for wafer products targeting higher-power wind-power generation and power grids (production is scheduled to begin soon). We have products that can be optimally selected according to the customer's development.
For a detailed product lineup, see our Power IGBTs for Inverters page.
Let's take a look at our Power IGBTs for Inverters page for our efficiency evaluation results on evaluation boards, which are simulated as the circuit of each application, in order to let you know that our devices also have good performance in application circuits. For example, the figure below displays part of the evaluation results in the inverter circuit. You can see the good performance of the Renesas IGBT with circuit efficiency, power loss as a product, and operating waveform.
Image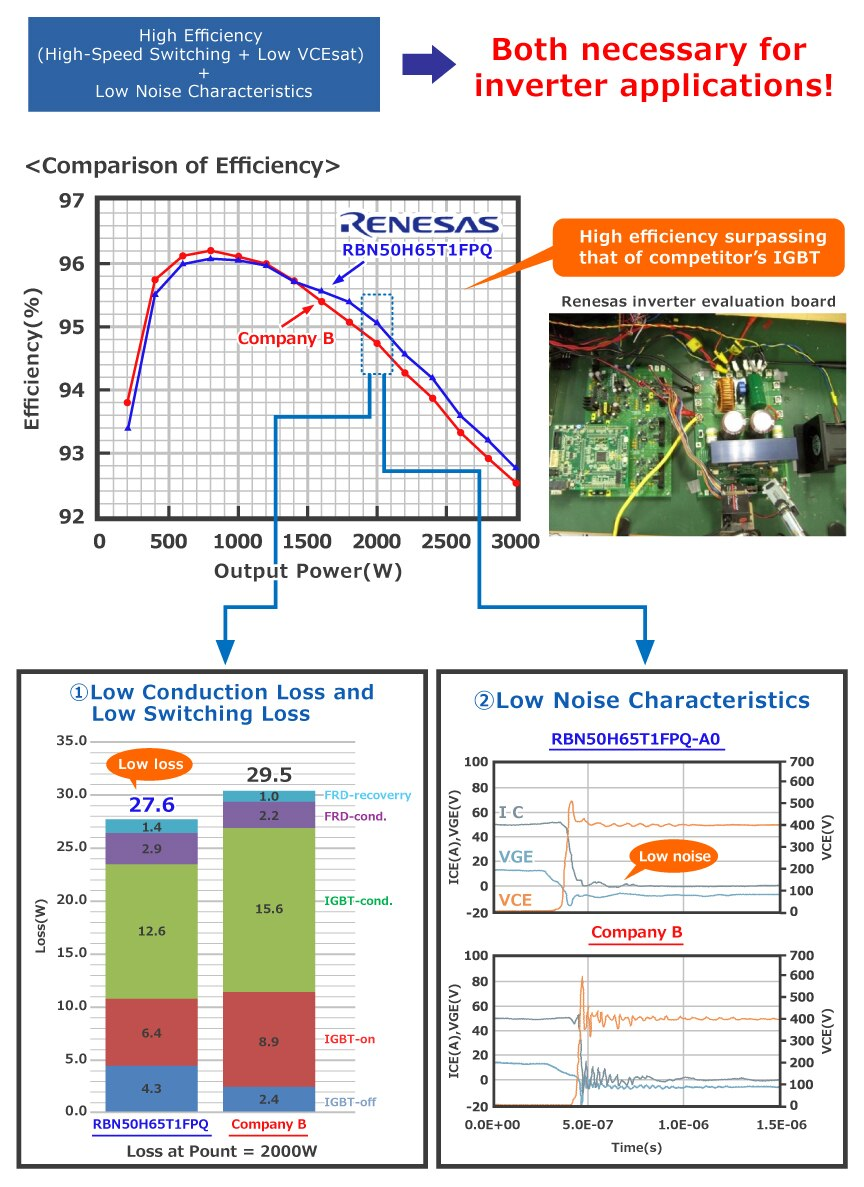 Renesas' IGBTs provide performance that satisfies customers with low loss and high efficiency at the highest level in the industry! Please consider it!
In the future, our power discrete products team will introduce product lineups such as MOSFETs, triacs, thyristors, and thermal FETs as an introduction series for Renesas power devices.
Please look forward to it.