What is Matter?
A single unified IP-based protocol to securely and robustly connect smart devices with each other, regardless of brand, and across smart home ecosystems.
By collaborating with the Connectivity Standards Alliance and being supported by major brands, Matter allows manufacturers to accelerate the development of IoT smart devices as well as improve consumer compatibility. Matter solutions will be compatible with all major smart home ecosystems.
Renesas's Matter component is an integral part of the company's vision for a connected home, and it will be supported by all of Renesas' connectivity products.
Frequently Asked Questions About Matter
Image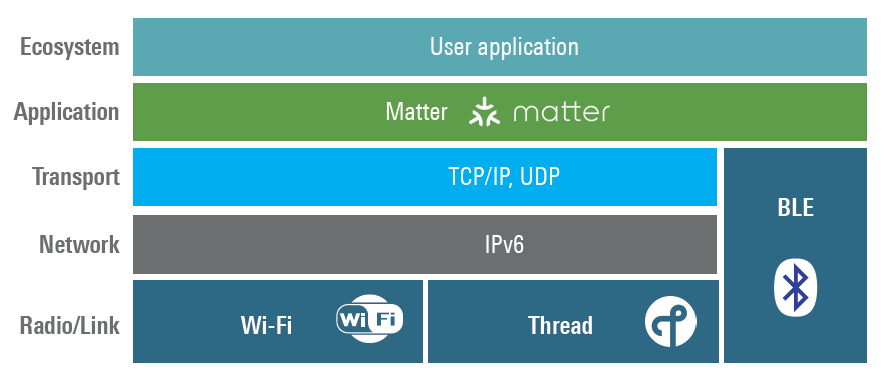 Why Matter?
We aim to make building secure and reliable solutions easy for developers. The Matter platform is the best way to integrate your products with the major smart home ecosystems.
Matter Benefits
house Bring interoperability into Smart Home Ecosystem
settings_suggest Simplify development for "things"
extension Increase compatibility for consumers
lock Ensure security and privacy
wifi Create a truly smarter home
What makes Renesas the best choice for Matter?
Broad portfolio
Featuring technologies such as Wi-Fi, Bluetooth Low Energy (LE), LTE cellular connectivity and ultra-wideband (UWB), Renesas can meet your wireless connectivity requirements.
Industry lowest power consumption
Our Wi-Fi and BLE SoCs are a synthesis of breakthrough ultra-low power technologies that enable the industry's lowest power operation and deliver a multi-year battery life.
End-to-end security features
With a focus on ensuring secure connected products, Renesas connectivity products feature industry-leading security protocols, including the latest generation hardware encryption engine and authentication standards for safeguarding against potential threats.
Superior Range with easy-to-use SDK and AT Command tools
Access the industry-leading low power features of Renesas products simply, quickly, and without having to develop any complex software on the Wi-Fi side.
What is Renesas' involvement in Matter?
As a member of the CSA alliance, Renesas is committed to taking an active role in the development of the CSA and Matter. We will be Matter-compliant with all of our current and future Wi-Fi, Bluetooth, and Thread products. Our Matter-ready SDKs will be released in the coming months. Stay tuned.