MP5232 Dual 1.5GHz core Communications Processor to Drive LTE Growth with Best-in-Class User Experience for High Volume LTE Smartphones and Tablets
February 15, 2012
TOKYO, Japan, February 15, 2012 — Renesas Electronics Corporation (TSE: 6723) and its subsidiary, Renesas Mobile Corporation, a leading supplier of advanced cellular semiconductor solutions and platforms, today announced the availability of the MP5232, the first single-chip, high-performance, scalable smartphone platform optimised to address the US$150-300 range device market. The MP5232 platform is designed to enable OEMs to accelerate the creation and delivery of high volume LTE/HSPA+ capable smartphones, tablets and mobile Internet devices the industry requires to deliver the full potential of LTE.
The MP5232 platform sets a new benchmark in terms of levels of integration and performance for fully featured high-volume LTE devices. At its heart, the Renesas Mobile modem, deployed in over two billion devices to date, delivers the industry's highest throughput and low power multi-mode FDD and TDD-LTE Category 4 capabilities. Combined with a state-of-the-art application processor the platform delivers a no-compromise user experience with multi-core computing power, industry-leading graphics, video and imaging capabilities. The platform also includes advanced RF transceivers, power management and audio solutions. This highly integrated smartphone platform is delivered fully tested and certified to enable customers to bring new generations of fully-featured LTE/HSPA+ smartphones to market in as little as six to nine months.
"We are seeing a number of US$600+ LTE super phone devices being launched in the market, but the industry needs a wider penetration of LTE devices for the business case for LTE to pay off," commented Jean-Marie Rolland, CTO and Executive Vice President of Sales and Marketing for Renesas Mobile Corporation. "The MP5232 platform represents a new category of mobile platform optimised to increase the number of fully-featured, LTE high volume smartphones in the market. By integrating high performing, proven technologies the platform offers a low risk path for device manufacturers to create high volume, premium capability LTE multi-mode products for multiple market segments quickly and effectively, without having to make any compromises in terms of features or user experience."
"The whole mobile industry is undoubtedly committed to LTE as the technology of choice for 4G services. However, it becomes increasingly challenging adding LTE to an already packed mobile devices that are required to support different legacy modes and bands," said Malik Saadi, Principal Analyst, Informa Telecoms and Media. "In order to achieve global economies, vendors are keen to offer LTE multiband and multimode devices capable of roaming across different networks and regions, without compromising price, user experience, form factor, or power consumption."
Renesas Mobile has brought its extensive consumer electronics industry expertise to the development of the platform, ensuring that the MP5232 benefits from the latest process technologies, methodologies and multimedia capabilities. The resulting platform is smarter by design with the lowest possible platform cost compared to current generation chipsets and an extremely high level of integration. In addition, the platform benefits from a unique modem architecture designed to consume the lowest possible power. Scalability and flexibility are baked in, allowing OEMs to create devices that address multiple price points and segments with minimal development time and maximum hardware and software reuse. Certified and proven technologies ensure that development, certification and maintenance costs are reduced.
Based on the Renesas Mobile's state-of-the-art application processor technology, the MP5232 platform delivers a no-compromise user experience with 1.5GHz dual-core computing power, industry-leading graphics, video and imaging capabilities. The platform supports differentiating features including multi-camera and multi-display support, full HD 1080p multi-format video encoding/decoding, stereoscopic 3D (S3D) video and advanced graphics to deliver a console-like gaming experiences and engaging user interfaces.
Renesas Mobile consulting and support services leverage the company's extensive system and production expertise to provide assistance at all stages of implementation, from design through to production. This support significantly reduces not only development time, but also production tuning and test time.
Availability
Samples of the MP5232 platform are available Q1 2012 to lead OEM's in the form of reference designs together with supporting documentation, software and hardware. Pricing is available on request.
Image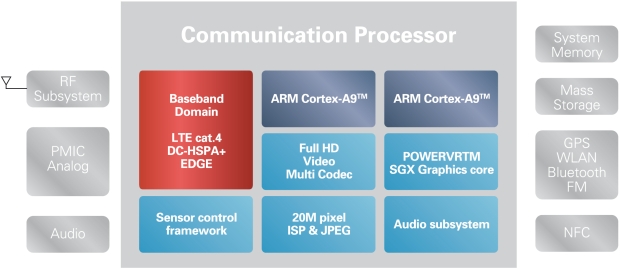 About Renesas Electronics Corporation
Renesas Electronics Corporation (TSE: 6723) delivers trusted embedded design innovation with complete semiconductor solutions that enable billions of connected, intelligent devices to enhance the way people work and live. A global leader in microcontrollers, analog, power and SoC products, Renesas provides comprehensive solutions for a broad range of automotive, industrial, infrastructure, and IoT applications that help shape a limitless future. Learn more at renesas.com. Follow us on LinkedIn, Facebook, Twitter, and YouTube.
About Renesas Mobile Corporation
Renesas Mobile Corporation is a wholly owned subsidiary of Renesas Electronics Corporation and offers advanced and innovative products and services for mobile phones, car infotainment solutions, consumer electronics and industrial applications. Renesas Mobile's mission is to develop, productize and deliver communications centric semiconductor chipsets and complete hardware and software platforms built on these chipsets to meet the needs of our customers in these markets. Renesas Mobile Corporation provides complete cellular chipset platform solutions include powerful applications processors, leadership and industry reference cellular modems, highly integrated radio frequency devices, intelligent power management solutions, and the complete system and software expertise to develop flagship devices more rapidly.
Remarks)
All product and service names that appear in this press release are trademarks or registered trademarks of their respective owners.
---
The content in the press release, including, but not limited to, product prices and specifications, is based on the information as of the date indicated on the document, but may be subject to change without prior notice.