November 3, 2021
Reality AI was named the winner of the most innovative product in the Automotive/Autonomous Technologies category of the Best of Sensors Awards, recently held at Sensors Converge 2021 Conference and Expo this September and presented by Sensors Converge and Fierce Electronics. These awards honor the best new products in the sensor ecosystem and the people and companies that design them. There are 13 categories of awards. Reality AI won for their Automotive SWS (See With Sound) sensor.
The Automotive SWS focuses on protecting the passengers of vehicles by detecting sound waves in the environment that could indicate potential threats to their safety. While cameras and lidar can be used to detect threats and obstacles, these technologies are limited to detecting visible objects. Radar can fill in some of these gaps by detecting hidden objects, but radar's range is limited and does not work around corners. Reality AI created the Automotive SWS with sound-based detection to address these issues.
"Blind intersections and obstructed views are a real problem for collision avoidance systems based on cameras, lidar and radar," said Stuart Feffer, CEO of Reality AI. "These line-of-sight sensors just can't see what they can't see. By letting cars hear as well as see, we can pick up on context—emergency vehicles, oncoming traffic—that would not otherwise be visible."
The Automotive SWS sensor detects threats by monitoring sound waves through an array of microphones that act as a peripheral for the processor. The system can identify the direction from which emergency vehicles, cars, motorcycles, bicycles, joggers, and other objects are approaching and alert the driver of the objects even when hidden or around a corner. In addition, the machine learning capabilities of the Automotive SWS ensure that the sirens of specific countries can be detected worldwide.
Reality AI's solution doesn't end with the sensor, though. It combines both hardware and software to help product designers get started quickly. Reality AI provides sample hardware, firmware, and custom development software for both Automotive Tier 1 and Tier 2 providers so they can develop their own customized detection system. The Automotive SWS system uses data collected by external microphone arrays in combination with machine learning models and artificial intelligence algorithms to detect specific known threats and predict problems before they happen.
The Automotive SWS can accurately classify a wide variety of threats at a range of 1.5 kilometers for sirens, more than 35 meters for cars, trucks, motorcycles, and other motor vehicles, and 10 meters for joggers. Its machine learning models can compute the angle that the threat will arrive at, the threat's estimated distance, and whether the threat is approaching or receding.
Image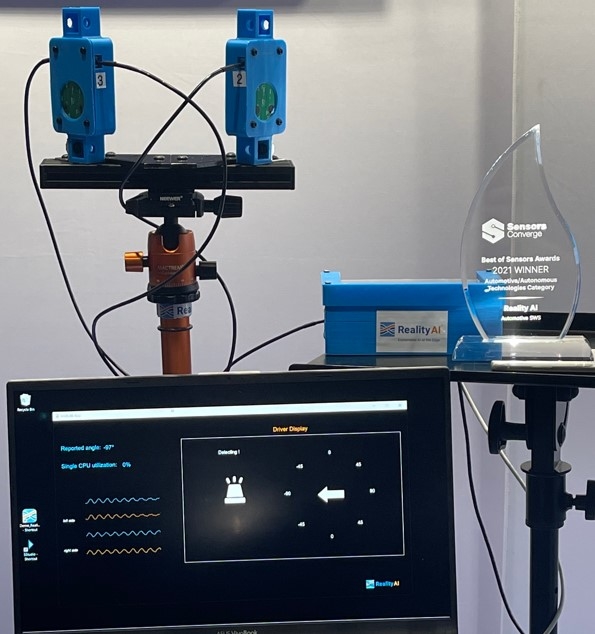 Reality AI worked with both Hagiwara Electronics Co. Ltd. and DENSO Corporation to customize the Automotive SWS for the automotive industry. In addition, Reality AI partnered with Infineon Technologies and used their XENSIV MEMS microphones to build an even more efficient system. Reality AI also leveraged Infineon's AURIX TC3x family of MCUs for audio-signal processing, which has already been widely used in the automotive industry.
Reality Analytics Inc. (Reality AI) was founded by Jeff Sieracki and Stuart Feffer in 2016. Its headquarters are in Columbia, Maryland, with locations in Detroit, California, and Tokyo. Its mission is to provide advanced signal recognition capabilities to software developers and connected device creators. Many of its technologies were initially created for signal analytics in the intelligence and defense industries.
Image
To see the complete list of finalists in the Best of Sensors 2021 Awards, click here.
---
The content in the press release, including, but not limited to, product prices and specifications, is based on the information as of the date indicated on the document, but may be subject to change without prior notice.