This solution utilizes a video signal processor (VSP) to distribute the video output of the R-Car V3H, which is capable of AI-based image recognition. It reduces the system BOM cost by implementing surround view and augmented reality head-up display (AR-HUD) applications at the same time.
System Benefits​:
VSP (TW8846/47) splits the R-Car V3H's video signal into two signals
Easily expandable from existing R-Car V3H systems
High accuracy AI image recognition is possible by using R-Car V3H with convolutional neural network (CNN) IP
R-Car V3H and PMIC support functional safety up to ISO 26262 ASIL B
Automotive HD link (AHL) reduces the cost of an HD camera system by using low-cost connectors and cables
Integrates many components in several Renesas R-Car systems into a tiny configurable mixed-signal IC (CMIC), allowing product differentiation at a lower cost and smaller PCB space
View the R-Car based winning combination using CMIC on Infotainment and Automated Driving Systems.
Image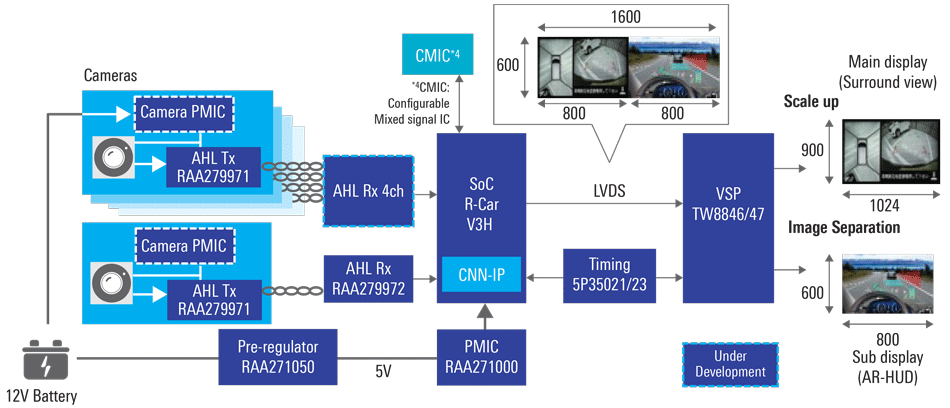 Image

Related Products
Product
Description
Featured Document
Ordering
 
 
 
 
System-on-Chip (SoC)
 
 
 
R-Car V3H
SoC Optimized for Automotive Application in Stereo Front Cameras
User's Manual
Contact Sales
 
 
 
 
Pre-Regulator
 
 
 
RAA271050
4A, High-Efficiency Synchronous Buck Regulator for Automotive Applications
Datasheet
Contact Sales
 
 
 
 
Power Management ICs (PMIC)
 
 
 
RAA271000
General-Purpose SoC PMIC for Automotive Applications
Datasheet
Contact Sales
Camera PMIC
(Under Development)
4-Channel Automotive Camera PMIC (Functional Safety Support)
Contact Sales
Contact Sales
 
 
 
 
Automotive HD Link (AHL)
 
 
 
RAA279971
Automotive High Definition Link Encoder
Datasheet
Buy/Sample
RAA279972
Automotive High Definition Link Decoder
Datasheet
Buy/Sample
4-Channel AHL
(Under Development)
4-Channel Automotive High Definition Link Decoder with MIPI-CSI2 Output
Contact Sales
Contact Sales
 
 
 
 
VSP LCD Controllers
 
 
 
TW8846
LCD Video Processor with Decoder, LVDS, TTL, MIPI, Image Enhancement, and Video Integrity Diagnostic
Datasheet
Buy/Sample
TW8847
LCD Video Processor with Decoder, LVDS, TTL, MIPI, Image Enhancement, and Video Integrity Diagnostic
Datasheet
Buy/Sample
RAA278840
LCD Video Processor with Decoder, LVDS, TTL, MIPI, Improved Upscaling Engine, and Video Integrity Diagnostic
(Optional device for consideration, not available in block diagram.)
Datasheet
Buy/Sample
RAA278842
LCD Video Processor with Dual Channel LVDS Open LDI Panel Interface and a Separate MIPI-CSI2 Output
(Optional device for consideration, not available in block diagram.)
Datasheet
Buy/Sample
RAA278843
LCD Video Processor with a Pseudo BT.656 Output
(Optional device for consideration, not available in block diagram.)
Datasheet
Buy/Sample
 
 
 
 
Clock Generators
 
 
 
5P35021
Programmable VersaClock® Clock Generator
Datasheet
Buy/Sample
5P35023
Programmable VersaClock® Clock Generator
Datasheet
Buy/Sample
 
 
 
 
Configurable Mixed-Signal ICs (CMIC)
 
 
 
SLG46827-A
Automotive GreenPAK™ Programmable Mixed-Signal Matrix with In-System Programmability
Datasheet
Buy/Sample
SLG46855-A
Automotive GreenPAK™ Programmable Mixed-Signal Matrix
Datasheet
Contact Sales