Car makers, also called OEMs, are looking for a realistic scenario for a sustainable business in ADAS and AD. Safety requirements, driven by the next version of NCAP requirements and legislation, remain the main market driver for ADAS. In addition, the convenience functions of ADAS will drive demand as they become more affordable.  Aside from this, premium OEMs are developing cars that support Level 3, where the car can drive in specific situations, such as on highway or during automated parking, autonomously. 
Autonomous Cars – Pushed back
The hype of full autonomous driving has been slowing down and now OEMs are looking for a more realistic scenario for a sustainable business.  
The goal was to be the first to deliver an autonomous vehicle, but reality has been very different. Many items have led to major delays and expenses above the initial estimation, to name a few: The complexity of the architecture due to massive number of heterogeneous sensors in a fully distributed system; the validation of such a system with almost infinite use cases and the business model among the different HW and SW providers. 
But trends, such as electrification of the vehicle or safety requirements, which are pushed by the need to protect the climate, NCAP assessment and legislation, required the market to reconsider their overall investment priorities and ultimately reduced the investment in autonomous vehicles. This shifted the introduction of automated cars, see here:  
Driverless cars are stuck in a jam (The Economist)
Ford Delays Commercial Automated Vehicle Launch To 2022 (Forbes)
Image

Safety remaining the market driver – Paired with affordable convenience features
Safety requirements, driven by the next version of NCAP requirements and legislation, i.e backup cameras or AEB, remain the main market driver for ADAS. In addition, the convenience functions of ADAS will drive demand as they become more affordable.  
Image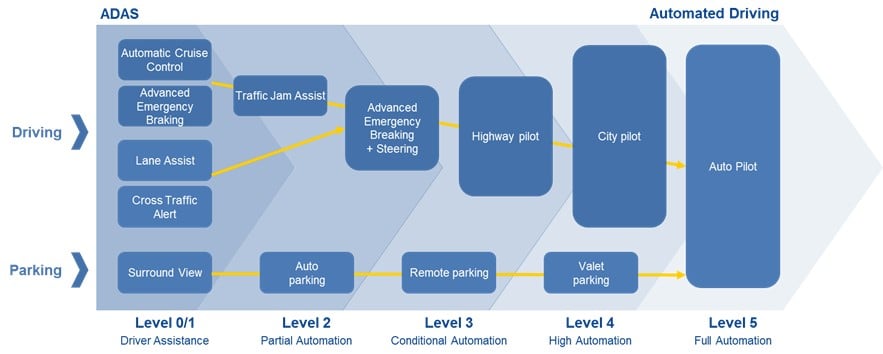 At the same time, a few convenience functions such as automatic parking and adaptive cruise control with steer assist (level 2 / Level 2+) become popular at the end user. Customers see a concrete benefit versus the slight cost of the optional vehicle upgrade.
In the end, OEMs are forced to adapt their vehicles to the latest NCAP requirements or legislation while providing ADAS as a convenience function when there is a clear expectation from the market.
Features up, complexity up – OEMs need scaling platforms!
As complexity is growing, OEMs are looking for development efficiency and a scalable platform able to cover a wide range of requirements from the basic NCAP function up to affordable L2+ and L3.
The trend of integration of several functions into a centralized ECU looks quite appealing to target this scalability demand. However, this approach leads to new challenges.
From a hardware perspective, the challenge is to find semiconductor vendors able to offer an open platform that scales the device from entry to high, while maintaining upgrade compatibility. Silicon shall provide a high level of performance, which consumer products from mobile, PC or gaming can offer. But power consumption and functional safety are also a must which devices from the consumer area were not initially designed for.
From a software perspective, the OEMs will look for the best SW supplier for a specific function either from a traditional Tier 1 or even a new SW provider, which requires an open software model. 
Artificial intelligence is the next challenge, which is completely a new class of algorithms, which was still in research a few years ago, and now is expected to actively drive our cars. The required performance requires embedded innovative, cutting-edge IP for i.e., computer vision and AI giving the choice of performance versus flexibility with required IS0 26262 certifications for the increasing automation levels.
Committed to automotive – Enabling new features for ADAS and AD
Renesas has investigated all requirements and developed the R-Car V3U – a best-in-class ASIL D system on chip (SoC) for advanced driver assistance systems (ADAS) and automated driving (AD) systems, delivering a groundbreaking 60 TOPS with low power consumption for deep learning processing and up to 96,000DMIPS, being part of Renesas' autonomy platform for ADAS and AD.
Image

Based on the new R-Car Gen 4 architecture, the platform offers scalability from entry-level NCAP applications up to highly automated driving systems. The R-Car V3U lays the foundation for Renesas' 4th generation of high-performance ADAS and AD devices for the model year 2023 vehicles and beyond. 
Safety? Yes, with ASIL D!
Automated driving systems require functional safety up to ASIL D – the highest and most stringent automotive safety integrity level specified under the ISO 26262 standard for road vehicles. The best-in-class R-Car V3U SoC integrates multiple sophisticated safety mechanisms that provide high coverage with fast detection and response for random hardware faults, achieving ASIL D metrics for the majority of the SoC processing chain, as well as reducing design complexity, time to market, and system cost. 
State-of-the-art deep learning technology at low power consumption 
The V3U delivers highly flexible DNN (Deep Neural Networks) and AI machine learning functions. Its flexible architecture is capable of handling any state-of-the-art neural network for automotive obstacle detection and classification tasks while maintaining 60 TOPS with low power consumption and an air-cooling system. 
Image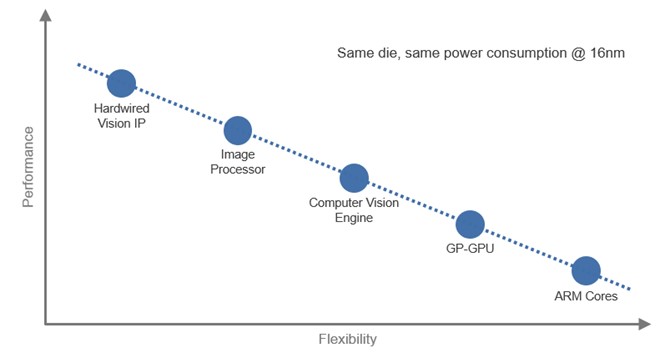 The programmable engines, including DSP for radar processing, multi-threading computer vision engine for traditional computer vision algorithms, image signal processing to enhance image quality, and additional hardware accelerators for key algorithms such as dense optical flow, stereo disparity, and object classification provide the performance and flexibility needed.
Sophisticated embedded software platform development for automated driving
Renesas has developed an open and integrated development environment called e² studio that enables customers to take advantage of the R-Car platform's built-in hardware benefits, as well as low power consumption and deterministic real-time software to enable fast time to market for computer vision and deep learning-based solutions. 
Image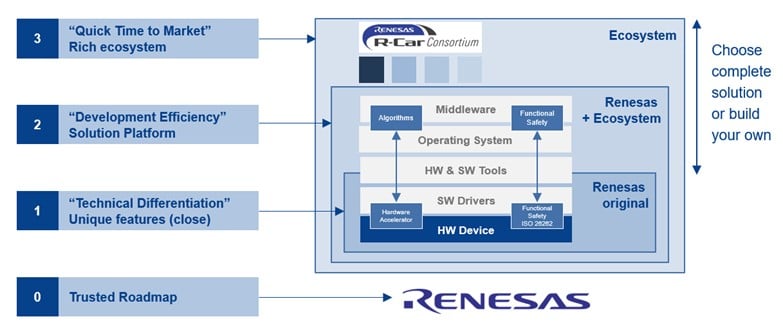 Easy-to-use debugging and tuning tools for heterogeneous multi-core hardware enable efficient software development while a comprehensive set of example applications and online education resources allows engineers at all levels to jumpstart their design process. Qualified compilers and code generators for compliance with functional safety and cyber security requirements ensure safe and secure software development. Watch this video to understand how e² studio supports our customers to take full advantage of R-Car V3U! 
Beyond R-Car V3U – Renesas' wide product line-up and winning combos 
Customers can also combine the R-Car V3U with Renesas' high-performance, low-power RH850 microcontroller, integrated power management ICs, and power transistor devices to access all the key components required for their ADAS and AD ECUs. We are preparing winning combos to support the R-Car V3U and to deliver customers complete system solutions.