Published: August 3, 2017
In a few short years, the wireless power concept has crossed the chasm into mainstream adoption and Renesas has grown along with it. Renesas is the clear leader in this space with a dominant market share in mobile devices as well as transmitters. We are very excited about the future and expect significant growth in the next 18 months as key phone manufacturers in China begin the adoption of Qi wireless power technology shortly.
Looking back, the key element of our unmatched success is clear – Scalability.
Scalability applies to multiple dimensions: power delivery, technology standards, adapter voltages, manufacturing volumes, features, and time-to-market. 
Renesas engineers had the foresight to know that scalability would be key and thus pioneered the SoC concept for wireless power more than three years ago. An M0 microcontroller, RAM and ROM on board each of our ICs give us incredible flexibility to respond to varying market and customer demands. With a few quick changes to highly structured program memory, our flagship P9221 receiver can scale from 1W to 20W of power delivery for multiple standards (Qi, PMA, proprietary). Likewise, our flagship P923x transmitters can scale from 1W to 20W of Tx power with multiple coil implementations for end applications ranging from automotive to consumer charging pads to furniture. 
Every customer has unique preferences with regard to adaptor support, charging V/I format, authentication, power control scheme, EMI requirements, and applications processor interface. Our P9221 and P923x devices comprise a complete Tx/Rx solution with the fastest possible time to market as we simply adjust source code to meet unique project requirements.
Scalability also applies to the manufacturing process. Smartphone customers demand steep ramps at very high volumes with perfect quality. Renesas, more than any other supplier, has this figured out. Very strong relationships with our foundry and packaging vendors, along with our significant investment in multi-site testing serve us well here. By key supplier metrics (on-time delivery, field returns, lead time, etc.), we are the top supplier in the industry. In fact, we have maintained high-volume smartphone shipments over a two-year period with zero field returns.
What about the future? Let's just say our engineers (a truly innovative and talented bunch) can barely contain their excitement. They are hard at work making our vision of a truly portable power delivery eco-system a reality.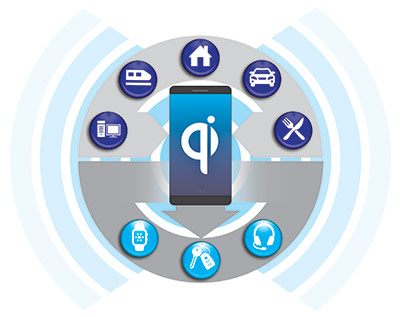 Simply put, we see a future where smartphone manufacturers no longer bother shipping chargers in the box. Wireless charging will be installed and waiting for folks everywhere: In their homes, cars, offices, train stations, coffee shops, airports, planes, restaurants, hotels, everywhere. Even better, key battery-powered accessories such as earbuds, smartwatches, keyfobs, and door locks, will be charged or powered via the smartphone itself.
That's what is exciting our engineering team these days. How about you? Where do you want to see wireless charging go next?