Hidetoshi Shibata, Renesas' CEO, attended FT Global Dealmaking Summit 2021 hosted by the Financial Times, one of the world's leading business publications based in UK. This annual event gathers global leaders in the M&A industry, including investors, financial institutions, and business organizations, to discuss M&A topics.
The most recent FT Global Dealmaking Summit took place in London and online on November 9 and 10, 2021. Shibata was featured in the "Keynote Interview" on November 10 as a leading example of Japanese companies that are active in M&A. Facilitated by Financial Times' Tokyo Bureau Chief, Shibata discussed Renesas' M&A goals to date during the interview, including two most recent acquisitions made in 2021 (Dialog Semiconductor Plc from the UK and Celeno Communications from Israel).  You can watch a 5-minute recap video from the "Keynote Interview" below. 
Renesas has expanded its product and solution offerings through M&As. Driven by our purpose, "To Make Our Lives Easier," Renesas is committed to building a sustainable future, leveraging the latest technologies and combined capabilities.
Capture shot from the "Keynote Interview"
Image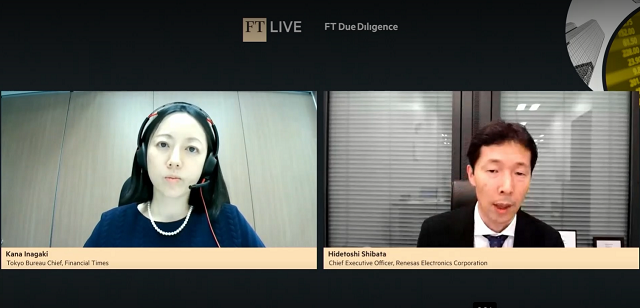 The abridged version of the "Keynote Interview" (5-minute video)
For more information about the FT Global Dealmaking Summit, please visit: https://globaldealmaking.live.ft.com/home