Published: February 9, 2021
This year, due to Covid-19, everything was different. For the first time, CES was held virtually and became smaller with fewer exhibitors, fewer visitors. But at the same time, virtualization also brought opportunities: the audience became more international. Regardless of the new format, the focus of CES remained unchanged: CES is still the place for the world's leading tech companies to present their ideas and to announce product news – CES remains the global stage of innovation.
Thus, Renesas Automotive couldn't miss being present. Renesas leaders shared their view on the future of automotive beyond CASE+E and Renesas' contribution with its portfolio of analog, digital, and power solutions. Besides the keynote video on evolving automotive market requirements, the Automotive showcase featured demo videos and product highlights supporting the evolving market.
Renesas introduced its new R-Car V3U, a high-performance and low-power safety SoC for highly scalable ADAS and autonomous drive solutions, as well as a world class battery cell management reference design. Renesas highlighted cloud connectivity & secure gateway architectures, an integrated cockpit solution with ARM CR7 safety architecture, BOM cost reduction with optimized "Winning Combinations", analog products for critical vehicle systems and analog solutions for Renesas R-Car.
Let's dive a little deeper into how Renesas' solutions support the evolving automotive market requirements with both analog and digital products.
Image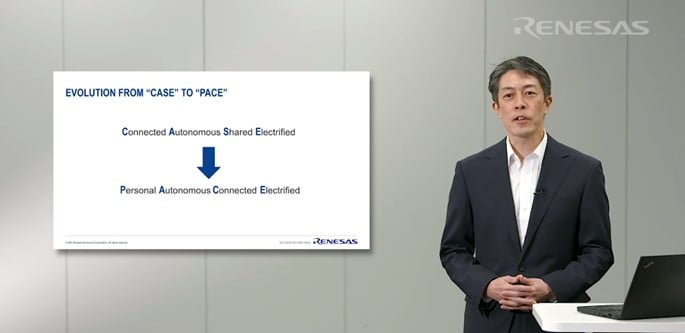 RENESAS KEYNOTES
Tomomitsu Maoka, SVP and Deputy GM of Automotive Solution Business Unit, and Takeshi Kataoka, Deputy GM of Automotive Solution Business Unit, gave insight on how automotive requirements are evolving and how Renesas' solutions respond to the changing environment.
Renesas' leaders describe how COVID-19 and other recent changes have affected the megatrends in the automotive business globally and explained how Renesas will remain a leader in the automotive arena. They present Renesas' advanced semiconductor solutions tailored to support customer demands such as ZERO emissions, ZERO accidents, and ZERO stress. 
Renesas has set a clear focus on the evolving automotive market where the well-known CASE+E scenario is changing into 'PACE': Personal, Autonomous, Connected, and Electrified and is increasingly focused on the development of "Renesas Winning Combos" across all segments. These optimized and efficient reference designs include analog, digital, and power products and enable customers to reduce time to market and BOM cost.
Formerly known as world-leading quality MCU and SoC supplier, Renesas has used strategic acquisitions to complete their solution offerings in automotive and to establish a position as a complete signal chain provider. Now, Renesas can not only offer a wider variety of products but can offer so-called "winning combinations", solutions for the automotive market that can substantially improve time to market.
More information can be found here:
T.Maoka: Evolution from CASE+E to PACE in COVID-19 Era
T.Maoka: Analog & Power Portfolio enabling Electric Vehicles by Winning Combinations
T.Kataoka: Digital Products enabling ADAS, Automated Driving and Connected Cars
Image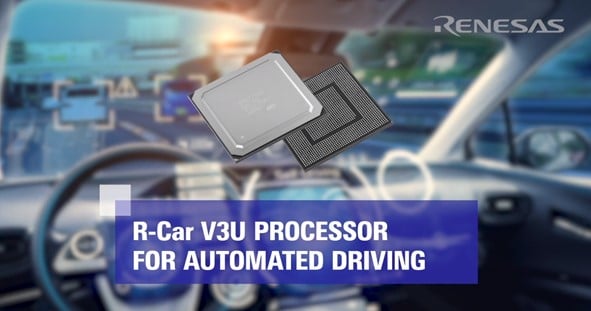 R-CAR V3U - A BRAND NEW PROCESSOR FOR AUTONOMOUS DRIVING
Renesas introduced its next generation ASIL-D SoC that combines high computing power (60 TOPS) and low power consumption. R-Car V3U delivers highly flexible DNN (Deep Neural Processing) and AI machine learning functions. Its flexible architecture can handle any state-of-the-art neural network and provides up to 60 TOPS with low power consumption. The SoC integrates multiple sophisticated safety mechanisms that provide high coverage, achieving ASIL D metrics.
The R-Car V3U comes with an open and integrated development environment (e2studio) that enables fast time-to-market for computer vision and deep learning-based solutions.
The spotlight video shows a deep Learning Demonstration and a new Software Development Kit (e2studio).
More information on R-Car V3U & e2studio can be found at the below link;
R-Car V3U Processor for Automated Driving
Image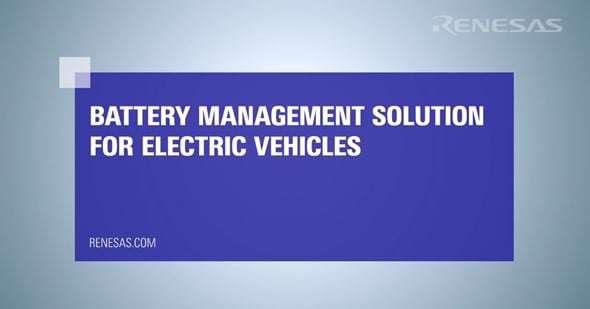 BATTERY MANAGEMENT SOLUTION FOR ELECTRIC VEHICLES
Maximizing both - battery cell life and driving range of HEV/EVs - is key for BMS designs.
Renesas is offering a complete battery cell management reference design with leading-edge voltage measurement accuracy and superior temperature drift stability over lifetime. The design supports balancing up to 70 cell voltages simultaneously with high-precision measurement of each cell voltage and temperature. Among other Renesas devices, the BMS reference design incorporates the latest battery management IC "ISL78714" and an RH850-P1M MCU. The near turn-key reference design kit makes it easy to shorten development time.
More information on the BMS reference design kit can be found at the below link;
Battery Management Solution for Electric Vehicles
The showcase was complemented with:
Automotive Car Server/Communication Gateway Supporting New E/E Architecture
Renesas introduced service-oriented gateway solutions including gigabit networking, secure vehicle connectivity, and safe/secure application hosting for modern vehicle architectures.
Low-Cost Integrated Cockpit With Renesas R-Car
Renesas showed a solution incorporating the balance of performance and cost in automotive cockpits using multiple application domains with different safety requirements.
Winning Combinations from Renesas Electronics
Renesas presented its combination of a broad range of Renesas products into reference designs to streamline controller development, reduce cost, and improve time to market.
Analog Products for Critical Vehicle Systems
Renesas highlighted analog products to support critical automotive applications such as battery management, motor control, and object detection.
Power Management & Timing Solutions for Renesas R-Car
Renesas presented its power management and timing products tailored to simplify the successful integration of Renesas R-Car devices into modern automotive applications.
See you next year at CES 2022 in Las Vegas!