Published: July 29, 2020
Renesas launched the "Engineering Community Site for R-Car" on July 1, 2020, as a new technical support mechanism based on open community. The eLinux (Embedded Linux Wiki) site provides hardware and software information for the R-Car Gen3 based on the R-Car Starter Kit. It guides customers and partners to purchasing sites for the R-Car Starter Kit and R-Car software download pages for quick set-up of the R-Car working environment.
Renesas also established a new R-Car H3/M3 (cockpit) group on Renesas Rulz, a forum for Renesas users, in order to enable the exchange of information between R-Car users, solve questions and issues raised on the eLinux site by themselves. Renesas quickly assists R-Car users in prototype development with R-Car Starter Kit through R-Car ecosystem activity.
Image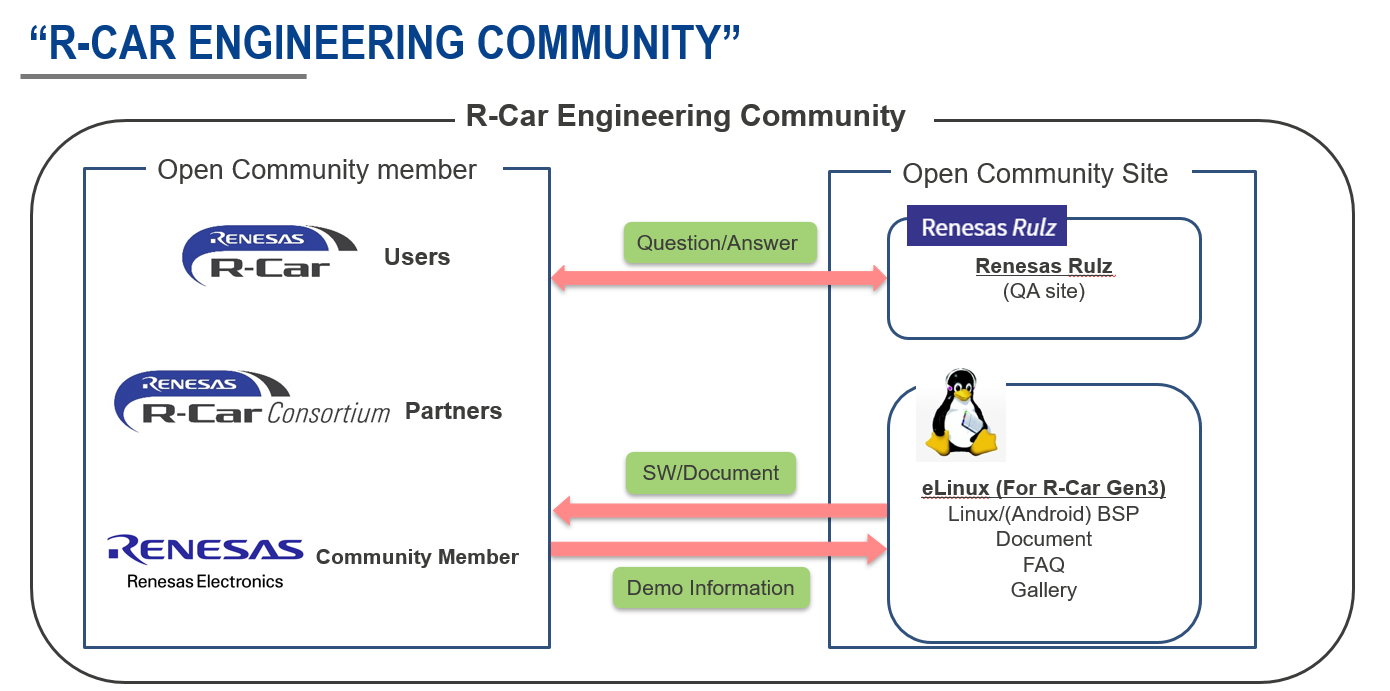 Figure 1. R-Car Engineering Community
In the past, Renesas received several questions from R-Car users during the development and evaluation phase with the R-Car Starter Kit, the reference design of Renesas R-Car (See the bottom of this page for where to buy the R-Car Starter Kit). 
Frequently asked questions are:
 ・From which location can R-Car users get R-Car software and documentation?
 ・How to start up the R-Car Starter Kit smoothly?
 ・Where is the Q&A site? How to raise a question?
Renesas launched the "Engineering Community Site for R-Car" on July 1, 2020, in order to answer these questions, enabling easy evaluation of R-Car. The Engineering Community Site for R-Car consists of two websites, eLinux and Renesas Rulz. eLinux delivers R-Car technical information such as setup guides, documentation and software, and Renesas Rulz is a forum type of website, where R-Car users can exchange technical information with each other, and solve problems and issues.
eLinux contains the R-Car Starter Kit page and provides its information including Linux BSP (Board Support Package), OSS (Open Source Software) documentation (H3 page/M3 page) and guide document on  how to set-up the R-Car Starter Kit. Information from eLinux site enables smooth set-up of the  R-Car Starter Kit for R-Car users. eLinux can be accessed by searching for "R-Car" on eLinux main page or by searching for "R-Car eLinux" on a search engine.
Image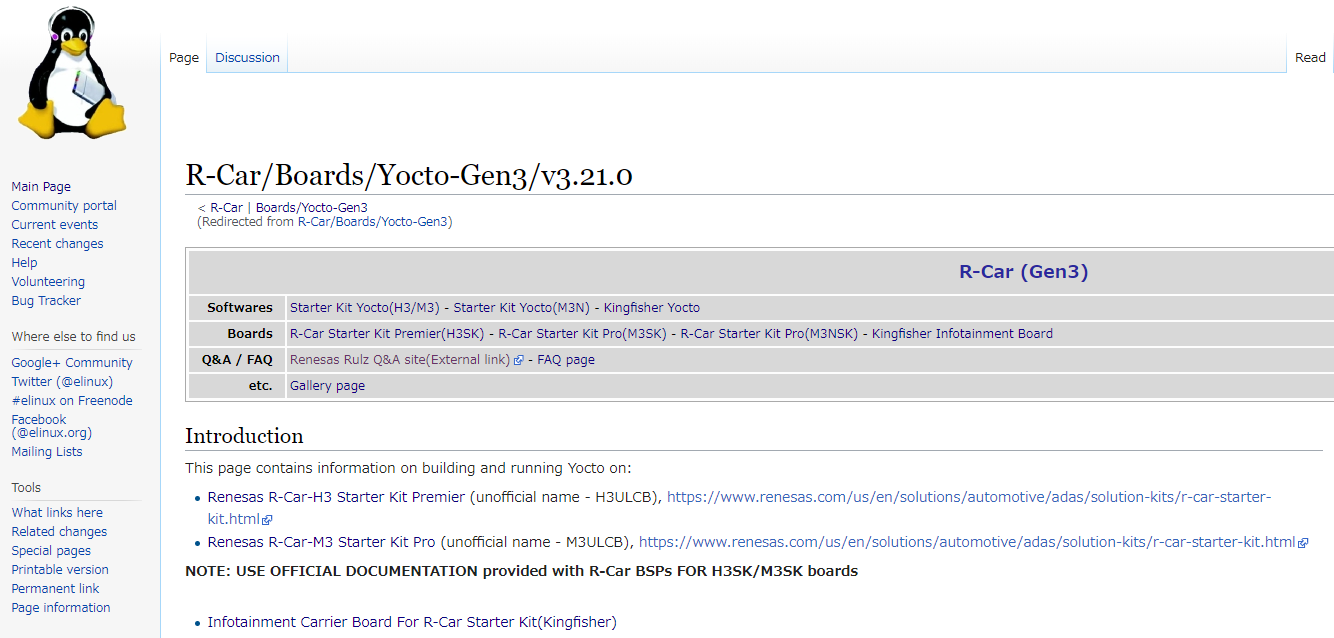 Figure 2. eLinux page
Even though eLinux provides R-Car technical information, R-Car users may have questions during the set-up of the development environment with the R-Car Starter Kit. Renesas has created a new Q&A community on Renesas Rulz, the R-Car H3/M3 (Cockpit) Group, to solve this issue. This group comprises open community members, R-Car Consortium partners, and Renesas community members. Those members can solve questions and issues by working together.
Image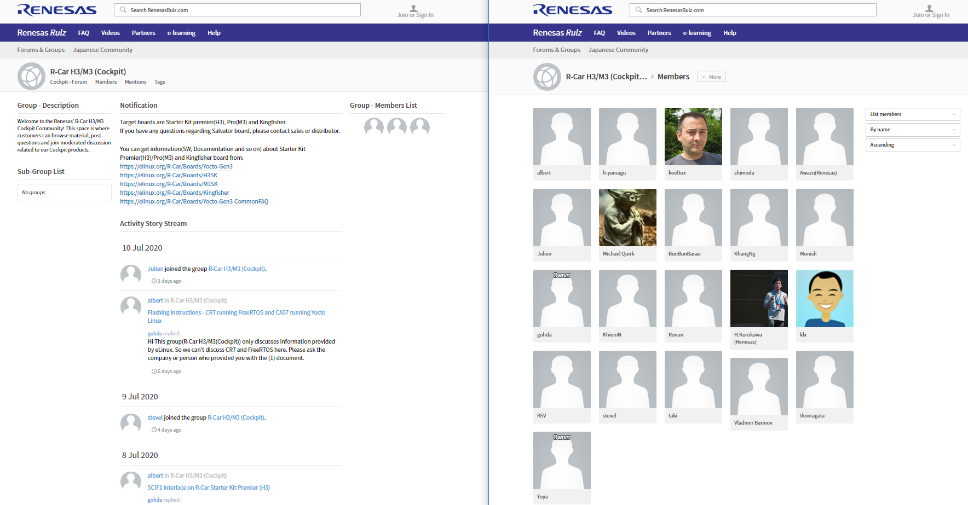 Figure 3. Renesas Rulz Cockpit TOP Page and Current Members
By using the new services, R-Car users can set up R-Car Starter Kit quickly and proceed development process easier than ever before. Additionally, Renesas has also started two new corners on eLinux: FAQ and the R-Car Gen3 demo information (Gallery) corners.
The FAQ corner allows R-Car users to refer to FAQs and get answers without a Q&A process. The Gallery corner provides information on the R-Car Starter Kit solutions.
Renesas also plans to provide Android BSP in addition to Linux BSP, which is currently provided. Renesas would like to request R-Car users develop demo solutions with these BSPs on R-Car Starter Kit, upload demo information to the Gallery, and hope that the demo information expands collaboration between R-Car users.
Renesas continues to support R-Car users through the Engineering Community service.
※ Renesas announced Shimafuji (H3/M3 page) as W/W distributor of R-Car Starter Kit addition to Marutsu (H3 page/M3 page) as distributor for Japanese users.
Image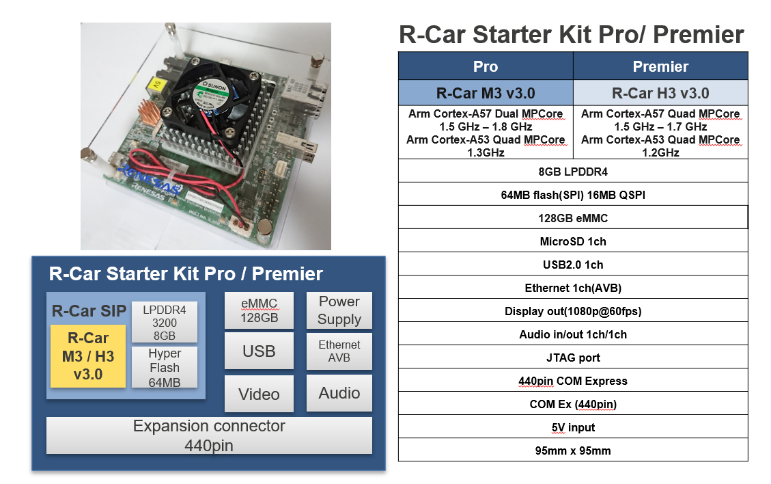 ※Renesas and R-Car Consortium partners provide valuable services to R-Car users based on R-Car Consortium Ecosystem. Renesas plans to introduce the 2020 Proactive Partnership activity in August 2020. (Please refer to the press release page of the R-Car Consortium activity of last year.)
※Renesas Rulz is a service in the open community and can treat only information related to OSS, which is not covered by NDA (Non-Disclosure Agreement). In case of NDA information, please contact Renesas sales or distributors.