The ASI4U-V5 is the industry's first silicon solution to fulfill the ASi-5 (Actuator-Sensor-Interface version 5) standard for industrial network equipment that enables comprehensive Industry 4.0 applications. The ASI4U-V5 ASSP comes with a completely verified and field-proven firmware that fully implements ASi-5. Hence, the integration of ASi-5 into any application is very easy, as the complexity of the fieldbus is hidden by the chip and the firmware.
Apply now for your free ASI4U-V5 starter kit
ASi-5 Key Technology Advantages
Faster and more efficient for Industry 4.0 applications
ASi-5 supports 1.2ms cycle time with a jitter of less than 10ns vs 5ms of ASi-3
ASi-5 allows for 96 devices being attached to the same cable vs 62 in ASi-3
ASi-5 can run up to 200m cable vs 100m in ASI 3
ASi-5 supports diagnostics and event handling needed for industry 4.0 applications
Robustness
ASi-5 is the most robust field bus due to its 3D redundancy concept, which ensures that all data reaches the destination in time without any errors. Robustness is a key asset in industrial communication.
Ease of integration
ASI4U-V5 is an ASi-5 silicon solution, which consists of the ASi-5 ASSP and a fully self-contained firmware image that handles all ASi-5 specific items. Hence, it is the easiest fieldbus integration option.
ASI4U-V5 is fully backwards compatible to ASi-3
ASI4U-V5 supports all bust topologies (line, star, tree)
ASI4U-V5 supports and easy integration with IO-Link
Application Examples
Supports Simple Slave and Complex Slave Application
Image

Main Interfaces and Application Examples
Image
ASI4U-V5: The Solution That Fits to All ASi-5 Applications
Image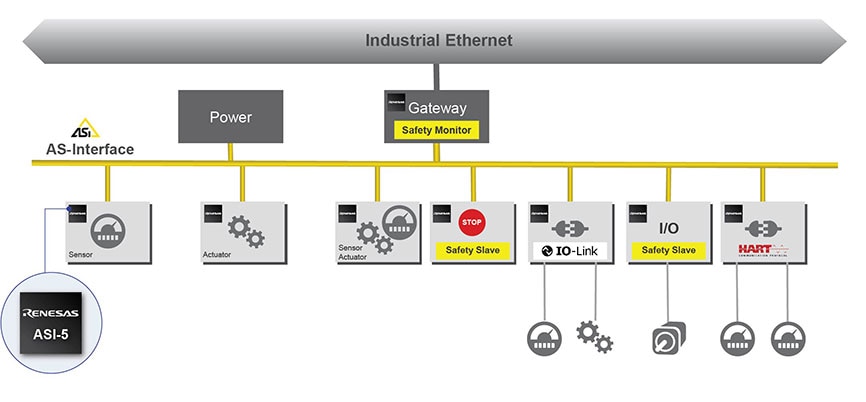 Features
Fully compliant to the AS-i version 5 standard
Fully compatible with the AS-i version 3 standard
The solution consists of the ASSP and a self-contained ASi-5 firmware
64-pin QFN package
Support for simple slave applications (digital-IO connection)
Support for complex slave applications (SPI/IF to the application)
Operating temperature -40°C to +85°C
Supply voltages: 5V & 3.3V
Package dimensions : 9 x 9 mm, 0.5 mm pitch
Part Number: R9J06G039UGNP