Our Promise
RENESAS - BIG IDEAS FOR EVERY SPACE
World Switched On (Corporate Movie)
Here at Renesas it is all about realizing big ideas. Because every development starts with an idea. Everyday engineers all around the world are developing new ideas, improving existing ones, or trying to interlink two or more together, which at first glance may seem mutually exclusive. Whatever the idea may be, whether it's about automated driving in the automotive industry or the Internet of Things in all industries - engineers face great challenges when it comes to implementing ideas. Their requirements for feasibility, reliability, usability, functional safety and much more are complex.
It is no coincidence that Renesas is known for fulfilling all these requirements. And we are at the center of technological innovation. As a result, the great ideas of the industry are in perfect hands with us. We make them realizable by embedding endpoint intelligence in as many places as possible to make everyday life easier, safer, healthier and greener. Doing so, we are the enabler of big ideas, which are embedded inside any kind of customer application we can think of.
This is why our promise is: Renesas – Big ideas for every space.
Our Vision
RENESAS CREATES LEADING SEMICONDUCTOR SOLUTIONS THAT SPARK INNOVATION FOR A CONNECTED WORLD, BUILDING A TRUSTED BRAND WE CAN BE PROUD OF.
At Renesas, we make things - it's part of our DNA to be inventive, innovative & creative. We're providing solutions for our customers, who are all part of the connected world.
We create relationships of trust with customers and partners through our commitment, professionalism & high quality which ultimately creates the Renesas brand that we take so much pride in.
Our Mission
DRIVE PROGRESS TOWARD A SAFER, HEALTHIER, GREENER AND SMARTER WORLD.
DELIVER CREATIVE SEMICONDUCTOR SOLUTIONS AND SUPPORT THAT MEET AND EXCEED CUSTOMER EXPECTATIONS.
STRENGTHEN OUR OFFERING TO CUSTOMERS IN FOCUS SEGMENTS THROUGH STRATEGIC PARTNERSHIPS, ALLIANCES AND ACQUISITIONS.
DEVELOP A GLOBAL CULTURE THAT ENCOURAGES OPEN COMMUNICATION, COLLABORATION AND RESPECT FOR DIVERSITY.
SEEK CONTINUOUS IMPROVEMENT IN EVERYTHING WE DO.
Our mission statements were created in synch with our business strategies and they act as a bridge between concrete, specific business strategies and our high-level Vision.
All mission statements place Customer Value at the core of our activities.
Our Values
VALUES FOR GROWTH
CUSTOMER CENTRICITY
CREATIVITY & IMAGINATION
TECHNOLOGY & EXPERTISE
APPRECIATION OF DIVERSITY
OWNERSHIP & INTEGRITY
OPEN COMMUNICATION
VALUE FOR LEADERSHIP
The seven Values, which also form the basis of our Global HR Appraisal system, are guidelines on "how" we fulfil our missions, on how we can keep Renesas on track to fulfilling our Vision.
VMV is the framework at Renesas outlining how we want to work, interact and communicate with one another, our customers and our local communities.
It explains "Who we are" and gives us a common Renesas identity, both as a global community and towards customers.
It guides "What we do" in terms of where the company is today, where we want to be and how we'll get there
Finally, it shows "Why we do it", giving everyone at the company a sense of achievement and pride.
Vision, Mission and CSR
The Renesas Electronics Group renewed its Corporate Vision (the direction the Renesas Electronics Group should aim for) and Mission (the tasks the Renesas Electronics Group must carry out) in January 2017 with a view to enabling the Group to unite and progress towards its targets. The Corporate Vision and Mission will guide its efforts to increase its corporate and shareholder value as the Group aims to become a leading global player in the semiconductor field.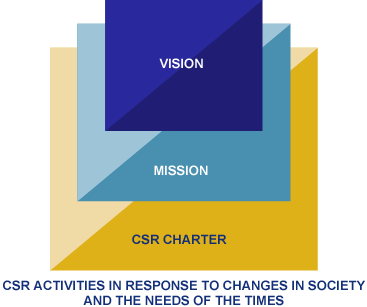 Renesas Electronics Group CSR Charter
The Renesas Electronics Group will contribute to the sustainable advancement of society. As an enterprise, we will conduct business that helps build a better future for people around the world by supplying superior semiconductor products powered with advanced technologies and by providing customer service that is honest and sincere. We pledge to conduct our business with integrity and in compliance with legal requirements. We will work with and for the benefit of our stakeholders based on the following guiding principles:
Customer focus

We will quickly provide optimized, high-quality solutions in response to our customers' needs to maximize customer satisfaction and to earn our customers' trust.

Sound business practices

We will carry out fair, ethical and transparent business practices and convey these practices to all our stakeholders. In addition, we will maximize our corporate value through business practices that allow us to continue to grow.

Healthy work environment

We will respect the individual personalities of our employees. We will promote a rewarding, safe, and flexible working environment where each person is able to demonstrate his/her best talents and capabilities.

Global perspective

As a member of the global community, we will respect the history, culture, customs and human rights of each country and region, and we will not practice or permit any forced or child labor. In addition, we will promote activities that contribute to the betterment of the global society.

Environmentally friendly

We pledge to develop, manufacture and sell semiconductor products that respect the environment, and we will strive to minimize the environmental impact of our products throughout the entire product life cycle. We will also participate in activities intended to harmonize human pursuits and the environment, promoting increased awareness of issues such as climate change and biodiversity.