Overview 
Silicon Turnkey Express's (STx) Serial RapidIO Development Platform2 (SRDP2) is a prototyping platform that leverage's IDT's RapidIO Gen2 switches. The SRDP2 has a variety of interfaces that allow customers to interface DSPs, Microprocessors, and FPGAs to IDT switches. Interfaces include AMCs, SMAs, InfinBand/CX4, SFP+ and QSFP connectors. This allows customer to implement most network configurations that represent their production hardware in a logically equivalent manner. By doing so, systems firmware and software engineers can start implementing their code before actual production hardware is available accelerating development cycles and time to market. 
Other purposes for the SRDP2 include interoperability testing, network performance benchmarking, or even simply learning more about RapidIO Gen2 in a hands on environment.
The SRDP2 comes equipped with RapidFET JTAG a software tool that can be used to configure IDT switches out of band via the JTAG interface on the board, making access to registers simple via a user friendly Graphical User Interface.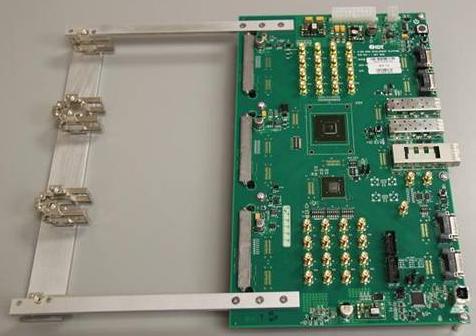 Features 
S-RIO Switching Fabric

Device: IDT CPS-1848 and CPS-1616 S-RIO Gen2 switches
Link speed: 6.25, 5, 3.125, 2.5, 1.25 Gbaud
Protocol: S-RIO Gen1 (v1.3) or S-RIO Gen2 (v2.1)
LA probe: Mid-bus footprint for all 48 S-RIO lanes
Industry-standard system interconnect connectors

3 AMC B+ connectors: 4x S-RIO link, Ports 4–7 and 8–11 (NO support for IPMC and JTAG)
2 SFP+ connectors: 1x S-RIO link
1 QSFP connector: 4x S-RIO link
4 InfiniBand/CX4 connectors: 4x S-RIO link
SMA arrays
Clock distribution

PLL synthesizer: IDT 841N254i, four outputs
Clock frequency: 156.25 MHz, differential HCSL
Reference Clock Out: SMA, differential LVDS, 156.25 MHz
Optional Reference Clock In: SMA, LVTTL, 25 MHz
JTAG and  I2C

JTAG header: 0.1" 10-pin header
I2C header: 0.1" 10-pin header
One I2C EEPROM per S-RIO switch
On-board USB to JTAG/I2C converter (FTDI FT2232HL)
Power distribution

External power supply: ATX power supply with on-board push-button ON/OFF control
Power good status LEDs 
Board power without AMC cards: 14 Watts
Physical

PCB: 7.5" x 12.5"
With the card guide assembly 14.2" x 12.5"
Benefits
Implement logical equivalent of production hardware configurations
Reduce Time to Market by accelerating software and firmware design
Learn about IDT Gen2 switches and pass packets between IDT switches and endpoints
Interface Endpoint boards and Evaluation platforms to IDT switches with AMCs, SMAs, InfiniBand/CX4, SFP+ or QSFP connector
Backward compatible with all RapidIO Gen1 AMCs and development platforms
AMCs inserted to connector in a PCB free area, which means height restrictions that some AMCs have are virtually eliminated
Easily configure IDT switches with RapidFET JTAG
Conduct Interoperability/interworking tests
Applications 
Defense and Aerospace: Radar, sonar and navigations systems 
Medical Imaging:  CT Scanners, MRIs, Ultrasound  
Video:  Teleconferencing and Head End
Wireless:  4G Base band processing cards
Server and High Performance Computing