At the age of Automated Vehicle hype, the ADAS market has been driving the volume fostered by the NCAP Assessment. ADAS feature takes rate are quite high for the premium brands but remain optional and has a still low rate for entry segment or countries like China where car production is booming.
The upcoming registration such as GSR (Global Safety Regulations), will mandate the use of ADAS systems with new feature such as driver motoring and will then further accelerate the market demand for such system in relatively short term.
In this context, OEMs, Tier 1 or SW providers are looking for solution for fast prototyping leveraging SOCs capabilities to enable a fast time to market to address this new market trend.
R-Car V3H, V3M was developed addressing the major tier 1 and OEMs having a very close cooperation to have solution matching perfectly the automotive use case, its harsh environment, demanding standard like Functional Safety, while keeping innovation like deep learning requirement at low power.
Both products are now available in mass production at major OEMSs all over the globe, and Renesas is now aiming to share our established assets more widely and to support customers who are not well-established, for growing companies in emerging markets, for advanced engineering groups at car companies, for software companies, and for research institutions, all of this this without disturbing the existing B2B support.
The answer is a convenient online portal, satisfying regional and global legal requirements, including legal checks, nondisclosure agreements (NDAs), and software evaluation license agreements.
After a deep look at the current state of things and the direction of the market, in terms of digital technical support, and based on what was already established for MCU (Customer Value of Automotive Business (Series 19): Renesas Launch of "Easy to Start" Online Portal (ETS) | Renesas),  we have decided to improve & adapt the system through creation of the Easy To Start (ETS) Digital Platform concept for ADAS:
Easy to Access: By providing a Single Web Page interface for each product, where every new customer  can find any information he needs to understand the device and start a first device evaluation or prototype. 
Easy to Start: By providing reference design, mainly from our partners, which h are turn key solution for dedicated ADAS applications such as Surround View, Smart Cameras, and even more; this solution included HW in A or evn B Samples, ASIL ready, and included Application SW while enabling customization at the customers
图像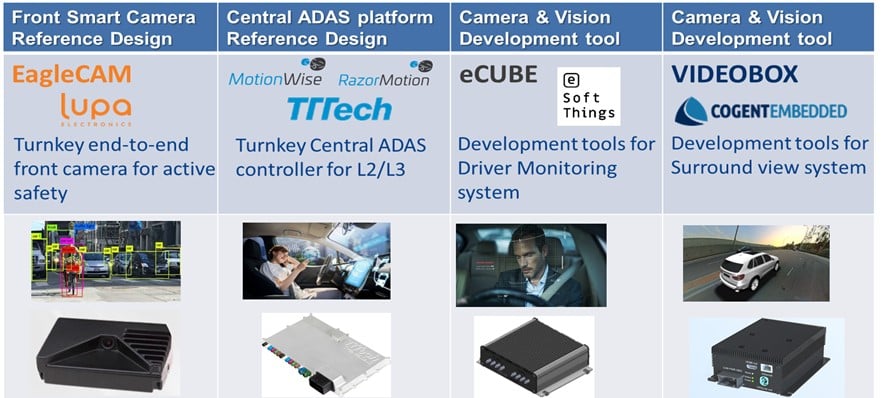 Easy to Learn: By providing a web forum support is available in order to support new comers for board bring ups, PCB design, Linux installation ,… the forum is planned to be extended to also support Functional Safety and Computer vision / Deep learning questions.
图像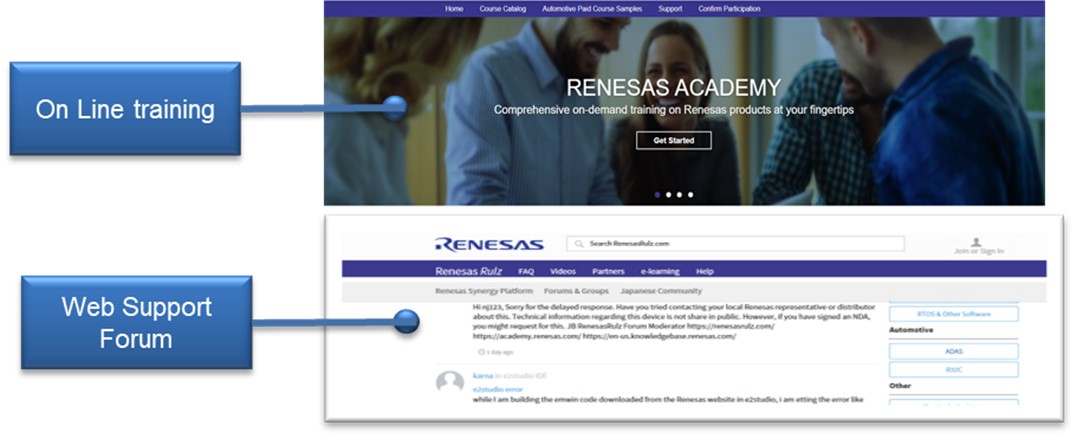 The detailed functionality and content of the ETS portal which are available now are :
Hardware User's Manual
Electrical Characteristic
Application Notes
SOC design Guides and Models
BSDL&  IBIS Model, 
PCB Design Guide, 
Power Calculation Sheet & Thermal Simulation
Full set of SW and development tools under evaluation licenses
BSP & software libraries
Autosar MCAL
SW development environment &  Tools
Deep Learning and computer vision Tools & Libraries 
Open Web Support Forum for non NDA subjects
Link to 3rd Party Software Vendors including Application SW, Operating System, ….
Link to Renesas and 3rd Party HW tools or reference design.
The R-Car V3H and V3M are the first product taking benefice of this new concept and further feature such as On Line Training, Web Forum Support for topics under NDA, ….. are to come. The implementation for further new product is under planning stage, 
The new V3H / V3M ETS online Web site can be accessed from below link (Japanese and Chinese Version also available).
V3H : R-Car-V3H - System-on-Chip (SoC) Designed for Intelligent Camera with Deep Learning Capabilities | Renesas
V3M : R-Car-V3M - System-on-Chip (SoC) Designed for Cost-efficient Smart Camera Applications with ASIL & Deep Learning Capabilities | Renesas
Please visit our new ETS portal and do not hesitate to contact us!