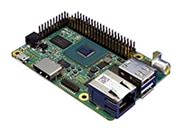 Update: April 11, 2017
iWave
This is the development kit for CPU modules equipped with Renesas' RZ/G1C-PF CPU.
Product Description
iWave Japan Co., Ltd., an embedded product and solution provider, has begun offering a compact single board equipped with the RZ/G1C, the latest microprocessor (MPU) from Renesas Electronics Corporation. This compact single board can be put to use quickly in various embedded applications. The newly-launched compact single board features a dual core ARM® Cortex®-A7 1.0-GH RZ/G1C MPU, which is the newest addition to Renesas' RZ/G1 series.
This product was designed with the compact 85 mm x 56 mm industry-standard format in mind and also features an industry-standard pinout 40-pin IO expansion connector. This board also supports another 40-pin expansion connector to allow additional IO interfaces, including LVDS display, CAN, UART, and GPIO ports. It also supports a JTAG connector and serial console for development as a single board computer (SBC).
Product Inquiries
iWave Japan Co., Ltd.
8F Kannai Sumiyoshi Building 3-29 Sumiyoshi-cho, Naka-ku, Yokohama
TEL: 045-227-7626, FAX: 045-227-7646
E-mail: info@iwavejapan.co.jp
http://www.iwavejapan.co.jp/product/RENESASRZPLATFORM.html