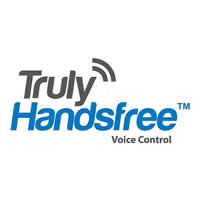 Update: September 10, 2018
Sensory, Inc.
Noise robust always-listening wake word engine with voice barge-in capability and local phrase-spotted command.
Product Overview
Introduced in 2009, TrulyHandsfree paved the way for the hands-free operation we have come to expect with today's always-listening personal assistant solutions. When first released it revolutionized voice user interfaces by offering the first commercially successful embedded small vocabulary speech recognition system to feature an always-listening wake word. With each succeeding generation, TrulyHandsfree has continually upped the benchmark for always-listening speech recognition performance. The current generation of TrulyHandsfree incorporates Sensory's smartest and most efficient deep neural network technologies to date, delivering an unrivaled user experience and class-leading voice interface. TrulyHandsfree offers complete scalability for deployment on ultra-low power digital signal processors (DSPs) to the most powerful applications processors available. And since all of Sensory's AI is processed on device and not the cloud, user data stays safe and secure!
Speech Recognition Overview
Product Introduction URL
http://www.sensory.com/products/technologies/trulyhandsfree/
Contact Information
Shinko Shoji Co.,Ltd. (Device & Solutions Engineering Dept.)
E-Mail: ml_info-sensory@st.shinko-sj.co.jp
TEL: +81-3-6361-8095