The switch function is core equipment for an industrial Ethernet, as it connects each node with the switch in an industrial network.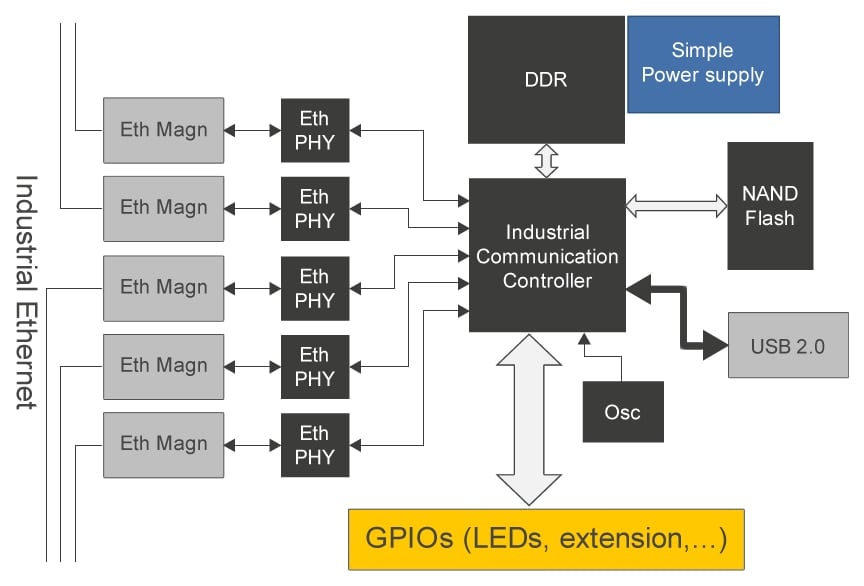 Related Products
Industrial Communication IC / Microcontrollers
Semiconductor Device
Recommended Products
Features
Industrial Communication Controller
RZ/N1D
RZ/N1D is a scalable and proven Arm®-based microprocessor that can be used in a variety of applications with the Cortex®-A7 dual-core processor and a high-speed, high-capacity memory interface. It is implemented with up to five Ethernet ports and the latest redundancy protocol.
RZ/N1S
RZ/N1S houses the Cortex®-A7 and a large amount of built-in RAM in a small package. Since peripheral parts can be reduced, it can be used for small PLC, HMI, etc. In addition, it has a proven R-IN Engine as an accelerator for industrial Ethernet communication.
Analog and Power Devices
Semiconductor Device
Recommended Products
Features
Power Supply
RAA23015x
Input voltage range: 7V to 28V, output voltage: 0.8V to 6V
Max. output current: 3A
Auto PFM (light load, high efficiency) mode
RAA23023x
Input voltage range: 4.5V to 16V, output voltage: 0.8V to 6V
Max. output current: 3A
Auto PFM (light load, high efficiency) mode
Dual-channel DC/DC