Renesas offers power MOSFET products suitable for various applications such as power supply, motor drive, high-frequency amplification, and load switch. We have commercialized it according to each reliability level of consumer equipment.
General-Purpose Power MOSFETs
Renesas general-purpose power MOSFETs provide support for high-efficiency drive and low heat design. These MOSFETS are suitable for switching (motor drive, etc.) and load switch applications, and offer low on-resistance, high-speed switching and high-robustness.
N-Channel MOSFETs for Motor Drive
This low on-resistance and low gate charge product series meets the large current requirements of the industrial segment.
Features
Supports large current (Id = 100A [Ta = 25 °C])
Low on-resistance (2.3mΩ - 2.75mΩ (typ.) / 40V products)
Higher system efficiency extends operating time, and low heat generation allows smaller heat sink/system
Low gate charge (Qg) (68nC (typ.) / 40V products)
High-efficiency drive by reducing load to drive circuit, and more compact size through gate driver optimization
55V and 60V low Qg products are also under development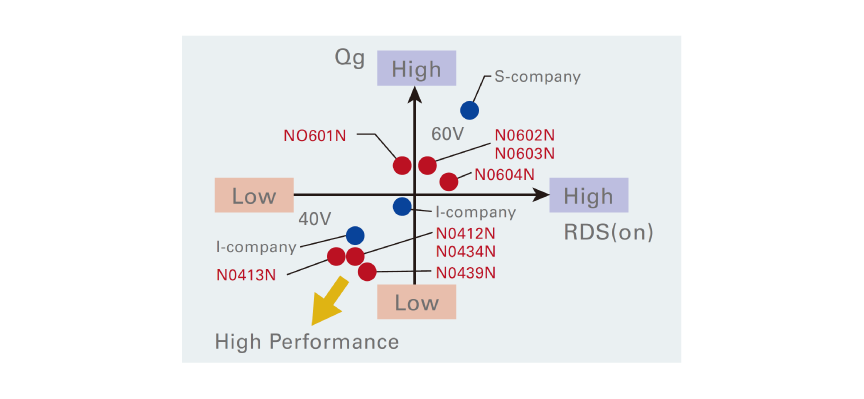 Applications
The N-channel MOSFETs can be used in motor drive equipment such as power tools and power-assisted bicycles.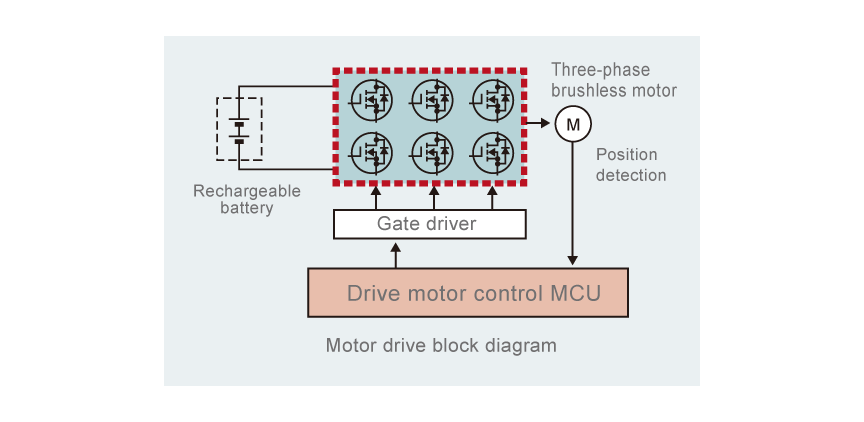 N-Channel MOSFETs for Load Switches
This product series reduces the number of parallel connections needed to support large currents by improving power system efficiency and reducing the number of devices used, contributing to power-saving and space-saving network servers and storage systems.
Features
Recommended for load switch applications that require low loss
*UPA2766T1A: RDS(on) = 0.72mΩ (typ.)
5mm x 6mm small package (8pHVSON)
Applications
Applications for which the N-channel MOSFETs for load switching can be used include ORing switches for server power supply and battery protection circuits in mobile devices.