Renesas insulated-gate bipolar transistors (IGBTs) help designers realize both low saturation voltage and fast switching through thin wafer technology. They, in turn, help to minimize power loss in power conversion systems. This product series is suitable for a variety of applications and includes IGBTs for inverters, power factor correction (PFC) and induction heating (IH).
IGBT Product Lineup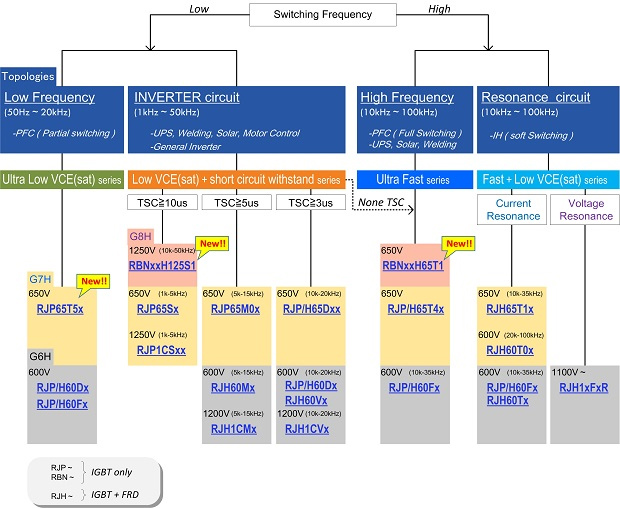 Design Topologies
Renesas offers a lineup of products with different voltage tolerances and design topologies suited to various applications including 650V or 1250V products for UPS or industrial inverters, 1800V IGBTs for wind power generation or solar inverter applications, and 650V products for air conditioner or induction heating.
Learn more about design topologies
IGBTs for Inverters
The IGBT product series for inverters is recommended for frequencies of 1k ~ 50kHz and is ideal for universal power supplies (UPS), motor control, solar power generation, and welding applications.
IGBTs for Power Factor Correction (PFC)
Renesas' IGBT devices for power factor correction are recommended for frequencies of 50Hz ~ 100kHz and are ideal for UPS, solar power generation and welding applications.
Power IGBTs for Induction Heating (IH)
Renesas IGBTs offer soft switching for induction heating (IH) devices and are recommended for 10k to 100kHz frequencies.