Image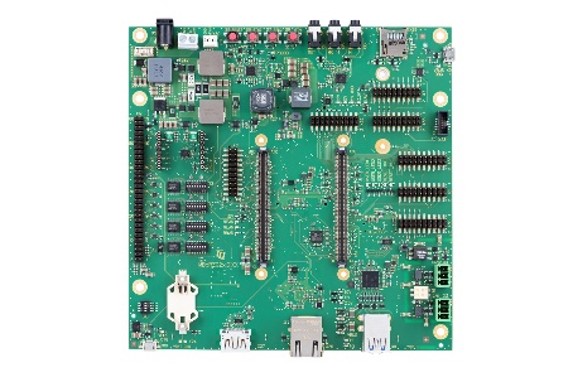 Partner Board (RZ/G2N, RZ/G2M, RZ/G2H)
This Baseboard is used for Embedded Modules TQMaRZG2x from TQ - Systems GmbH.
Image

Board description:
The Baseboard MBaRZG2x is designed for software development based on the pin-compatible Renesas processors RZ/G2N, RZ/G2M and RZ/G2H. The Baseboard offers the ideal basis for software development and provides the most important interfaces of the processors. Over the board connectors the following TQ - module variants can be attached and used on this mainboard: TQMaRZG2N, TQMaRZG2M & TQMaRZG2H. The MBaRZG2x is not only used for software development but also as a hardware reference design, which saves costs and time in the development of your own hardware design.
Block diagram MBaRZG2x:
Image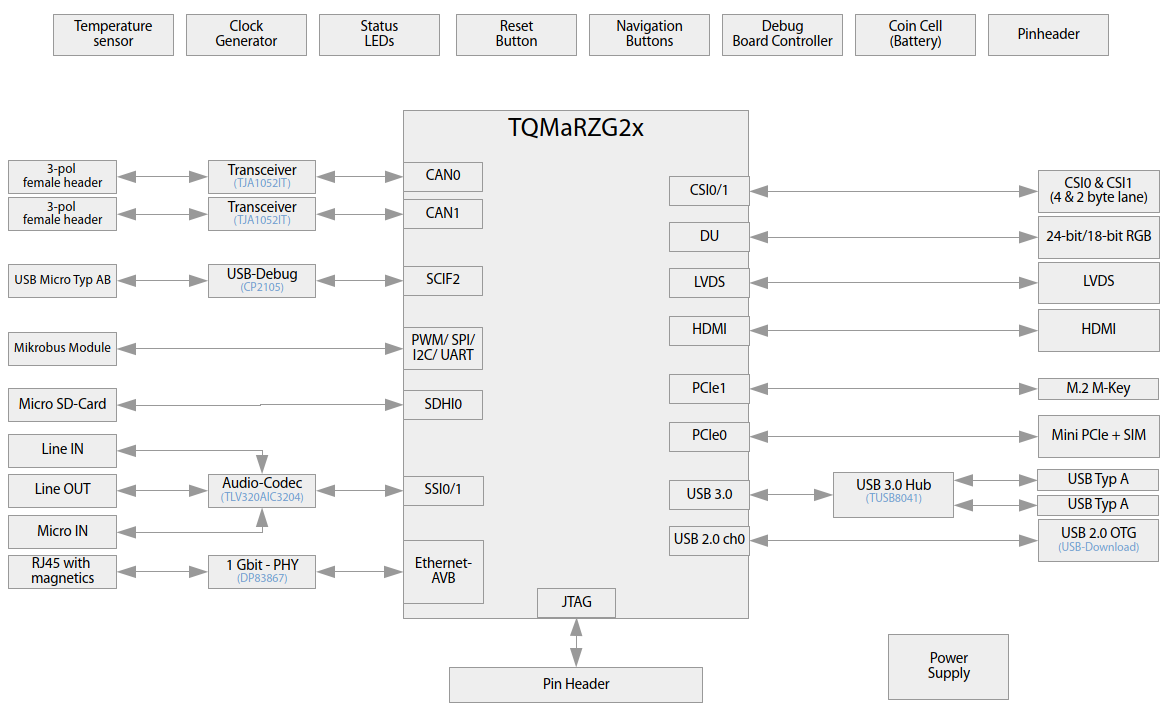 Interfaces of MBaRZG2x:
Image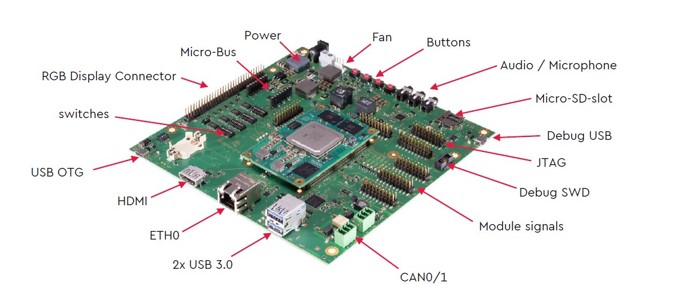 Embedded Module TQMaRZG2:
The embedded module TQMaRZG2x is based on the RZ/G2 processor, an ARM® Cortex®-A53/A57 processor from Renesas. The integrated high-performance graphics controller supports applications with high display requirements. Full access to all signal pins guarantees flexible applications and cost-effective project development. The CPU is available in three versions with different performance and features. With up to four Cortex®-A57 and simultaneously up to four Cortex®-A53 cores, the TQMaRZG2x offers an optimal ratio between performance and power dissipation.
Block diagram TQMaRZG2x:
Image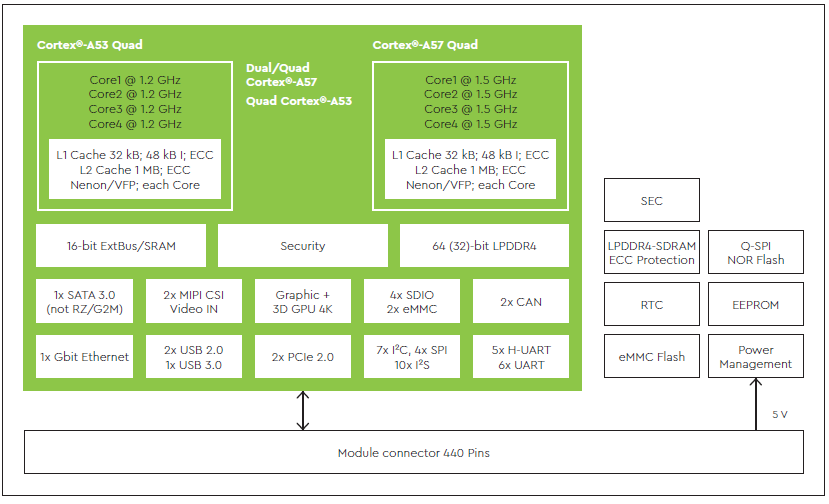 Specifications:
CPU
RZ/G2N, RZ/G2M, RZ/G2H
Interfaces
Up to 1x Ethernet 10/100/1000 Mbit
Up to 1x USB 3.0 OTG interface
Up to 2x USB 2.0 OTG interface
Up to 6x UART
Up to 5x H-UART
Up to 2x CAN FD
Up to 1x SATA (not RZ/G2M)
Periphery interfaces
Up to 4x SDIO/eMMC
Up to 2x PCIe 2.0
Up to 7x I2C
Up to 4x SPI
Up to 1x QSPI
Up to 10x I²S
Up to 32 GPIO
Graphic
1x HDMI 2.0
1x LVDS
1x Digital RGB
Camera
2x MIPI CSI2
Memory
LPDDR4-SDRAM: Up to 8 GB
(ECC Optional)
Quad SPI NOR: Up to 512 MB
eMMC Flash: Up to 64 GB
EEPROM: 0/64-kbit
Other
Real Time Clock (RTC)
Temperature sensor
CPU JTAG interface
Power supply
5 V
Ambient conditions
Standard temperature range:
-25°C…+85°C
Extended temperature range:
-40°C…+85°C
Dimensions
77 mm x 50 mm
Plug-in system
Board-to-board plug-in system 440 Pins 0.5 mm Pitch
Operating systems
Linux
Operating systems on request
QNX, Android
Board View of SOM Board TQMaRZG2x
Image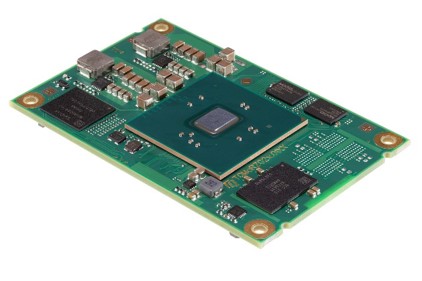 TQMaRZG2N/ M
Image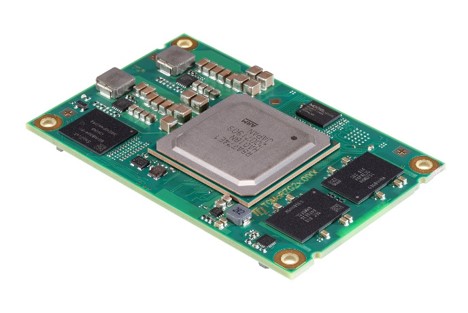 TQMaRZG2H
Learn more:
https://www.tq-group.com/en/products/tq-embedded/arm-architecture/tqmrzg2x/
Board View of Evaluation Kit MBaRZG2x
Image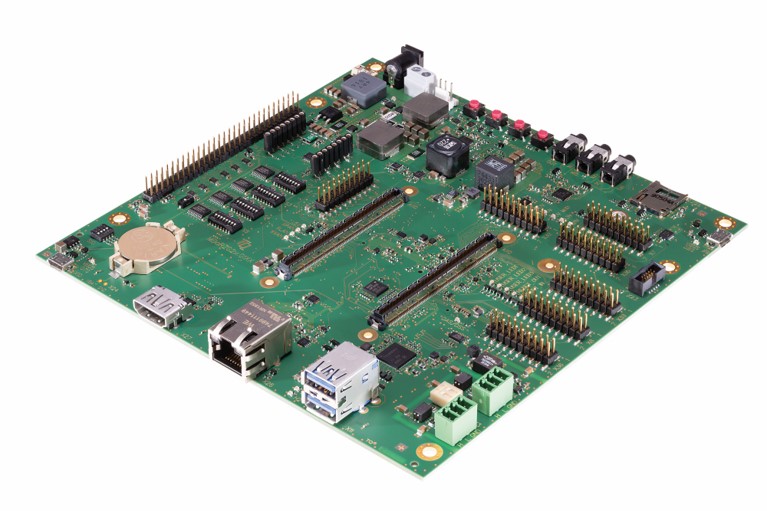 Learn more:
https://www.tq-group.com/en/products/tq-embedded/arm-architecture/stkarzg2x/
Contacts
TQ-Systems GmbH
Gut Delling, Mühlstraße 2 82229 Seefeld Germany
Tel. +49 8153 9308-0
Fax. +49 8153 4223
E-Mail: info@tq-group.com
Website: https://www.tq-group.com/en/