The RX family provides "easy, secure and safe" cloud connectivity solutions. It is possible to start development immediately, with confidence, because we have obtained device certification with the included real-time OSes (FreeRTOS, AzureRTOS) for IoT and various libraries (SSL/TLS, OTA, MQTT, TCP/IP, etc.) for IoT devices which are provided by major cloud vendors such as Amazon Web Services (AWS) and Microsoft, along with the evaluation kit and convenient development environment (e2 studio), making it ideal for IoT device development.
We support the creation of new business, helping you get to market faster with quicker innovation development by concentrating and streamlining your investment area and utilizing digital transformation (DX) through artificial intelligence (AI) and machine learning (ML) in collaboration with cloud services.
Image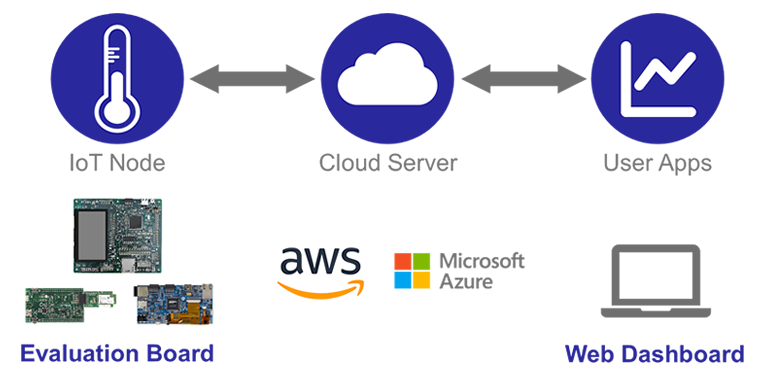 Evaluation Board
You can easily try cloud communication using a board equipped with Renesas devices. You can choose based on the microcontroller, the communication method, and the peripheral functions. You can also download a variety of predefined programs for each board free of charge.
The kit is ideal for:
Evaluation of Renesas devices (MCUs, analog devices, sensors)
As a reference for customers when designing boards and programs
As a learning application for those who are newly starting cloud communications
Image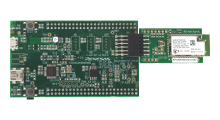 This is a Cloud communication evaluation kit that can connect to the cloud via Wi-Fi. It is equipped with a Wi-Fi communication module, a temperature/humidity sensor, an optical sensor, a 3-axis accelerometer, a serial communication USB board, and a USB port for debugging, and can be evaluated in a configuration that is close to IoT equipment.
Image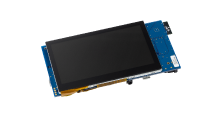 In addition to cloud communication, this multifunctional evaluation kit also supports LCD and voice input. It is equipped with an LCD display, a stereo MEMS microphone, a MicroSD slot, a Wi-Fi/BLE module, a general-purpose USB port, and an RJ45 connector, and cloud communication + HMI can be evaluated with this one unit.
Image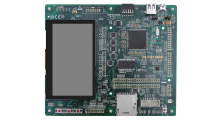 A general-purpose evaluation kit for RX65N microcontrollers. Cloud communication evaluation via Ether communication is possible. This is equipped with an LCD display, an SD slot, a general-purpose USB port, and an RJ45 connector, and can be used for functional evaluation in addition to cloud communication.
Program
Image

Amazon distributes FreeRTOS free of charge as a real-time operating system for microcontrollers. FreeRTOS includes libraries for connectivity, security and over-the-air (OTA) updates.
Renesas ported FreeRTOS to work on our evaluation board and distributes it free of charge. The ported program is AWS device certified, so you can use it with confidence.
AWS Certified Program
Extended Programs
Image

Microsoft offers Azure RTOS as a real-time OS for microcontrollers. It can be used to develop embedded IoT applications. Renesas 32-bit RX microcontrollers have been prelicensed by Microsoft, so you don't need to obtain a separate Azure RTOS license. Renesas has ported the Azure RTOS to work on our evaluation boards and distributes it free of charge. The ported program has also been certified to work with Microsoft and is safe to use.
Microsoft Certified Programs
Amazon Web Services is a trademark of Amazon.com, Inc. or its affiliates in the United States and/or other countries.
https://aws.amazon.com/jp/trademark-guidelines/
FreeRTOSTM is a trademark of Amazon Web Services, Inc.
https://freertos.org/copyright.html
GitHub® is a trademark of GitHub, Inc.
https://github.com/logos
Azure is a registered trademark or trademark of Microsoft Corporation in the United States and/or other countries.
https://azure.microsoft.com