Delivering the Promise of a Secure, Connected and Intelligent IoT
The flexible Renesas Advanced (RA) 32-bit microcontrollers (MCUs) are industry-leading 32-bit MCUs with the Arm® Cortex®-M33, -M23 and -M4 processor cores and PSA certification. RA delivers key advantages compared to competitive Arm Cortex-M MCUs by providing stronger embedded security, superior CoreMark® performance and ultra-low power operation. PSA certification provides customers the confidence and assurance to quickly deploy secure IoT endpoint and edge devices, and smart factory equipment for Industry 4.0.
Renesas is enabling a comprehensive partner ecosystem to deliver an array of software & hardware building blocks that will work out-of-the-box with Renesas RA Family MCUs.
The Renesas RA Flexible Software Package (FSP) provides a quick and versatile way to build secure connected Internet of Things (IoT) devices using the Renesas RA family of Arm microcontrollers (MCUs).
Image
Effortlessly evaluate different features of RA MCUs while enjoying an unparalleled innovation experience. Shorten the learning curve and take your products to market faster.
Find RA MCUs by Solution
This step-by-step guide takes you from the basics about the Flexible Software Package (FSP) and the RA toolchain to creating a project with the EK-RA6M4 Evaluation Kit from scratch.
Renesas offers the Product Longevity Program (PLP) to help customers select the most appropriate part for applications that require long life cycles. Participating RA Family products are available for up to 15 years.
Image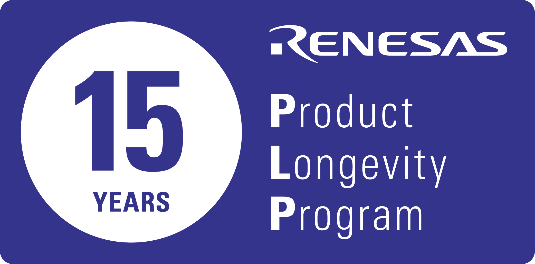 Renesas RA Family MCU Portfolio
Series
Groups

RA8

240MHz~

 
 
 
 
 

RA6

~240MHz

120MHz Cortex-M4, ~2MB Flash Ethernet, USBHS, CAN, Graphics, JPEG, TFT LCD, SCE7

200MHz Cortex-M33, ~2MB Flash TrustZone, Ethernet, USBFS+, USBHS, CAN-FD, Octa SPI, SCE9

200MHz Cortex-M33, ~256KB Flash USBFS, CAN FD, I3C

 
 

200MHz Cortex-M33, 256KB Flash, PWM, PGA, CMP, TFU, CAN FD, USBFS

120MHz Cortex-M4, ~1MB Flash Ethernet, USBFS, CAN, SCE7

200MHz Cortex-M33, ~1MB Flash TrustZone, Ethernet, USBFS, CAN, Octa SPI, SCE9

200MHz Cortex-M33, ~1MB Flash TrustZone, Ethernet, USBFS, CAN

 
 

240MHz Cortex-M33, 512KB Flash, PWM, PGA, Motor Accelerator, CAN-FD, SCE5

120MHz Cortex-M4, 512KB Flash USBFS, CAN, SCE7

 
 
 
 

120MHz Cortex-M4, 512KB Flash PWM, PGA, CMP, SCE7

RA4

~100MHz

 

100MHz Cortex-M33, ~1MB Flash TrustZone, USBFS, CAN, SCE9

100MHz Cortex-M33, 128KB Flash USBFS, CAN FD, I3C

 

48MHz Cortex-M4, 512KB Flash, Bluetooth, USBFS, CAN, Segment LCD, CTSU Touch Sensing

100MHz Cortex-M33, ~256KB Flash, PWM, PGA, CMP, TFU, CAN FD

48MHz Cortex-M4, 256KB Flash USBFS, CAN, Seg. LCD, CTSU Touch Sensing, 14bit SAR ADC, SCE5

100MHz Cortex-M33, ~512KB Flash TrustZone, USBFS, CAN, SCE9

100MHz Cortex-M33, ~512KB Flash TrustZone, USBFS, CAN

 
 
 

RA2

~60MHz

 

48MHz Cortex-M23, ~256KB Flash CAN, CTSU2 Touch Sensing

48MHz Cortex-M23, ~64KB Flash I3C, WLCSP, 125degC

48MHz Cortex-M23, 256KB Flash USBFS, CAN, CTSU Touch Sensing, 24bit SD-ADC, 16bit SAR ADC

 
 
 
 

48MHz Cortex-M23, ~128KB Flash CTSU Touch Sensing, WLCSP

 
 
 
 
Mainstream Line / Low Power
Entry Line
Rich Analog
Wireless
Motor Control