Renesas achieves on-resistance specs among the lowest in the world through the use of ultra-fine technology, such as our 0.25um ANL3 process employing the latest trench technology, and package technology utilizing a new multi-bonding mount technology.
Process Trend of Low-Voltage Power MOSFETs for Automotive Applications
Since automotive power MOSFETs perform large-current drive control in high-temperature environments, low on-resistance is a key performance factor. In recent years, as PWM support and compatibility with a wider range of power supplies become more important, attention has also begun to focus on switching performance. Renesas Electronics is continuously working to develop new high-performance fabrication processes to deliver ultra-low on-resistance and low gate capacitance in response to these technical trends. In addition, many years of experience enable us to design products with high breakdown tolerance and high reliability that customers can have confidence in.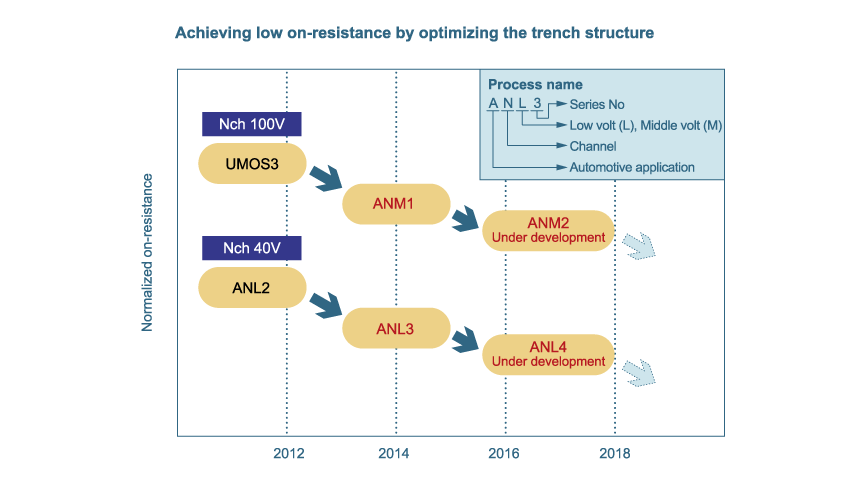 Automotive Power Device Package Evolution
Renesas Electronics supplies power MOSFET products for automotive electrical systems in a wide variety of packages to accommodate implementations ranging from large-current applications such as electric power steering to medium-current applications such as engine control. Multi-wire bonding is used to provide large-current capabilities for applications such as electric power steering. For medium-current applications such as engine control, new packages such as the 8-pin HSON provide smaller size and reduced mounting area.