Hello everyone. My name is Yu Zhou from Renesas Electronics and in charge of automotive business and strategy planning. With the continuous development of technology, more and more people begin to pay attention to cars' environmentally friendly, safety & security and comfortable & convenient. "Zero emissions," "Zero accidents," and "Zero stress" have become the goals pursued by most car manufacturers and Tier1s.
Image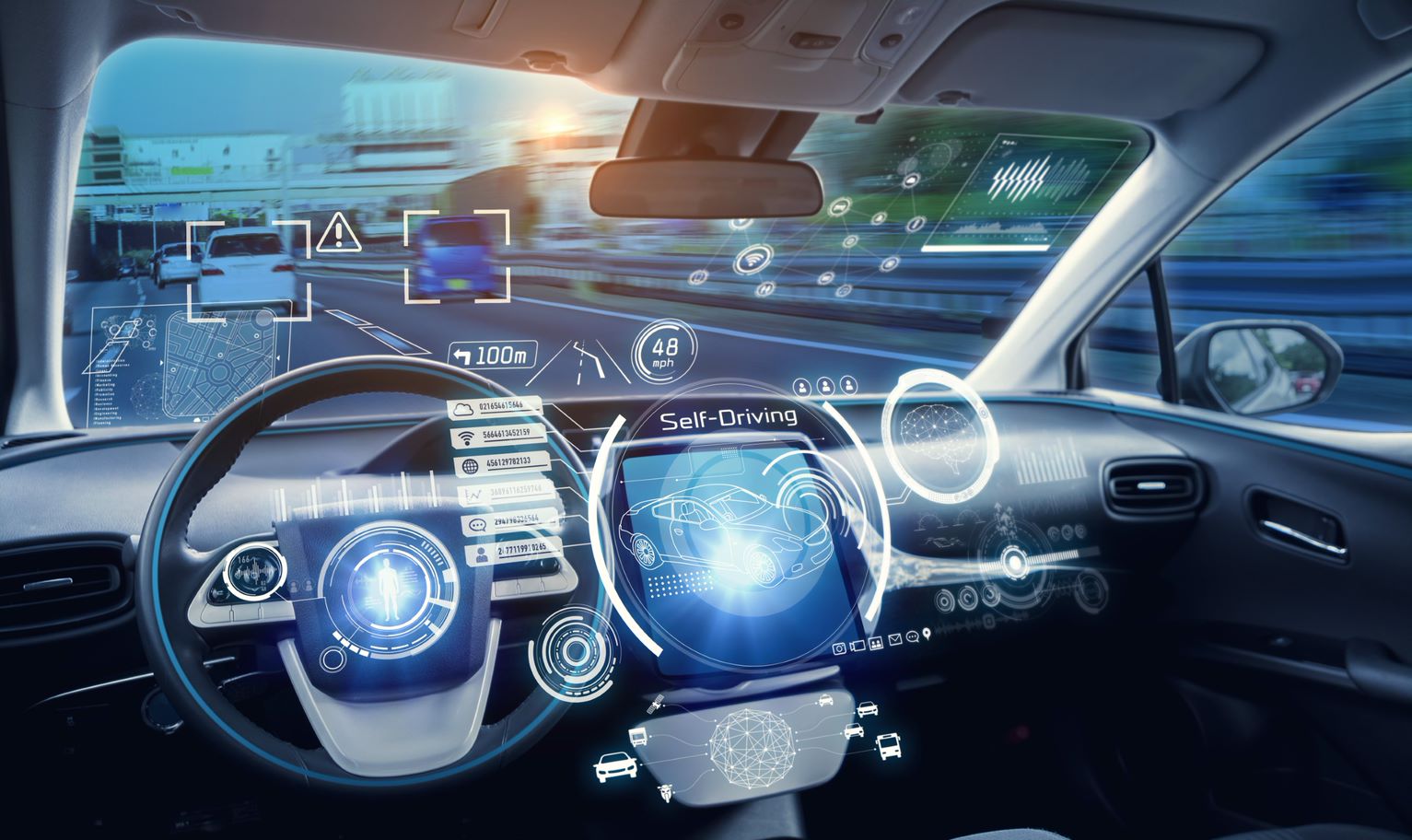 At the same time, to incorporate more new technologies and functions into cars, the increasing hardware varieties and complex car distribution networks made the traditional car's architecture - distributed architecture unable to cope with the increasingly new technology. To solve these problems, car manufacturers and Tier1s begin to promote Centralized architecture which called electrical/electronic architecture - improve the performance of the hardware, add domain controllers (DCUs), and car gateways to simplify automotive electronics architecture.
Faced with these market changes and to better support customer innovation and accelerated development, Renesas Electronics has also actively adjusted our business focus segments. We will not only continue to provide products in Vehicle Control segment, but also expand our product lines to ADAS/AD (autonomous driving) field, E/E architecture(Gateway + DCU+ power distribution network) field, xEV field to better cater changes in the market and customer needs.
Renesas Electronics has been deeply involved in Vehicle Control for many years and launched our star embedded processor products such as RH850. We have No.1 MCU global market share in vehicle control, including powertrain, body, chassis, and safety segments. Our customers are in not only Japan, but also China, Europe, North America, and other countries and regions. On this basis, Renesas Electronics would like to expand our embedded processor focus market to ADAS/AD field. As the level of autonomous driving increases, the number of external sensors required for a car will also increase, which also requires the performance of automotive embedded processors to be improved accordingly. Renesas Electronics will provide mass-produced products for Camera and Cognitive in the ADAS/AD field to help Tier1 and car manufacturers better design and implement autonomous driving systems. The embedded processor products we offer in ADAS/AD using a standard framework structure with vehicle control processors, so that customers can reuse the software across application to saving development time and costs. In addition, the ADAS/AD embedded processor products we provide are the best in class saves cooling cost and AI performance/watt, which helps customers design smaller and lighter but lower power consumption solutions. Furthermore, the company IDT we acquired complements our analog products for Radar/Lidar, allowing us to support customer system-level development more broadly.
Image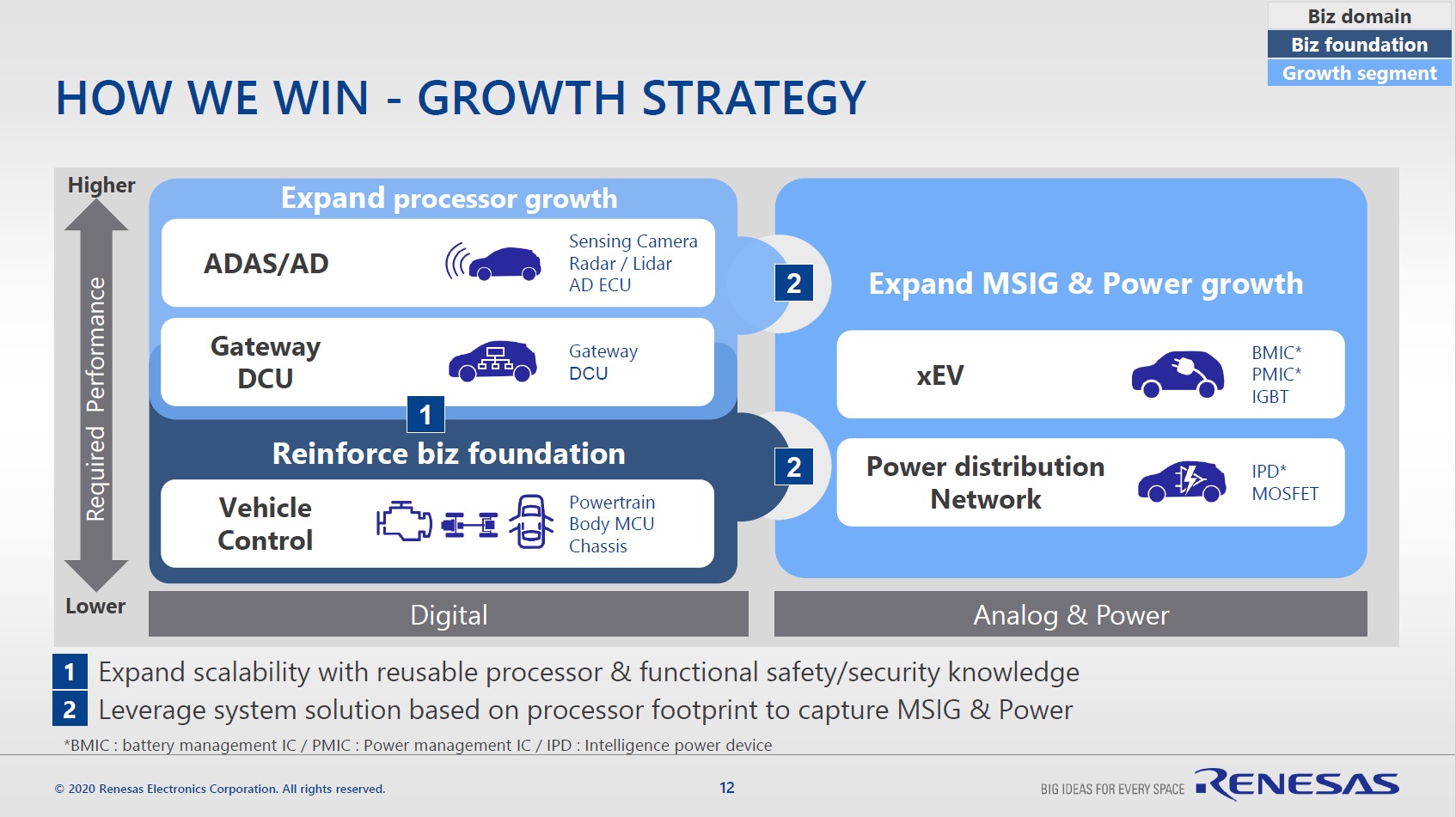 Analyst Day Automotive strategy (February 17, 2020)
For the DCU and Gateway markets, Renesas could provide safe and high-performance processor with security, functional safety, network functions accumulated in Vehicle Control over the years. Also, same as the processor for ADAS/AD, customers can reuse their software assets from other applications to reduce the development difficulty of electrical/electronic architecture and realize early development.
For the xEV segment, thanks to our acquisitions of Intersil and IDT, we have significantly supplemented our analog and power product lines, allowing us to provide products covering multiple xEV applications such as Inverter, BMS, etc. with system-level solutions. Moreover, the newly acquired two companies have brought us products that make our products cover the entire signal chain - from sense, compute to actuate, increasing our possibility to provide more product combinations. Renesas' complementary product portfolios of Analog + Power + Embedded Processing work together to deliver comprehensive solutions. Our product experts have developed "Winning Combinations," compelling product combinations that help our customers accelerate their designs and get to market faster.
Facing the ever-changing automotive market, Renesas Electronics will provide products and solutions that help to enhance customer value, provide customers with innovation and development support, and become a reliable solution supplier for customers.
To learn more about our automotive business strategy, see Automotive strategy published on our Analyst Day (February 17, 2020).
If you are interested in our winning combinations, see Winning Combinations for Automotive page to get more information.
Finally, in this article we introduced the automotive business strategic direction of Renesas Electronics to realize customer value. In the future, we will launch a blog series: Invite Renesas Electronics' Next Generation Leader to introduce how Renesas Electronics can provide solutions, products, and core technologies to realize customer value. Please Stay tuned.