This year's theme "Agile Mutual Recognition and Interconnection" aims to complete designs that showcase a system's rapid and accurate image/voice recognition through physical information acquisition and processing, and the mutual operation of various subsystems. At present, there are 95 teams from 53 well-known universities in China, and 285 students have signed up for the contest. The participating students will choose topics such as a smart city, smart home, or cloud-based applications, complete the design, and submit their entries in early September to participate in the selection and award of the highest prize "Renesas Cup" and the first, second and third prizes. The 2020 contest is also supported by Renesas partners such as WT Microelectronics, Macnica Cytech, CECport, Avnet, Etouch, Superfly Technology, YUBANTEC, Tachibana Eletech, ZZCXIC, SANEI HYTECHS(Chengdu) and Huatek.
Image
Renesas selected and provided an advanced RZ/A2M development board for this competition on which participating students will design and complete their entries. The RZ/A2M microprocessor (MPU) uses a unique hybrid method of image recognition and machine vision combined with a proprietary DRP (Dynamically Reconfigurable Processor) for rapid preprocessing and feature extraction of image data. The MPU integrates an Arm® Cortex® A9 CPU, which is used for artificial intelligence (AI) inference and is especially suitable for all kinds of smart appliances that require high-speed AI image processing. DRP technology is a dedicated hardware built into the RZ/A2M MPU. It combines the high performance of the hardware solution with the flexibility and scalability of the CPU. It can significantly accelerate the image processing algorithm by more than 10 times, providing a high-level development environment for the competition.
Image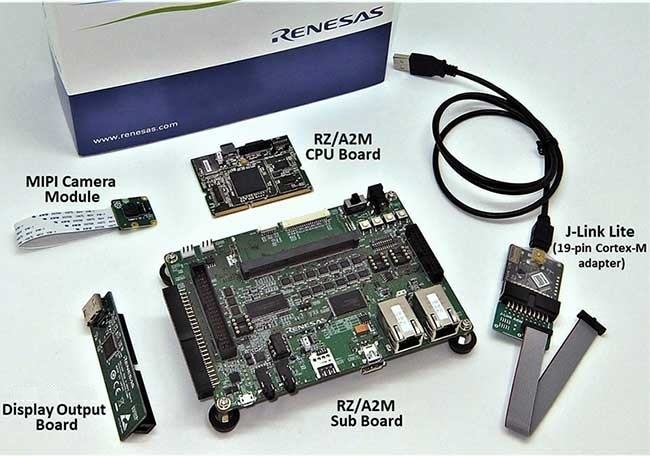 In 2008, Renesas signed a 10-year sponsorship cooperation agreement with the Contest Committee. From 2009 to 2017, Renesas sponsored the NUEDC (National Undergraduate Electronic Design Contest) five times. From 2018, Renesas and the committee began a new round of cooperation and held the first "Renesas Cup" AITIC for the development of agile interconnection and mutual recognition, information technology, IoT and other applications. Over the past ten years, more than 170,000 outstanding college students have participated in the contest. We hope to continue working closely with the contest committee to organize and manage the competition and we look forward to seeing the excellent designs created by this year's talented group of college students.
The president of Renesas Electronics China, Nobuo Arayama, said: "Through the newly established AITIC, we have seen the innovative and creative potential of China's future engineers," said Nobuo Arayama, President of Renesas Electronics China. "Renesas is very honored to be able to participate in this contest and introduce advanced technologies, products and solutions to future engineers, and actively contribute to the development of China's education and the cultivation of talents in the semiconductor industry."
(Remarks) Arm, and Arm Cortex are registered trademarks of Arm Limited in the EU and other countries.