Greetings one last time from the Marco Polo Hotel in beautiful Shenzhen, China.
This is my third and final post from IDT's Leading the Charge Wireless Power seminar. You can follow the action from the beginning by checking out my earlier posts Setting the Stage and Getting into the Details.
After the Qi receiver design session and a short break, Barry Du took the stage. Barry is one of our key business development / applications managers here in China and he walked the attendees through how to use IDT's Fast Prototype development kits. These are fully turnkey transmit and receive developer kits that allow customers to quickly integrate wireless power into just about any application including smartphones and wearables. Each kit includes a transmitter and receiver with associated coils, datasheets, and an applications guide. IDT offers 1-3W, 5W, and 15W versions of the kits.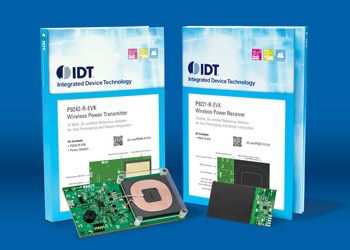 Barry described the schematics, the layout guide, the thermal design guide, and the power and voltage setting interface for each kit. He did a great job and the crowd was fascinated. I don't think they realized how turnkey and easy to work with these kits are and how fast they allow a designer to get up to speed with a semi-tailored wireless power solution. They do now! We are definitely going to have to build more of the kits! You can learn more about and order the developer kits at idt.com/wpkits.
Oh…and the best part of these kits concerns the next session that Nick Smith retook the stage to present—Assuring Qi certification.
IDT's 5W and 15W developer kits come pre-certified. Qi certification is a critical step in the development process of any wireless power system. Designing to the Qi standard ensures compatibility and interoperability amongst many manufacturers. The WPC has authorized certification labs to test vendor equipment for compliance to the Qi standard (either EPP or BPP) and also test a vendor's equipment for interoperability with all of the other registered Qi-certified transmitter and receiver devices in the market. The best way to ensure your end equipment will pass Qi certification is to start with a Qi-certified developer kit like these from IDT.
Qi certification involves a prescribed round of detailed tests to ensure that a transmitter or receiver will behave in accordance with the Qi standard and offer consistently stellar user experience. Nick described many of the checks that are done at the certification lab including:  Foreign Object Detection,  Digital Ping check,  Identification Phase, Power Transfer Phase, and the timing associated with desired connection and disconnection events.
Always, always look for the Qi logo on your developer kit or electronic devices to ensure the highest quality and best user experience.
Finally we had all of our speakers back on stage for a panel discussion. Boy was that impressive. So many questions on so many different topics. The attendees here in China asked some great questions about standards, FOD, wireless power adoption worldwide and in China, and many more topics. The future is bright for Wireless Power in China!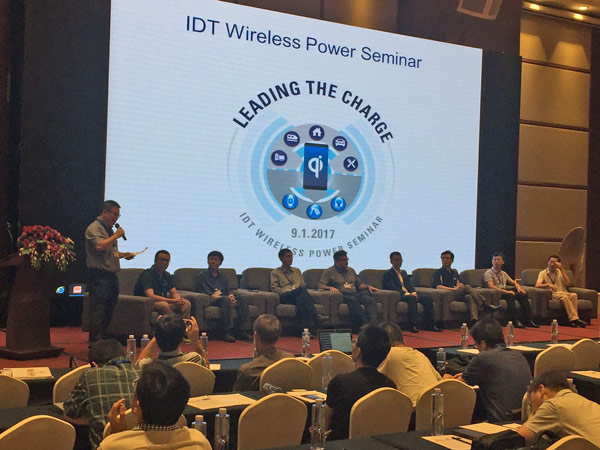 OK, folks…they are calling for the lucky draw now. The closing attraction of every great seminar in China. That's all from Shenzhen. Hope to see you at our next event!
Get the latest product news and technical information any time at idt.com/wirelesspower.