DALI Communication
DALI is an international communication standard for lighting specified in IEC 62386. Communication takes place between a master (control device) and slave (control gear). The DALI standard supports a single control device, which can control up to 64 items of control gear.
Image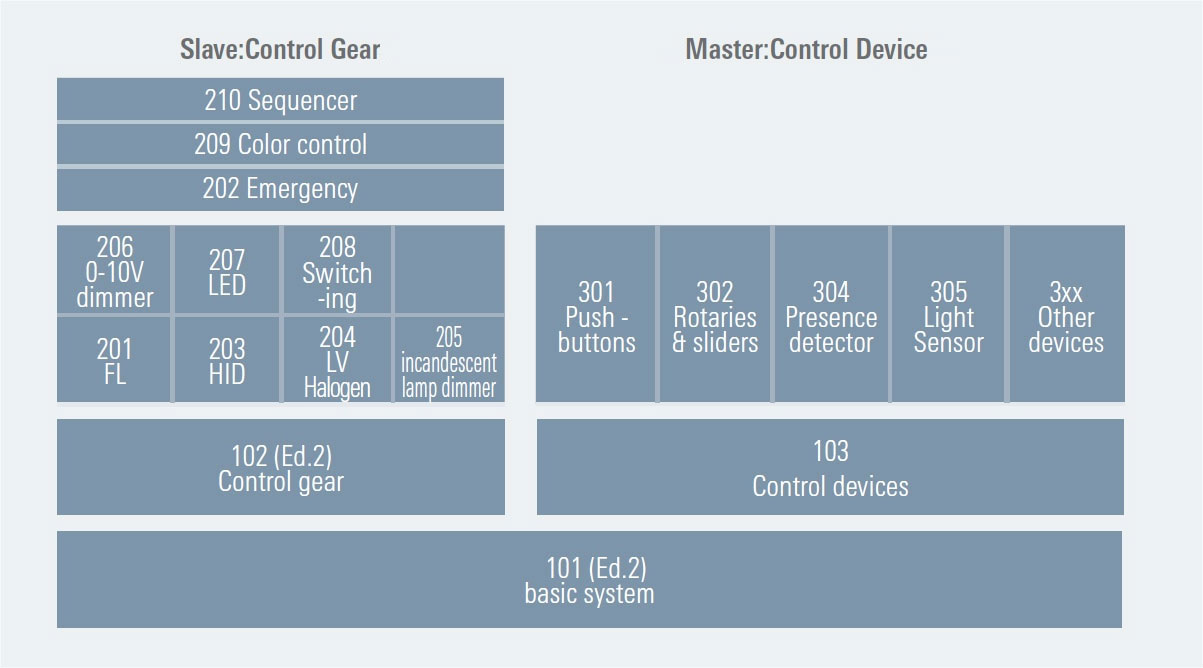 DALI Standard Listing
One feature of DALI is that the entire setup is standardized systematically. Data transfer route basics are covered by 101, control gear by 102, control devices by 103, and so on. Control devices include routers, switches, and motion or light sensors. Control gear includes lighting fixtures. There are also upper-level standard numbers (2xx and 3xx) that cover characteristics.
Advancing to DALI-2
A new DALI standard, DALI-2, is currently coming into use. DALI-2 defines new applications, adds new functions, and improves compatibility to better meet the lighting requirements of customers. Also, a device must pass an official test to receive certification of compliance with the standard. Renesas was the first semiconductor device manufacturer to join the DALI standardization organization. This enables us to deliver solutions that track the latest trends in the standard and include a tested protocol stack by official DALI tester.
Implementing Task/Ambient Lighting with DALI
Task/Ambient lighting means that different types of lighting are used for "tasks" such as desks and for "ambient" areas such as floors and corridors. Some features of task/ambient lighting are that it can boost work efficiency by allowing adjustment of the brightness and hue to match individual preferences, and that it can boost energy efficiency by providing only the amount of night needed in each location. Further energy savings can be achieved by, for example, using motion sensors to detect when people are around, allowing the lights to be extinguished automatically when not needed, or using light sensors to detect light from outside, which can be taken into account when controlling brightness.
Image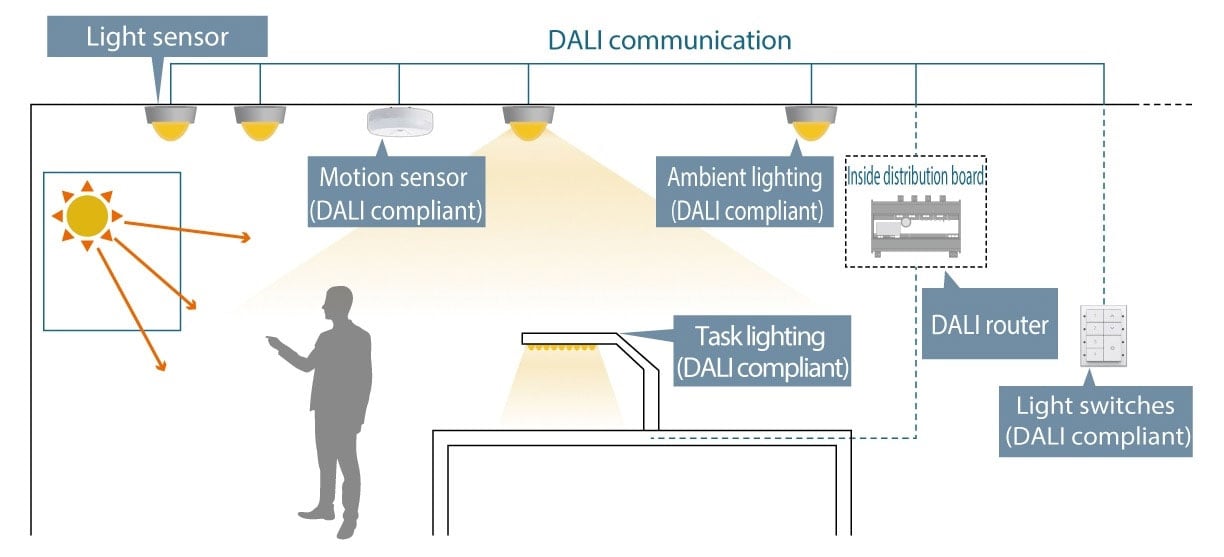 This task/ambient lighting configuration allows individual control of the lighting of task areas such as desks and of ambient areas such as floors and corridors. The lighting fixtures, sensors, and switches are all connected via DALI, and alternatively a unit such as a lighting controller can be used to provide centralized management. In this way DALI can be used to link and control all essential devices, making it easy to implement task/ambient lighting.
---
Solutions
Hardware is available for LED lighting evaluation, enabling customers to create a development environment that matches their products.
The Renesas LED lighting solution supports the DALI ed. 2.0 international lighting communication standard.