Renesas Synergy™ Platform Solutions for the Building Automation Market
Renesas Synergy™ Platform is a complete and qualified system solution for highly sophisticated embedded applications such as building automation (BA). The platform includes fully integrated software, unified development tools, a scalable family of microcontrollers (MCUs), and a broad ecosystem of partners.
---
Structure of the Synergy Platform
The Renesas Synergy™ platform is comprised of the Solutions Gallery, software and hardware. The Solutions Gallery provides software, tools, kits, application projects, and services for the Renesas Synergy™ platform provided by Renesas and its partners. The Synergy Software Package (SSP) and Renesas development environment (tools) that are the core of the platform are free to use and do not require additional investment if you purchase a Renesas Synergy™ microcontroller.
Scalable Synergy MCU Series
The Renesas Synergy™ microcontroller family uses the Arm® Cortex®-M core and is designed to be scalable across the series, allowing you to reuse code. In addition, along with easy to implement connectivity features and a human-machine interface, it has robust security and safety features, etc., as well as a wide range of peripheral functions that can be adapted to a variety of embedded systems.
---
Features of SSP: Application Frameworks and VSAs (Verified Software Add-ons)
Application Frameworks
Application Frameworks SSP has a rich set of Application Frameworks that provide a set of uniform Application Program Interfaces (APIs) that are useful for the development of the target system. These APIs will free developers from worrying about the low-level software such as drivers, middleware or network stacks.
Messaging framework: High-level APIs for inter-thread communication and synchronization that give superior usability than traditional message queueing supported by real-time OS.
GUIX™ interface framework: APIs to leverage the performance advantage of Synergy MCU graphic accelerators while using the GUIX runtime library.
Wi-Fi framework: APIs to easily integrate Wi-Fi connectivity solutions from various modules and chipset providers into the user application.
Capacitive touch sensing framework: APIs to easily access the Capacitive touch sensing unit (CTSU). Also available is a Capacitive Touch Workbench for Renesas Synergy™ software tool to tune the sensitivity of the touch sensors.
VSAs (Verified Software Add-Ons)
Developers who adopt SSP for BA applications can also utilize abundant VSAs from various third-party partners. VSA components are pre-tested and verified by Renesas to be compatible with SSP.
BACnet Stack: BACnet stack compliant to CiA specifications. Available from CS Lab.
Skkynet ETK: Stack to connect device and cloud. Available from Skkynet.
Secure TLS/SSL Library: Available from Grape System in Japan and Cypherbridge.
Medium One Cloud Agent: Easily connect to the cloud and access services. Available from Medium One.
---
Synergy Platform Technology Matrix for the Building Automation Market
The Synergy Platform provides technologies that support the applications demanded by the building automation segment. It makes it possible to quickly deliver optimized solutions to meet constantly changing technology needs such as performance, power efficiency, and design flexibility.
Image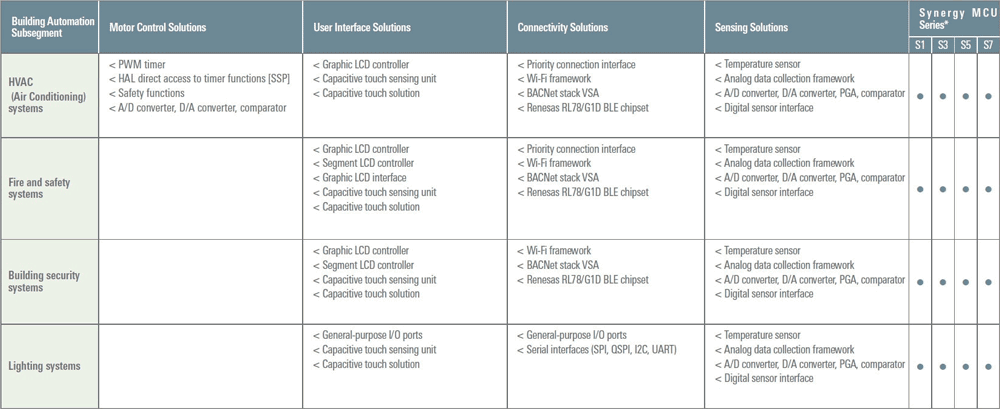 * Refer to the block diagrams below for the recommended Synergy MCU Series for each subsegment.
User Interface Solutions
Graphic LCD, segment LCD control [MCU]
GUIX™ runtime library [SSP]
PE-HMI1, PE-DAQ1[PE]
Capacitive touch sensing unit [MCU]
Capacitive touch sensing framework [SSP]
Touch sensing workbench [SSP]
Connectivity Solutions
Wired connection: Single/dual Ethernet
USB, serial interfaces (SPI, QSPI, I2C, UART), SDIO
Wireless connection: Wi-Fi framework [SSP] for connection to various Wi-Fi devices and chipsets
BACnet protocol [VSA]
Sensing Solutions
Interfaces for data collection from analog sensors or digital sensors [MCU]
Op-amp, PGA, A/D converter, D/A converter, comparator [MCU]
Low-power operating mode for intermittent operation
Motor Control Solutions
High-precision timer, PGA, A/D converter, and D/A converter for motor control [MCU]
Direct access to MCU control registers for real-time control
Embedded Security (Common Technology Across Subsegments)
Encryption, security key generation and storage [MCU]
Security function library [SSP/MCU]
---
Building Automation Applications Featuring Synergy