Applications
ADAS and AD (Automated Driving)
Cars have come a long way since they first came on the road in the 19th century. The first semiconductor-based noteworthy assistance was GPS-based car navigation systems toward the end of ´80s. Today, in almost every car, anti-lock braking systems (ABS) and electronic stability programs (ESP) are also contributing toward the driver and car passenger's safety using high quality electronics. After all, the dreams of automated cars from the '60s are now becoming true—it is only a matter of a few years.
Image
Applications
From ADAS to AD
Before automated driving, which avowedly is the ultimate goal of carmakers and consumers, assisted driving, that is currently experiencing a strong uptake, will establish itself on a large scale.
Image

The paramount goal of ADAS is to assist the driver with the safety aspects – for himself or herself and equally so for other mobile and pedestrian traffic participants. Next to this, ADAS is supposed to enhance the driving comfort for the driver and finally, yet importantly, improve the economic as well as the environmental balance.
In the course of the last decades, Renesas has established itself as the leading MCU and SoC supplier in the automotive segment; and assisted and automated driving are among Renesas' focus fields.
ADAS and Automated Drive applications need the high-end computing power of SoCs to analyze the car's surroundings and for cognitive computing processing; additionally, low power consuming control functions are required to steer the car safely and comfortably.
Renesas autonomy™
Ultimately, as these elements are essential for ADAS and AD, Renesas has launched Renesas autonomy — an open, innovative and trusted platform for assisted and automated driving.
Image

Open
Renesas autonomy offers customers the option to develop applications themselves or choose a solution from Renesas or one of its partners.
Image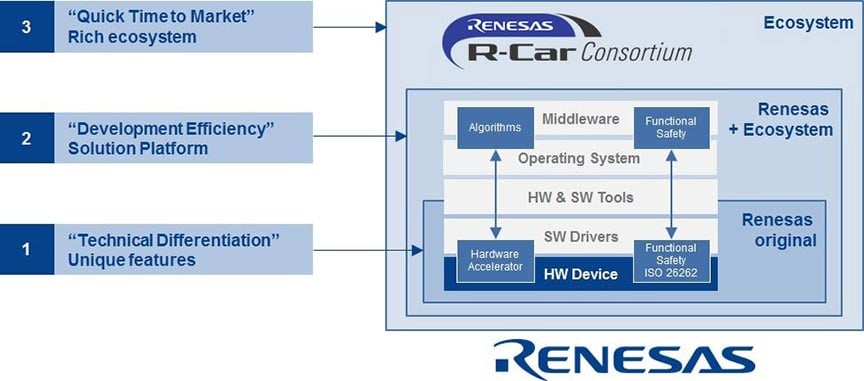 The ecosystem covers partners that complement the Renesas offering to accelerate time to market significantly.
Innovative
Renesas autonomy provides customers the option to select the most suitable core required.
Image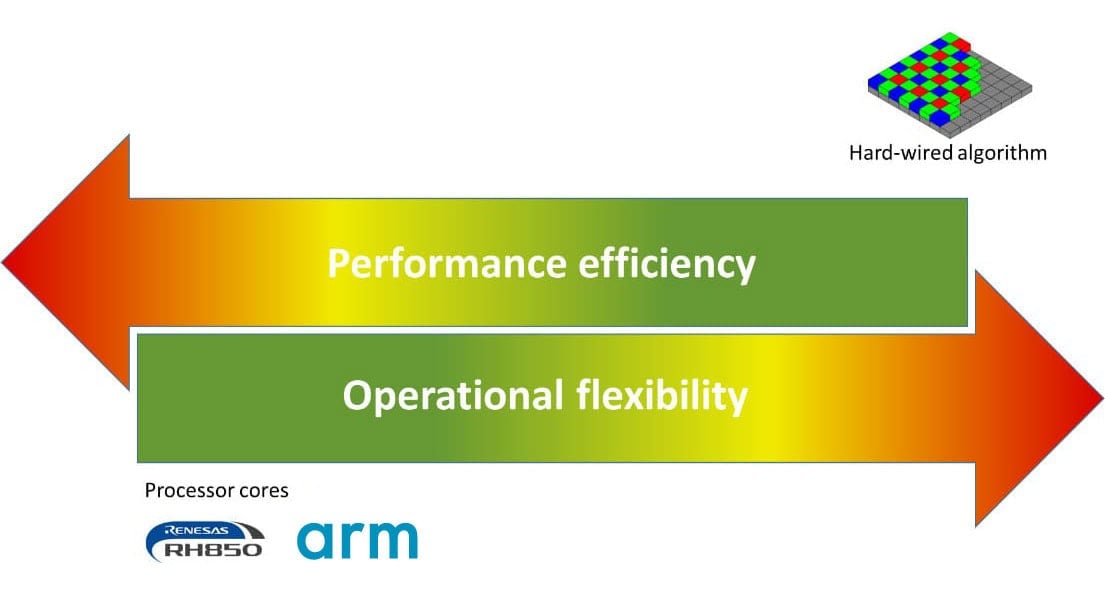 Renesas offers a broad spectrum of flexible, programmable cores for applications up to highly optimized hardware accelerators delivering the highest performance at lowest power consumption, which are specifically architected for algorithms performing object detection, classification, and deep neural networks.
Functional Safety is key for ADAS and AD. Renesas already implemented the first safety functions in P series MCUs in 2008 and has followed these up with ISO 26262 certification that includes the integrated safety concept. The same applies to the R-Car family, which also comes with a secured operating system.
Image

Trusted
The R-Car SoCs and RH850 MCUs roadmaps provide the scalability required for building entry-level to high-end products, ensuring cost-competitive solutions and a high degree of reusability of already developed algorithms, functional blocks and applications.
Renesas is the key semiconductor supplier to the automotive market, with nearly one billion SoCs and MCUs supplied in 2015. True to its policy "Quality first", Renesas' products stand for the world's best automotive quality.
Commitment to ADAS and AD
The Renesas autonomy solution platform is an open, innovative and trusted platform for assisted and automated driving and gives the customer one promise: You decide what the future of driving will look like.
Starter and Solution Kits
Start developing advanced driver assistance systems (ADAS) and automated driving (AD) immediately with these kits that contain Renesas' successful R-Car system-on-chip and RH850 microcontrollers.