Our Linux development environment provides reduction of board design, customization of Linux BSP, verification and debugging efforts by up to 40%.
You can start up the Linux development environment immediately with the Linux customization tool. In addition, using Verification and Analysis tools can be verified and debugged our verified Linux package.
Linux customization tool:
Easy setup build server, the verified Linux package customization with GUI
Verification and Analysis tools:
Possible to verify the Verified Linux Package in customers environment and obtaine the contents of problem solving from Renesas database.
Smart Configurator:
Possible to set the pins of RZ/G with GUI and output the device tree file of Linux.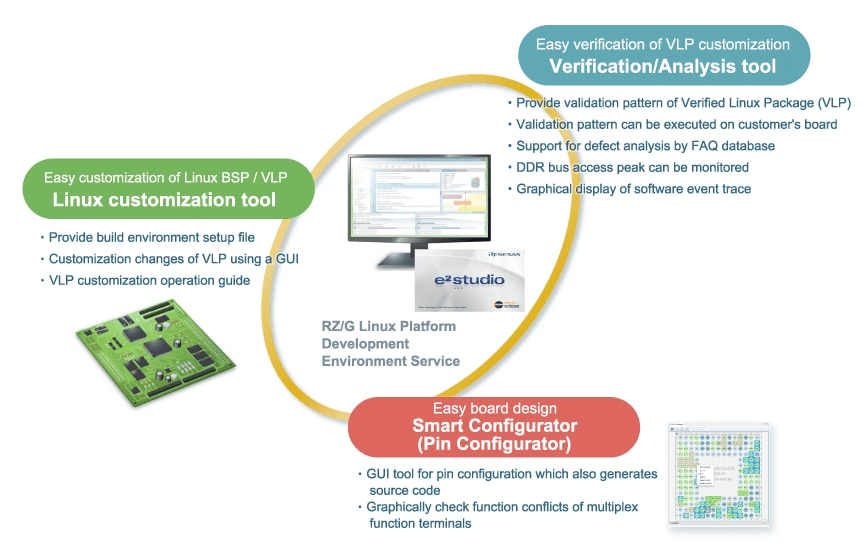 Key Features:
Linux customization tool: Reduce the burden of build environment building, making software customization easier
You can easily build the build server by providing installation file of it including OS.
It is easy to start up the platform compatible board and to customize the Linux package by the GUI.
Verification tool: Reduce verification TAT *
Error reports from the verification tool are automatically analyzed using a database in which numerous troubleshooting use cases have been aggregated. Debugging guidance is provided to the user.
User-caused malfunctions are detected by a tool and output to a log file.
Analytical tool: Reduce analysis TAT *
API verification is carried out using verification patterns, with error reports generated.
When errors occur, guidance is provided to the user based on the verification tool output log and FAQ database.
How to Use
Download tools from the RZ/G Linux Platform - a one-stop source for everything from the user agreement to tools and manuals.
RZ/G Linux Platform Partners (Development Environment: ICE, Compiler, etc.)