Hello everyone, this is Zhou Yu from Renesas Electronics. It has been almost half a year in a blink of an eye since we launched this "Customer Value of Automotive Business" blog series. Through our introduction, I believe that readers have a better understanding of Renesas' automotive semiconductor products, solutions and activities for the automotive segment.
In this blog, I would like to introduce Renesas Electronics automotive business's core values and what they will bring to customers during the COVID-19 time and after.
Due to the continued impact of COVID-19 pneumonia and the need to protect our climate whilst bringing new features to automotive, the automotive market remains challenging. 
However, Renesas will continue to bring our core values to the market: open, innovative and trusted.  These values are not only a mere slogan but a promise we make to customers that is reflected in our decades of commitment to the global automotive market.
Let's talk about the values.
Innovation continuous to be in our DNA. Renesas has expanded its product portfolio of analog, digital, and power system solutions in the past years, and is continuously investing in product development. We are providing solutions with the required power/performance balance, at the same time ensuring functional-safety and security, which has and increasing importance with rising levels of automation and enhanced vehicle connectivity. We are constantly investing into R&D for products that make vehicles more comfortable, safe and protect our climate by high efficiency. Another aspect if of course the level of integration and product and system level: each product integration and complete solution offering, i.e. our winning combos, makes live of our customers easier. This is part of our strive for innovation.
Image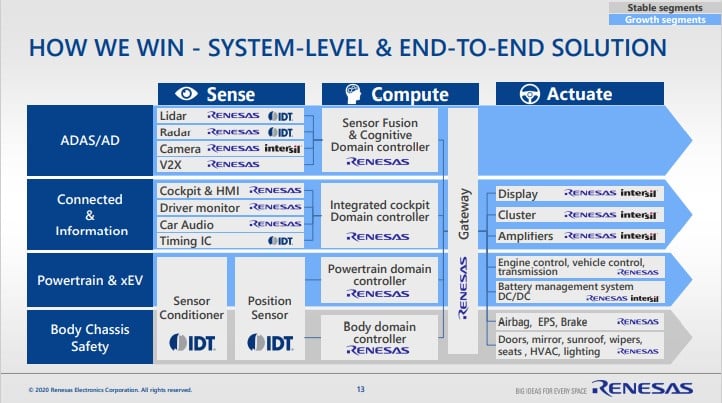 Renesas offers open products and solutions, including the R-Car consortium partnership program with more than 300 partners, that allow customers to develop on their own or work with world-leading partners from our ecosystem to save time-to-market and resources. 
At the same time, in addition to providing open partners and transparent solutions, Renesas is also committed to the formulation of industry standards. Renesas continuous to participate in various standardization organizations, such as for in-vehicle communication technologies and participates in essential standardization organizations for automotive software development. Simultaneously, in response to the development and rise of autonomous driving in recent years, Renesas has also joined consortia that drive new trends such as the "Autonomous Vehicle Computing Consortium (AVCC)". In the future, we will continue to participate in the formulation of various industry standards actively, and develop more partner projects, communicate and cooperate with more companies with an open attitude.
Finally, without the trust of customers, our automotive business certainly cannot survive. Therefore, to be trusted has always been a point that we attach great importance to. Thanks to our customers' trust, our automotive semiconductor business accounted for more than half of Renesas' entire company's turnover in 2019 and became one of Renesas' most essential businesses. This revenue is only possible because our automotive microcontrollers and SoCs also account for a high market share globally. We ship over billion semiconductors every year with high automotive quality – the success in the market is high evidence of customer trust to us. 
Image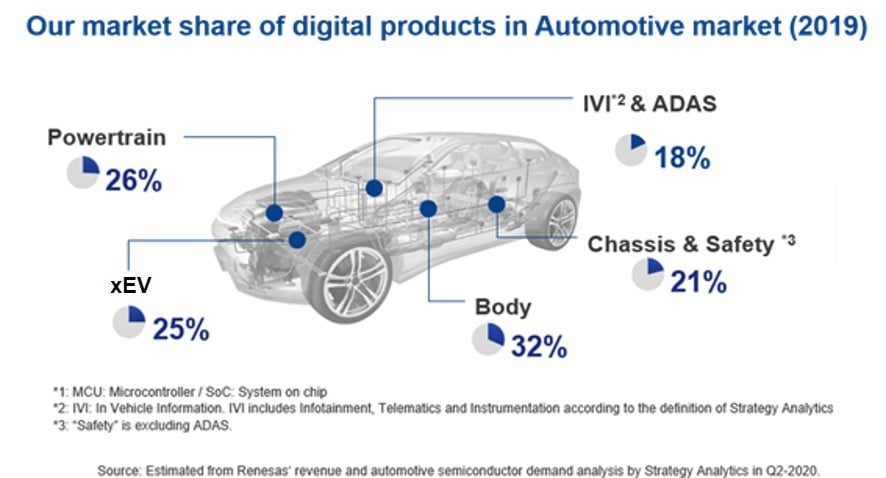 We at Renesas Electronics firmly believe that we can continue to provide products that meet the demanding requirements of vehicles and provide customers with safer and more secure products.
For that, Renesas Electronics will stay committed to our values to enable success of our customers.