Lighting control is increasingly becoming a high growth market. This technology provides functionalities to improve the quality of life and enable technological advancements in critical areas. These areas include personalized healthcare, emergency response, traffic management, smart manufacturing, defense, home security, and smart energy distribution and utilization. Voice recognition is also becoming a more integral part of lighting control, not only for in home use, but for industrial and medical applications as well.
Renesas provides microcontrollers (MCUs) for lighting control systems, along with some key technologies, such as capacitive touch, light sensors and power solutions.
System Benefits
The RX130 32-bit MCU provides cap-touch for touch control
The ISL29125 is an RGB light sensor for light control systems
Low cost and high performance, voice recognition module
Image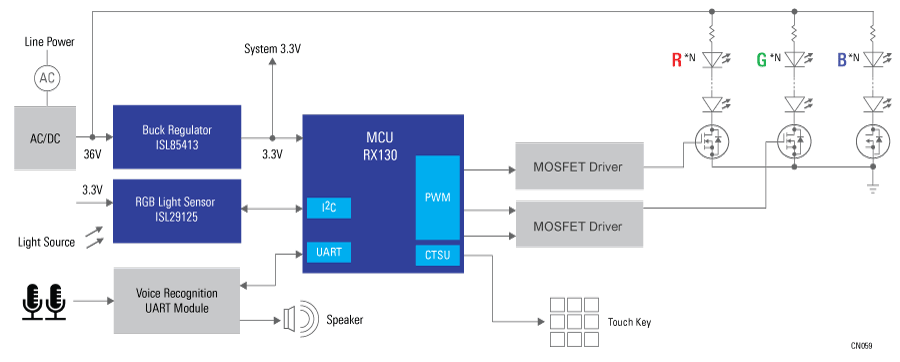 Related Products
Microcontroller
Buck Regulator
Light Sensor
Winning Combinations
Renesas' complementary product portfolios of Analog + Power + Embedded Processing work together to deliver comprehensive solutions to our customers. Our product experts have developed "Winning Combinations," compelling product combinations that help our customers accelerate their designs and get to market faster.
See the benefits immediately with our "Winning Combinations" solutions